Boonen to go into therapy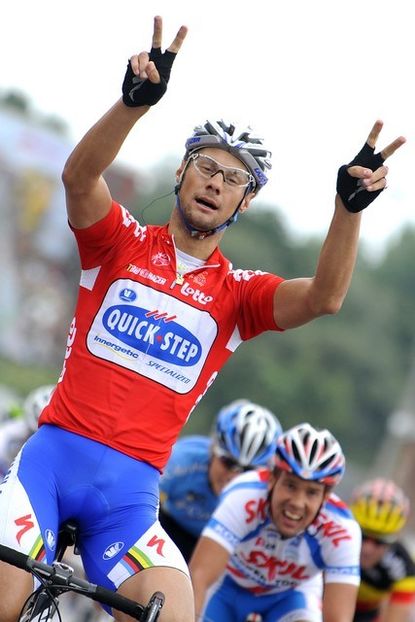 Tom Boonen is to spend a year visiting a therapist and having a drug test every two weeks as a result of his recent positive out-of-competition test for cocaine.
Boonen's Quick Step team issued a joint statement last night outlining the triple Paris-Roubaix winner and former world champion's rehabilitation programme over the coming year. This comes on the back of the news on Saturday that the squad has suspended him from competition until further notice.
Boonen will also have to pay an as-yet-unspecified fine to the team.
The statement, signed by Boonen, team manager Patrick Lefevere and sponsor Frans De Cock included details of the rider's rehabilitation programme. He will enter therapy immediately, with weekly consultations. After that, he will ultimately be in contact with specialists to prevent him relapsing into recreational drug use.
A urine sample will be taken every two weeks and tested for illegal substances in addition to a hair analysis three times a year, all under the guidance of the team. Traces of cocaine remain in human hair for a long period of time after the subject has ingested the drug, so the tests should detect any use of cocaine both in the short and long term.
With regard to Boonen's use of cocaine, the statement read:
"It does not concern an addiction in the true sense of the word. The person concerned is no slave of the product but only uses it in sporadic and specific instances. It concerns an intelligent young man, with good surroundings and a stable family life who takes his responsibility in the majority of situations."
Quick Step could easily have sacked Boonen after this latest cocaine positive - the rider's second positive for the drug in 12 months. However, it appears that the team are rallying behind their star in order to fix the problem rather than ignore it.
Boonen is undoubtedly one of Belgium's biggest and most bankable cycling stars, having appeared in numerous adverts for his team's sponsors. He is one of cycling's greatest single day riders, having won Paris-Roubaix three times, the Tour of Flanders, the World Championships in addition to the Tour de France green jersey.
But for Boonen, his success and fame has come at a price. The trappings of stardom grating with the hard training and clean image required in the modern sport. As a result of last year's positive, he was barred from riding the 2008 Tour de France.
Boonen may still face criminal charges in Belgium since cocaine use is illegal. Quick Step's programme of rehabilitaion and testing - proving an open willingness to clean up - will definitely work in Boonen's favour during any legal proceedings.
RELATED LINKS
Boonen admits to drink problem
Tom Boonen: Rider Profile
Will Boonen be barred from the Tour again after second cocaine positive?
Boonen excluded from 2008 Tour de France
May 2008: Cocaine positive may not spell disaster for Boonen
Thank you for reading 5 articles this month* Join now for unlimited access
Enjoy your first month for just £1 / $1 / €1
*Read 5 free articles per month without a subscription
Join now for unlimited access
Try first month for just £1 / $1 / €1