Bradley Wiggins: 'Cyclists have to help themselves by behaving'
Sir Bradley Wiggins spoke out about some cyclists not abiding by the rules when riding in London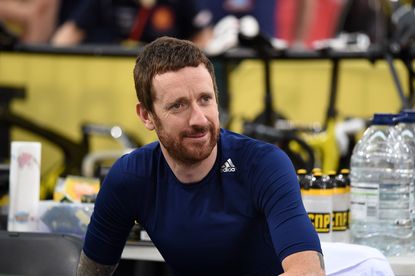 Sir Bradley Wiggins has voiced his concerns about the behaviour of some bicycle users on London's roads, and the consquences their actions could have.
His motivation to step into the melee that surrounds riding in London stems from his new venture into selling children's bikes.
"Enforcement is inevitable if it starts to get out of control," he told the Evening Standard. "I'm starting to sell bikes to kids now so I have a responsibility and duty to help educate people."
Sir Bradley launched his new range of children's bikes with UK retailer Halfords on Friday, March 11.
>>> Zac Goldsmith: 'I'll rip up London's cycle superhighways if they don't work'
"We are seeing a boom in cycling but it's how we all coexist that is important. Cyclists have to help themselves by behaving.
"This might be the beginnings of an Amsterdam or Copenhagen but everyone abiding by the rules and co-existing is key. New cycle lanes are great but you always get cyclists who give a bad name to the rest; people who jump the kerbs, jump red lights and ride around with iPods so you can't hear the rest of the traffic. You would not do that in a car so why would you on a bike?"
>>> YouGov poll shows huge public support for segregated cycle lanes
Moving from professional cyclist to safety campaigner is something Wiggins's predecessor as Britain's best road rider Chris Boardman has already done, and he backed what Wiggins was saying.
"Nobody should run a red light in any vehicle, it's the rule of the road." Boardman also called for "less aggression" from cyclists and car drivers.
Thank you for reading 20 articles this month* Join now for unlimited access
Enjoy your first month for just £1 / $1 / €1
*Read 5 free articles per month without a subscription
Join now for unlimited access
Try first month for just £1 / $1 / €1