Bradley Wiggins: If cycling was a video game I would have completed it
Adding one more Olympic gold medal to his collection is all that Bradley Wiggins wants to accomplish in cycling now after a distinguished career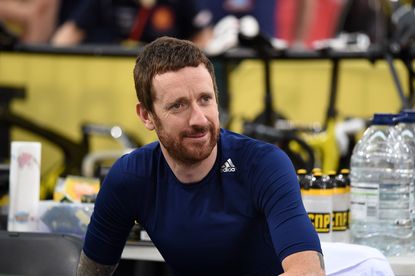 Sir Bradley Wiggins admits he's achieved pretty much everything he set out for in cycling, comparing his career to a completed computer game.
The 35-year-old counts four Olympic gold medals, seven track world titles, one world time trial title, a Tour de France and the UCI Hour Record in his lengthy palmares, but isn't quite satisfied yet.
One more Olympic gold medal in Rio this August is all that remains on Wiggins's hit list
"I've kind of done everything, I've been fortunate to have done everything I wanted to do," he told the Evening Standard at the launch of a new 46-mile sportive at RideLondon.
"The hour record had been lingering. I had to do it last summer or not do it at all so I was fortunate to do that here in London.
"There's not much left. If cycling was a video game I would have completed it."
As he was growing up in north west London, cycling was seen as the 'weirdo' sport, according to Wiggins.
Now, though, riding around in lycra is commonplace, partly thanks to Wiggins's achievements.
"I started racing [in the Olympic Park] when it was a derelict wasteland. I used to ride across from Kilburn to here and then go home," Wiggins said.
"Before I got back I'd put my tracksuit bottoms and hoody on to ride into the estate. I didn't want the other kids to see me in lycra because they'd start pelting me with stones.
"You were a weirdo then for wearing lyrca but now it's the norm. How cycling is perceived now is a fantastic thing."
Up to 15,000 people will be able to sign up to the RideLondon 46, which takes in some of the same closed roads as the 100-mile event on the same day, July 30.
Thank you for reading 20 articles this month* Join now for unlimited access
Enjoy your first month for just £1 / $1 / €1
*Read 5 free articles per month without a subscription
Join now for unlimited access
Try first month for just £1 / $1 / €1