Bradley Wiggins quotes: our pick of the best
As Sir Bradley Wiggins retires, we pay tribute to a man who can always be relied upon for a good quote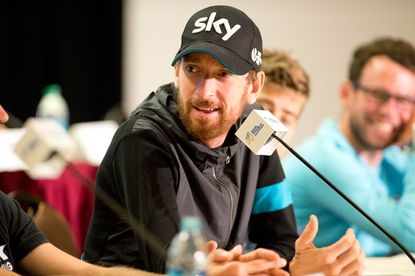 (Image credit: Graham Watson)
On Wednesday, Sir Bradley Wiggins announced his retirement from professional cycling, bringing the curtain down on an illustrious career that saw him win the Tour de France, numerous world titles, and seven Olympic medals including five golds.
For many riders the cliché "the victories speak for themselves" may ring true, but with Wiggins you sincerely hope that they don't, because his post-race interviews are the stuff of legend.
In a world filled with well-meaning, 110-per-cent focused, but ultimately dull athletes umming and errring to the microphone stuffed in their face, Wiggins can be thoroughly relied upon to tell it how it is in an entertaining fashion. Even if he sometimes later denies that he told it how it was...
Here we collect together our favourite Wiggins quotes over the years. We're sure you've got your own favourite too.
Tour de France 2012 winner's speech on the podium in Paris
"Right, we're just going to draw the raffle numbers... It's been a magical couple of weeks. Some dreams do come true. My old mother over there, her son has just won the Tour de France... Thanks again. Have a safe journey home. Don't get too drunk."
Post hospital interview, Tour de France 2011
https://www.youtube.com/watch?v=RL3_qGQ0mYk
On riding for the Garmin team and its Tour de France chances, 2009
"It's a bit like trying to win the Champions League and to win the Champions League you go to Manchester United and I'm probably playing at Wigan at the moment. I'll probably have to make that step to do it"
And later, when it was officially announced that he'd joined Sky...
"I said that with a lot of affection, actually. My wife is from Wigan, and we've got a lot of family from Wigan. And Wigan were not a bad side until they lost to Spurs. The weekend after I said that, Wigan beat Chelsea, but perhaps it was a bad analogy and maybe I should have chosen another team. But I'm at Manchester United now."
On winning Olympic time trial gold in London, 2012
"To just be mentioned in the same breath as Sir Steve Redgrave and Sir Chris Hoy is an absolute honour. To be up there with those guys as a British Olympian is very special. The important number is four and I've got to carry on to Rio now and go for number five!
"It's the stuff of dreams. As a child, being a fan of the sport, I never imagined that one day I'd be in this position. Kids from Kilburn don't become favourite for the Tour de France. You're supposed to become a postman or a milkman or work in Ladbrokes."
On his Beijing Olympic Games gold medals
"I have the two golds from Beijing in a sock upstairs in my room. They're funny things, medals. It will be nice to leave them to my kids when I die, but I don't really know what to do with them."
On joining Team Sky in 2010
"Moving to Team Sky is like coming home."
An amusing press conference
https://www.youtube.com/watch?v=OxWPdnjk3I8
On saying that he was a better rider than Lance Armstrong, 2009
"That was something that was taken slightly out of context, where I said, well, I don't know if I did say it, but they are so confusing these journalists, they get you to say things perhaps you didn't really mean."
On leaving HTC and joining Garmin, 2008
"I don't want to go to every race leading out Cav every day. It was good fun doing that for him at the Giro, but I don't fancy that for the next few years. I still have ambitions myself."
On not speaking to Mark Cavendish after the pair missed out on getting a medal in the 2008 Beijing Olympics Madison
"We haven't spoken but it'll be alright. We're like brothers really. We've fallen out. He's said a few things in the heat of the moment, and I can understand his disappointment."
On aiming for the Hour Record, 2014
"I want to prepare for it properly. It will give me something to get out of bed for in the winter."
Teasing a French television journalist
https://www.youtube.com/watch?v=YZk2LL1HBKc
On retiring from riding on the road
"I've kind of done the road now. I've bled it dry."
After waiting for Cadel Evans, who had punctured due to someone throwing tacks on the road during stage 14 of the 2012 Tour de France
"No one wants to see something like that have an impact on the race. As a group the thing to do was to wait, the stage win was over. The climb was over. There was nothing left to contest really. Everybody sees those situations differently but personally I wouldn't want to benefit from something like that. I thought the best thing to do is to wait."
In a press conference during the 2012 Tour de France, when asked by a journalist about people saying that Wiggins and Sky were riding - and doping - like Armstrong and US Postal
"They're just f***ing wankers, I cannot be doing with people like that. It justifies their own bone-idleness because they can't ever imagine applying themselves to do anything in their lives. It's easy for them to sit under a pseudonym on Twitter and write that sort of s**t rather than get off their arses in their own lives and apply themselves and work hard at something and achieve something. And that's ultimately it. C***s."
Thank you for reading 5 articles this month* Join now for unlimited access
Enjoy your first month for just £1 / $1 / €1
*Read 5 free articles per month without a subscription
Join now for unlimited access
Try first month for just £1 / $1 / €1