Put more faith in your riders, Peter Kennaugh urges Team Sky
Manxman says wins at the Tour of Austria and National Road Championships "did not prove a point".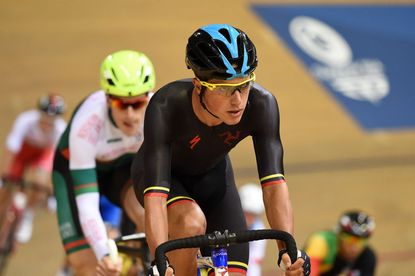 (Image credit: Andy Jones)
Weeks after he was left out of their Tour de France line-up, Peter Kennaugh has called on Team Sky management to show greater support for their riders.
The 25-year-old, who yesterday took silver in the points race at the Commonwealth Games in Glasgow, missed out on selection for this year's Tour despite impressing in the 2013 edition.
Kennaugh won the National Road Race Championships in June and then the Tour of Austria at the start of July, although he believes he did not have a point to prove with those performances.
"It's been a really good past couple of months," he said. "I've been really relaxed with it all, I've been enjoying it along the way, I haven't been stressing about anything.
"I feel like I've already proved what I can do, I don't feel like I need to prove myself anymore. It's starting to get frustrating when the team says things like 'you need to go and prove yourself'.
"I know what I can do, they know what I can do, put some faith in your riders."
However Kennaugh, who has one year left on his Sky contract, does not plan on returning to the track full-time as he did with the team pursuit in 2012.
"I love the road. The track is a bit too structural, it's a bit too time specific, going round in circles," he added.
"I just love the style of walking out your front door in sunshine, stopping during a ride at a cafe. There's no sun in here, it's depressing. Every time I ride out the velodrome I go 'how nice is that?'."
Kennaugh's comments come just days after Bradley Wiggins said he planned to scale back his road riding.
"I've kind of done the road now. I've bled it dry," said Wiggins on Thursday. "The road is quite cut-throat. The track feels more like a family and a closer-knit group of people.
"That will probably be it for the Grand Tours. I can't imagine doing that now."
Thank you for reading 20 articles this month* Join now for unlimited access
Enjoy your first month for just £1 / $1 / €1
*Read 5 free articles per month without a subscription
Join now for unlimited access
Try first month for just £1 / $1 / €1