Press conference: Wiggins joins Team Sky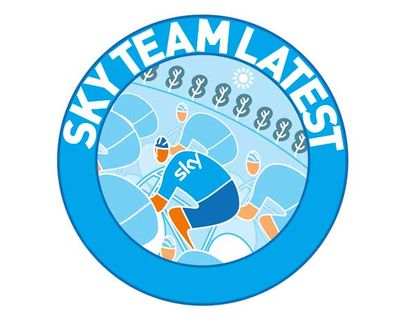 BRADLEY WIGGINS
Team Sky's new signing
Speaking to Sky Sports News
Asked if moving to Team Sky increases his chances of winning the Tour de France
"The main thing is to be part of Team Sky and then look forward to next year. The key is to prepare to be the best we possibly can be and if that's a win, it's a win, if it's a podium it's a podium."
Asked why he joined Team Sky
"The back-room staff, Shane Sutton, Dave Brailsford, I've grown up with them from a boy really. I've been part of the British Cycling team since 18 years of age, been to three Olympic Games with them and 10 World Championships. It was the natural move really, to come home to them. It's the ideal scenario really."
"It's going to be one of the strongest teams out there. It's been hand-picked on personality as well as riding ability, there's a mix of young riders and experienced riders and there's a British core, which is the point of it all really."
"It was fortunate I finished fourth in the Tour this year as Dave was putting the team together. It couldn't have gone better really."
Asked about his comment when he compared Garmin to Wigan and Team Sky to Manchester United
"I said that with a lot of affection, actually. My wife is from Wigan, and we've got a lot of family from Wigan. And Wigan were not a bad side until they lost [9-1] to Spurs. The weekend after I said that, Wigan beat Chelsea, but perhaps it was a bad analogy and maybe I should have chosen another team. But I'm at Manchester United now."
On the increased popularity of cycling in Britain
"There's been a massive increase in numbers of people getting on their bikes, partly that's because of the Olympics but also myself and Mark Cavendish have had an affect. The Sky Rides in the cities to promote cycling are all part of it. The goal is to get a million people on bikes and that's exciting to be part of. Then you've got Mark Cavendish, nominated for the sports award at the weekend [BBC Sports Personality of the Year]. Ten years ago it was unheard of for cyclists to be nominated every year for something like that."
Asked about his comments when he said he was a better rider than Lance Armstrong
"Yeah, again that was something else that someone took a long run-up at me with. That was something that was taken slightly out of context, where I said, well, I don't know if I did say it, but they are so confusing these journalists, they get you to say things perhaps you didn't really mean."
"I was caught unawares. I was at a bike race [Revolution] and I was panting at the time. I did say that at certain times in the Tour I felt I was a better bike rider than him, but overall he appeared to be a better rider than me. But on certain days, Verbier, Annecy, I felt I was a stronger rider than him and I think that's a fair thing to say. He knows I didn't mean anything by it, it's all in the past and we're all good friends."
At the press conference
"It's been going on for a while, since I finished fourth in Paris [at the Tour de France]. We finally had confirmation yesterday that we're all good to go for 2010 [with Team Sky]."
"I think everyone knows what's been going on. It was always a difficult situation trying to leave Garmin because I had a great time there. I leave a lot of friends, and the back room staff there but there was only one team I would leave them for, and that's coming home to Team Sky and Dave and all the people who have helped me with my Olympic success."
"Results aside we want to be the best we can possibly be for the goals we set. If the goal for next year is the Tour de France I'll work to be in the best possible condition for July. Results aside it's just about being as good as possible."
"Everyone knows where the track team is now. When I first started we used to pretty much pack our own bikes and travel off to the track World Championships. At Atlanta [1996 Olympics] riders were pretty much paying their own way, now we're the best in the world."
"This team wants to be the biggest and best in the world. It's the first British pro tour team so to be part of it from the start is special."
DAVE BRAILSFORD
Team Sky, team principal
Press conference
"It's been a real ambition of mine for quite some time. Brad and I go right back to the Sydney Olympics. We've worked closely together through three Olympics and when Team Sky became a reality it became very clear to us that Bradley would be a key part of it. It gives me huge pleasure to announce and confirm that he will be part of the team in 2010. Brad is one of the big, big players in the world of professional cycling now."
On whether Wiggins can win the Tour de France
"Our philosophy has always been about working to help the riders be the best they can possibly be. Winning the Tour is a dream but we will be working to ensure that all the riders can be the best they can possibly be. My personal opinion is the best Brad Wiggins can be is very close to the top of the Tour de France podium, so it's very exciting."
Related links
Wiggins signs four-year contract with Team Sky
Team Sky set to unveil Wiggins
Team Sky: As it happens
Bradley Wiggins: Rider Profile
Thank you for reading 20 articles this month* Join now for unlimited access
Enjoy your first month for just £1 / $1 / €1
*Read 5 free articles per month without a subscription
Join now for unlimited access
Try first month for just £1 / $1 / €1