Britain's Nikki Harris features in Cyclepassion 2010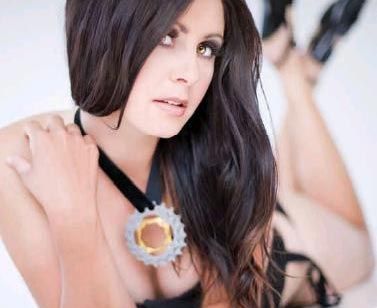 British cyclo-cross and road racer Nikki Harris features in the 2010 edition of Cyclepassion, the calendar that features women cyclists.
The calendar aims to portray women cyclists from every discipline in a glamourous fashion, and it has quickly gained a legion of followers - mostly male - over the past five years.
In this edition, the jewellery and clothes are made from cycle parts. Derby-born Harris, 22, can be seen on the page for May.
The 2010 edition of the calendar features Sabine Spitz (Germany, XC mountain bike Olympic champion); Lene Byberg (Norway, XC mountain biker); Julie Krasniak (France, XC mountain biker); Nikki Harris (UK); Monia Baccaille (Italy, National Road Champion 2009); Anna Sanchis (Spain, National Road Champion U23 2008); Steffi Marth (Germany, four-cross mountain bike); and Solveig Lindgren (Sweden, downhill mountain bike).
All of the photos were taken by Daniel Geiger in a converted old factory loft in Germany.
Harris, who rides for the Belgian AVB team, placed 12th at the sixth round of the UCI Cyclo-cross World Cup in Belgium on Sunday. Harris is aiming to place well at the UCI Cyclo-cross World Championship in January, and to make the British team for the women's road race at the 2012 Olympic Games in London. She turns 23 on December 30.
The calendar is available in the UK from www.prendas.co.uk, www.chainreactioncycles.com, www.probikekit.com and www.wiggle.co.uk.
Related links
Brit women's mixed fortunes in World Cup snow
External link
www.cyclepassion.com
Thank you for reading 20 articles this month* Join now for unlimited access
Enjoy your first month for just £1 / $1 / €1
*Read 5 free articles per month without a subscription
Join now for unlimited access
Try first month for just £1 / $1 / €1