Britain's pothole crisis: Over 24,000 miles of road need urgent repair
You may have noticed the surface of your local roads are in desperate need of repair - you are not alone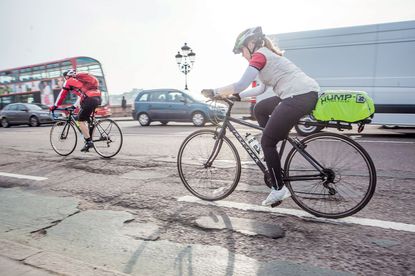 The current condition of the road network in England and Wales has been revealed after an independent report found that over 24,000 miles of local roads are in need of essential maintenance.
Cyclists regularly using Britain's roads will be well aware of the number of potholes and road defects affecting many stretches of roads – and the danger posed by them. The recent cold weather, ice and snow has broken up road surfaces further.
The Asphalt Industry Alliance (AIA) Annual Local Authority Road Maintenance survey for 2018 compiled responses from local councils during December, January and February regarding the state of their roads.
After processing the submitted data, the AIA says that a one-time catch-up of road repairs would now take 14 years to complete and cost in the region of £9.31billion.
Presently, one in five local roads will fail in the next five years. However, AIA found that roads are only properly resurfaced – rather than patched up – every 78 years.
Rick Green, Chairman of the AIA said: "The most staggering finding from this year's ALARM survey has to be the sheer scale of local roads in England and Wales that need imminent repair.
"It's unfathomable to think that you could drive almost around the world on the length of local authority roads that could fail if they are not fixed in the next 12 months – but that is the reality."
>>> This council's tweet to show off how it fixes potholes backfired spectacularly
Reacting to the findings of the ALARM report, RAC head of roads policy Nicholas Lyes said: "This latest report clearly highlights that the shortfall between what councils need to fix the roads, and the cash they actually have at their disposal, is as enormous as ever."
He continued: "As things stand, all road users are faced with the prospect of road surfaces falling into an even worse state making for increasingly uncomfortable, expensive and, in some cases, downright dangerous journeys.
"The recent bad weather will only have made matters worse. Before the cold snap, the condition of many local roads was on a knife edge and we now expect a number of these to deteriorate still further as we move into the spring."
In a report published separately by the BBC, it found that Scotland's roads were also requiring urgent attention, with 30 per cent of A-roads and 35 per cent of minor roads in poor condition or earmarked for inspection.
Insurance firm Admiral told the BBC that claims for potholes and road defects in Scotland were over two thirds higher compared to those in England.
Thank you for reading 20 articles this month* Join now for unlimited access
Enjoy your first month for just £1 / $1 / €1
*Read 5 free articles per month without a subscription
Join now for unlimited access
Try first month for just £1 / $1 / €1