British pro team project: The Sky's the limit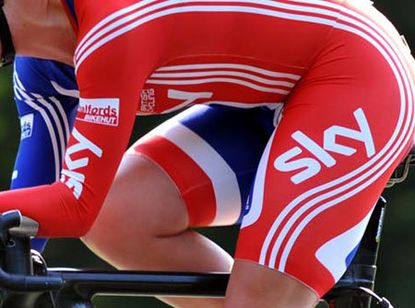 This article first appeared in the February 2009 issue of Cycle Sport. Before Christmas, speculation was building then that the broadcaster Sky would be the sponsor of the much-vaunted British pro team, now we know that Team Sky is a reality. We told the behind-the-scenes story of how the team began to take shape.
The April issue is out now.
?I am confident that this time next year, we will all be on the first team training camp, and there?ll be a real big buzz? ? Dave Brailsford, December 2008
THE giant radio telescopes at the Jodrell Bank observatory dominate the Cheshire skyline to the south of Manchester. The air in early December is crisp and while the icy glaze that covered the roads at dawn has retreated towards the verge, it has not dispersed completely. A group of Britain?s best cyclists is at work, logging the miles, possibly unaware of the iconic significance of riding past the huge satellite dishes.
If Dave Brailsford?s vision of launching a professional team in time for the 2010 season comes off, this is the start of the plan. Actually, that?s not entirely true. The blueprint was drawn up months ago and slowly, if you?ve been paying attention, the pieces have been steadily slotting into place.
As he goes about assembling a professional road team, Brailsford is applying the same meticulous logic as he did when developing Great Britain?s all-conquering track squad. His modus operandi is building teams and challenging people to think differently.
The 44-year-old from North Wales has long harboured ambitions of setting up a professional road team. As much as the gold rush on the track has earned British Cycling a boost in funding and brought prestige and big audiences to a previously under-rated and unnoticed branch of the sport, there?s something about road cycling that fires Brailsford.
Last June he outlined his plans for a Tour de France team at a lunch hosted by the Sports Journalists Association in London and within a month the satellite broadcaster Sky had signed a five-year, multi-million pound agreement to become British Cycling?s principal sponsor.
Immediately it was assumed that this was the start of a relationship that would culminate in the formation of a professional team and, although both parties played down those suggestions, nothing that has happened since has done anything to discourage the speculation.
Sky?s name has appeared prominently on the Great Britain jerseys since then and at the Manchester World Cup in October, the Sky+HD track team was unveiled. The belief is that the next step for the broadcaster is to sponsor a professional road team capable of taking on the best in the world.
The contract is not signed yet, and Brailsford is anxious not to count his chickens or say anything that may jeopardise a possible deal, but it has become the most open of open secrets. As Shane Sutton puts it: ?Sky haven?t said ?no? yet.? Riders and staff talk openly about the Sky team, then add the disclaimer: ?It?s not a done deal yet, ? or ?If it happens.? Cycle Sport knows of at least one major company interested in backing the team that has been told the title sponsorship has gone.
Sky's sponsorship of British Cycling meant the logo appeared on the red, white and blue jerseys last summer
Building the foundations
Whether the team is sponsored by Sky or not [It was confirmed on February 26 the team would be sponsored by Sky] plans are at an advanced stage, as they would have to be if the team is to launch in less than a year?s time. A management team is being assembled and an exhaustive list of potential riders has been drawn up.
Brailsford?s goal is not modest. He wants to win the Tour de France. With a British rider. That?s the kind of statement that awakens the inner sceptic lurking inside the average British fan. But belief is at the heart of everything British Cycling does, and there?s nothing they thrive on more than raised eyebrows or outright dismissal. ?Four years ago if you?d said Britain would win all those Olympic medals in Beijing, they?d have laughed at you. Look at us now,? says Sutton. ?Last year when you talked about a British pro team people said ?Yeah, we?ve heard that one before?,? says Rod Ellingworth, someone who will become an integral part of the management set-up. ?Now people are gradually accepting we might have a team, but they?re still saying ?They?ll never win anything?. That?s fine isn?t it. It?s natural that people react like that.?
Before the World Class Performance Plan and National Lottery funding were introduced, Britain had won just a single Olympic gold medal in cycling in 72 years. That was Chris Boardman?s win in the pursuit at Barcelona in 1992, a victory masterminded by Brailsford?s predecessor, the visionary Peter Keen.
Now Britain dominates track cycling, as a combination of funding and a pursuit of technical and coaching excellent reaped seven gold medals on the track, plus Nicole Cooke?s on the road.
Even eight years ago, that was unthinkable, so when Brailsford says he wants to win the Tour de France, should he be dismissed?
Historically-speaking, there is a thick glass ceiling barring British success in road cycling. The best performance in the Tour de France by a British rider was Robert Millar?s fourth place in 1984. Tom Simpson is the only British rider to win the world title, or the Tour of Flanders. Barry Hoban won Ghent-Wevelgem and eight Tour de France stages, but the list of major events never won by British riders is a long one.
?You have to have a mission, and that mission is to win the Tour de France with a British rider. Now, we know we can?t do that in year one, but everything we do from the very start will be a step towards that goal,? Brailsford says. ?I?d like to think we?ll be competitive from the start, I?d like to think we?ll have British riders doing well from the start, but we?re not looking at this as an overnight thing, we?re in for the long haul, which is why we?re planning longer-term, making sure the team can survive and maintain its identity even after the relationship with the first sponsor has run its course.?
Sky's involvement expanded in October with the creation of the Sky+HD track team
The Cavendish question
Mark Cavendish would be the obvious team leader, but there is a snag. He?s under contract until the end of 2010 and could extend it further. The wider public and media will struggle to understand why Britain?s best rider is not on Britain?s pro team. Given the assumption that Cavendish would be top of the shopping list, it is not a surprise that Columbia?s owner Bob Stapleton has issued a ?hands-off?.
Likewise, Bradley Wiggins signed for two years with Garmin-Chipotle, ruling him out if the British team launches in 2010. To the doom-mongers and naysayers, this is a vote of no confidence in Brailsford?s project. Then Cavendish?s Olympic Games turned sour and he was not slow to point out he felt he?d been let down by British Cycling.
Brailsford is unconcerned. ?We won?t get everyone we want in year one. We?ve always known that. We may not get everyone we want at all, because riders will do what is best for them at every stage in their careers. If a move to our team is not best for them, they will stay where they are or go somewhere else. Our aim is to build a team everyone wants to be a part of. If we do that, they will come.?
Brailsford?s biggest obstacle has been working out who will own the team. Naturally, British Cycling wants to play a big role, but there are risks for a body funded by members and Lottery money owning a commercial enterprise. Brailsford says that the company has not been set up yet, but that he has some ?exciting, innovative plans?.
In the brief lull between the World Track Championships in March and the Olympics in August, Brailsford was hard at work on his pro team project, stacking meetings with potential sponsors, planners and advisors back to back. Like all strategists, Brailsford works in the future. By the time the riders boarded the plane to Beijing, his job was largely done and he?s already six months ahead.
He?s had one day off since Beijing. ?I took my daughter to Sea Life in Birmingham,? he says. ?And I turned my phone off. That was it, though. One day off. It?s making me very unpopular at home, I can tell you. I?m hardly there, but this is our time isn?t it, we?ve got to make hay while the sun is shining. If we don?t do it now, we never will. I genuinely believe that we can achieve success on the road.
Meetings with top officials at the UCI and ASO have encouraged Brailsford that there would be a warm reception for a British professional team. You can imagine he?d be the toast of world cycling if he could bring Sky, a major media player owned by Rupert Murdoch with interests and influence around the globe, to the table.
Sky are masters of marketing, branding and making an impact ? as the Sky+HD skinsuits showed
A British core with foreign expertise
Behind the scenes, a management structure is being put in place. The vastly-experienced former Crédit Agricole manager Roger Legeay has been hired as a consultant to work on the logistics, although Brailsford is quick to point out: ?Logistics is what we do. We have million-pound budgets, we fly riders all over the world to compete, we find the best routes, the best hotels, the best places to train. It?s already a huge operation. Okay, so it?s different races and a different challenge but these are our strong points.?
Chris Boardman, who rode for Legeay at GAN and Crédit Agricole, continues to lead the way in the design and implementation of equipment and kit. Rod Ellingworth, who set up and ran the British Cycling academy that in five years has already produced professional calibre road riders Cavendish, Geraint Thomas, Ian Stannard, Ben Swift and Jonny Bellis, is now coaching the senior riders and is set for a major role. Such is his coaching ability and knack with riders, Brailsford goes as far to say: ?In five years? time, Rod will be one of the most important people in cycling.?
At the World Cup in Manchester in November, Brailsford was photographed talking with Australian Scott Sunderland, who left the Cervélo TestTeam project before it even got off the ground. At the time they both played down the significance of the meeting, but now the charade has dropped a little. ?Nothing?s signed,? says Brailsford, ?If you paired Rod with Scott Sunderland, say, you?ve got a really exciting partnership there. Scott has been to all the races and knows them, while Rod would bring a fresh set of eyes. The level of detail in his work is amazing and the way he approaches things is so exciting. You only have to see what he has done out in Italy with the academy, how far he has built that up in a very short space of time.?
So, what can stop it now, other than prospective sponsors getting cold feet. Not much, it seems. ?Will we get the calibre of riders to make it attractive for the sponsors and the key race organisers. Can we get in the right races? Would a team like ours be attractive to the Tour de France in year one? I think it would. They very much liked their last visit to Britain. If we can back up the right image with some results I?d be confident.
?Of course doping can never be off the agenda, that is always an obstacle.?
A strong ethical stance is at the heart of what Brailsford wants to do. ?That is right at the very top. We won?t take any risks at all. The first thing I will spell out to riders is that, no, you absolutely do not do that. We will do everything we can to provide everything they need to be able to compete without doping, or even think about doping.
?We want a clean team, first and foremost. That?s non negotiable. We?re not messing about with that one. It?s not PR, it?s not saying what people want to hear, it?s the bottom line.?
Another potential problem is the close relationships key staff at British Cycling have with riders in other teams. Ellingworth has coached Cavendish throughout his career, while Matt Parker works closely with Bradley Wiggins. Surely there?s a conflict of interests there. Team managers won?t want their chief asset disappearing off to work with people heavily involved in a rival squad. ?The question you have to ask is, if Rod is working on a pro team, is he going to continue coaching Cavendish? I wouldn?t think so.?
Swipe to scroll horizontally
It?s very early days yet, but time is on Dave Brailsford?s side when it comes to assembling a team in time for 2010.
They have months to identify riders and approach the men they want. Some of the targets may be under contract, but most have get-out clauses these days.
Brailsford says no one has been approached yet, and that no one has been ruled in or out.
But he said he had already split the team into categories ? a climber who can contend for the general classification, a finisher for the sprints, an individual time triallist and riders who would fit well into a team time trial squad, plus domestiques who can get the odd result.
They have listed 15 or so potential targets in each category and will methodically work their way through it.
?I really like the way Columbia did it, winning a lot of races but with a lot of different riders. That?s great for team spirit,? Brailsford said.
He added that riders on the cusp of breaking through, or those who had shown flashes of unrealised potential would also be appealing. He will also insist on seeing full biological passport data fore every rider they make an offer to.
Sky?s key markets include Italy and Ireland. Current world champion Alessandro Ballan, Vincenzo Nibali and Columbia?s time trial rider Marco Pinotti would all be logical targets.
A strong French presence would go down well with the Tour de France organisers, so yellow jersey holder Romain Feillu, climbers Pierre Rolland and Remi Di Gregorio and Clément Lhotellerie could also be targets.
Scandinavian and Australian riders are also likely to figure strongly, so the likes of Matt Lloyd, Thomas Lovkvist and Edvald Boasson Hagen would fit the bill.
And if Chris Froome were to join the team, you?d have to consider the young South African John-Lee Augustyn, who completed the Tour at the first attempt and was the first to the top of the race?s highest climb, the Bonette-Restfond, last July, before that spectacular crash on the descent.
PROBABLES
Geraint Thomas
Contract at Barloworld ends at the end of 2009
Steve Cummings
Contract at Barloworld ends at the end of 2009
Chris Froome
Kenyan-born Contract at Barloworld ends at the end of 2009
Ian Stannard
Recently signed a one-year deal with ISD, the new Italian team
FUTURE TARGETS
Mark Cavendish
Under contract with Columbia until the end of 2010, with an option for another year already agreed
Bradley Wiggins
Joined Garmin-Chipotle on a two-year contract this winter
Ben Swift
Has just turned pro for Katusha, contracted until end of 2010
Jonny Bellis
Turned pro for Saxo Bank, contracted until end of 2010
THE NEXT GENERATION
Peter Kennaugh, Steven Burke, Andrew Fenn, Erick Rowsell, Luke Rowe
THE MANAGEMENT
?We want people who fit our philosophy. Fun, but professional. There may be managers out there who have had great success, but will they do it our way? We don?t direct and control our athletes, we support and mentor them. We will stick to that? ? Dave Brailsford
Dave Brailsford
British Cycling?s performance director, 44
Took over from Peter Keen and masterminded Beijing success
Chris Boardman
Equipment and technical manager, 40
Won the prologue of the Tour de France three times
Dr Steve Peters
Psychiatrist, 55
The ?mind mechanic? who specialises in breaking glass ceilings
Shane Sutton
Performance manager, 51
Former pro,
Rod Ellingworth
Coach, 36
Rode as an amateur in France, set up British Cycling?s academy
Roger Legeay
Advisor, 59
Frenchman, former GAN and Crédit Agricole manager, managed Greg LeMond to Tour de France victory in 1990
Scott Sunderland
Strongly rumoured to be on his way to the British pro team. Australian who used to manage at CSC, then joined Cervélo for a short-lived spell
Swipe to scroll horizontally
Dan Martin rode the junior road race at the World Championships in Verona in a red, white and blue jersey. It was an eventful day, because he left his cycling shoes behind and had to ride the first lap in trainers before a soigneur could fetch the correct footwear.
Martin?s father Neil is British, and his mother is the sister of 1987 Tour de France champion Stephen Roche. He always qualified for both Britain and Ireland.
Although his ability was obvious, he was destined to slip through British Cycling?s net. The academy system was in its infancy, but the emphasis was still on riders with track ability.
Martin, a contemporary of Mark Cavendish and Geraint Thomas, isn?t built for the velodrome, he?s a climber, a stage racer. As Brailsford explains: ?We simply didn?t have a strong road programme then. We didn?t have the set-up in Italy then, it was still three years away. It was always in the pipeline but it was still a long way away. It?s fair to say he probably feels he had a rough deal from us, and he may have a point.?
Frustrated at the lack of opportunities, Martin made his own way, securing a place with the VC La Pomme club and switching his nationality to Irish. His cousin, Nicolas Roche, had ridden for the same club, and being Irish unlocked doors.
Now he is rated as a future stage race contender by his directeur sportif, Jonathan Vaughters. This year he won the Route du Sud in the Pyrenees.
The question is, could Dan Martin be the Tour de France contender Britain never had?
Thank you for reading 20 articles this month* Join now for unlimited access
Enjoy your first month for just £1 / $1 / €1
*Read 5 free articles per month without a subscription
Join now for unlimited access
Try first month for just £1 / $1 / €1