BRITISH SUCCESS CONTINUES AT WORLD CUP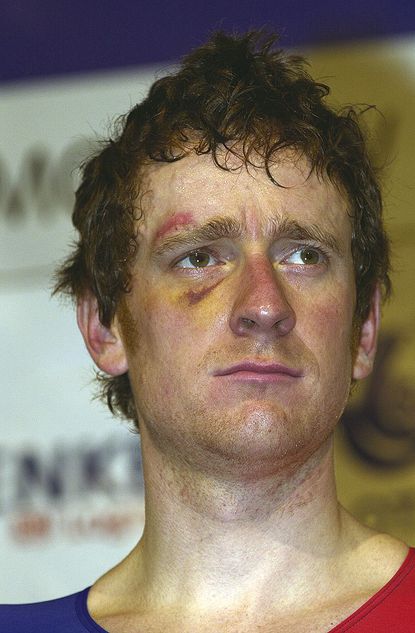 BRITISH riders doubled their Gold medal tally in the Manchester World Cup last night when they repeated Friday night?s feat of winning in three disciplines.
Adding to the medal haul, home based riders also claimed two silvers and two bronze medals, lining the event up to be one of Britain?s best ever World Cup performances.
Vicky Pendleton claimed the first gold of the evening and her second of the competition when she set a new personal best of 34.070 seconds in the 500-metre time trial. Finishing in second place was Dutchwoman Yvonne Hijgenaar (Netherlands) with Britain?s Anna Blyth taking third.
Bradley Wiggins (pictured) was another rider claiming a second Gold of the competition when he lined up alongside Rob Hayles, Paul Manning and Ed Clancy in a dominant performance by the British team pursuit squad.
They produced a sub four minute effort to be fastest in qualifying and then caught the Russians in the final. The young 100 Per Cent Me team also put in staggering quick rides, narrowly missing the final but beating Spain in the ride-off for bronze.
Britain was guaranteed a win in the women?s pursuit final with Wendy Houvenaghel and Rebecca Romero having qualified fastest. Both produced times that would have won the World Championships last year but it was Houvenaghel who had the edge on the night winning both the event and the World Cup overall.
Not everything went in favour of a British victory and Chris Hoy had and to concede to Frenchman Arnaud Tournant in the final of the sprint.
The new women?s team sprint duo of Anna Blyth and BMX specialist Shanaze Reade also had to settle for second despite having qualified fastest. Their effort in the final was certainly not helped by their Dutch opponents making a false start.
Track debutant Reade ? unaware of the protocol - completed her whole opening lap before learning that the race would be restarted and she?d have to make the same effort again.
Racing concludes today with, amongst others, the Team Sprint, the Madison and the Women?s Keirin.
RESULTS:
Men?s 4km Team Pursuit: 1 Great Britain 4min 0.296sec ct Russia 4:08.811. Bronze: 100 Percent Me 4:05.554 bt Spain 4:08.420.
Men?s Sprint: Final: Arnaud Tournant (France) 10.871sec, 10.525sec bt Chris Hoy (GB); Bronze: Mickaël Bourgain (France) 11.014sec, 11.142sec bt Kiyofumi Nagai (Japan).
Women?s 500m time trial: 1 Vicky Pendleton (Science in Sport.com) 34.070sec, 2 Yvonne Hijgenaar (Netherlands) 34.676sec, 3 Anna Blyth (Great Britain) 34.866sec.
Women?s Individual Pursuit Final: Wendy Houvenaghel (Science in Sport.com) 3min 35.294sec bt Rebecca Romero (GB) 3:39.143. Bronze: Alison Shanks (New Zealand) 3:39.332 bt Trine Schmidt (Denmark) 3:48.646.
Women?s Team Sprint Final: Netherlands 33.966sec bt Great Britain 34.294sec. Bronze: Australia 33.948sec bt France 34.945sec.
You can see a selection of photos from this event in our gallery section
Thank you for reading 20 articles this month* Join now for unlimited access
Enjoy your first month for just £1 / $1 / €1
*Read 5 free articles per month without a subscription
Join now for unlimited access
Try first month for just £1 / $1 / €1