BRITISH TRACK RIDERS RARING TO GO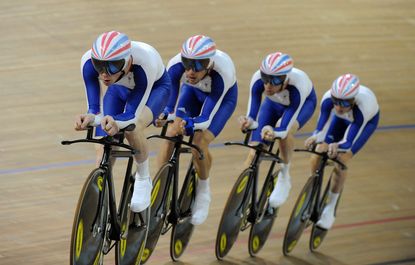 The temperature in the Laoshan velodrome yesterday afternoon was controlled at 29.5 degrees. Not as hot as it is outside, and not as hot as the form of Team GB. ?Everyone?s getting a bit fruity,? the cycling team?s head coach Shane Sutton told us. ?They?re all ready to go.?
The riders did look mightily impressive as they turned out some training efforts at near race pace. Watching a rider train doesn?t have the same impact as watching them race, but nonetheless, there?s no disguising the speed in the British rider?s legs.
Jamie Staff, Jason Kenny and Chris Hoy did three standing start, half-lap efforts and one rolling start full race length effort, while the team pursuiters did two race pace efforts although the first was cut short when Bradley Wiggins suffered a minor technical problem.
Wiggins is now back on form after catching a virus at the pre-Olympic training camp in Newport where, according to Sutton he was; ? too weak to scratch himself. He?s turned it round, and he?s rocketing around now, he?s ready. You can tell when he?s ready through his body language. He?s taking the piss out of me all the time so he must be going well!?
Sprinter Victoria Pendleton was also looking good and apparently putting out some good numbers in the two flat out, one-lap efforts she did yesterday. ?Preparation has been perfect, all the coaches have been fantastic,? said Sutton. ?It?s just activation now and the taper.?
Having arrived in Beijing the day before, Mark Cavendish was on the track for an hour, riding round on the blue line with Chris Newton and three Italian riders looking relaxed. The Manxman had done a two-hour road ride soon after arriving and had done another hour on the road in the morning before hitting the boards.
Sutton confirmed who would be riding the qualifying round of the Team Sprint on Friday and Team Pursuit on Monday (click here for a full schedule), they are:
Team Sprint ? Jamie Staff, Jason Kenny, Chris Hoy
Ross Edgar set to come in for the second round.
Team pursuit ? Ed Clancy, Paul Manning, Geraint Thomas, Steven Burke
Bradley Wiggins to be rested after the individual pursuit, and then return for the all important second round.
Victoria Pendleton shares a joke with BC coaching staff between training drills on the track.
Tour de France hero Mark Cavendish back on the track with Team GB. Check out those aero handlebars. Are those some new Nike shoes too?
Chris Hoy, the fastest man on the planet, prepares himself for a Team Sprint starting effort
Women's individual pursuit world champion Rebecca Romero completes a six lap race-pace training drill. That's possibly the most aerodynamically advanced skinsuit you'll ever see, and one of the 'slipperiest' bikes. Check out the clean lines on all the tubes
Swipe to scroll horizontally
Positive test for cyclist at Olympic Games
Bettini chasing second Olympic gold
Romero poses nude for ad
British quartet eyeing new world record
As Olympics approach two new drugs emerge
Beijing Blog
Beijing Blog 2
Beijing Blog 3
Swipe to scroll horizontally
Picture special: Women's time trial
Cancellara wins men's time trial gold
Men's time trial reaction: Steve Cummings on his ride
Women's time trial reaction: I feel fantastic, says Pooley
Pooley wins silver in women's time trial
Cooke's secret was the skinsuit
What the papers say... about Nicole Cooke
Analysis: women's road race
Gold for Nicole Cooke in Women?s road race
Reaction: It?s a dream to win Gold, says Cooke
Women's Olympic road race picture special
Sanchez gives Spain gold in thrilling men?s road race
Who is Samuel Sanchez?
Tactical analysis: Reading the men?s Olympic road race
British riders suffer in hot and humid Olympic road race
Rebellin misses out on golden birthday
Brailsford confident ahead of women?s road race
Swipe to scroll horizontally
OLYMPIC GAMES 2008: TRACK
Cavendish unlikely to ride individual pursuit
Swipe to scroll horizontally
OLYMPIC GAMES 2008: GUIDE
Olympics cycling results>>
Cycling event schedule>>
Great Britain rider profiles>>
Cycling event guide>>
Photo gallery>>
British Olympic cycling medal winners>>
Thank you for reading 20 articles this month* Join now for unlimited access
Enjoy your first month for just £1 / $1 / €1
*Read 5 free articles per month without a subscription
Join now for unlimited access
Try first month for just £1 / $1 / €1