A record six British riders started this year's Giro d'Italia, and all six completed the race on Sunday in Milan.
Along the way, the British contingent chalked up stage wins, got in day-long breaks, excelled in the time trials and generally made their presence felt in the Italian grand tour. It's fair to say that none of them were there just to make up the numbers.
Mark Cavendish, David Millar, Bradley Wiggins, Geraint Thomas, Charly Wegelius and Steve Cummings, this page is for you – a celebration of your fantastic performances at this year's Giro.
All photos by Graham Watson, unless otherwise stated.
The six British riders in the 2008 Giro line up with the British Ambassador in Italy, left to right: Charly Wegelius, David Millar, ambassador, Mark Cavendish, Bradley Wiggins, Geraint Thomas and Steve Cummings
David Millar (centre of pack, in white) played a key role in his Slipstream squad's victory in the opening team time trial
David Millar (centre) lifts up team-mate Christian Vande Velde after their Slipstream squad won the opening team time trial stage
David Millar heads the bunch during stage 2, with team-mate Christian Vande Velde in pink
Race leader Christian Vande Velde talks to Bradley Wiggins (r) at the start of stage 2
Mark Cavendish wins his first Giro stage, a sign of things to come… (stage 4). Photo by Luc Claessen/ISPA
Mark Cavendish celebrates his first Giro stage win in style (Stage 4)
Bradley Wiggins hugs High Road team-mate Mark Cavendish after Cav won stage 4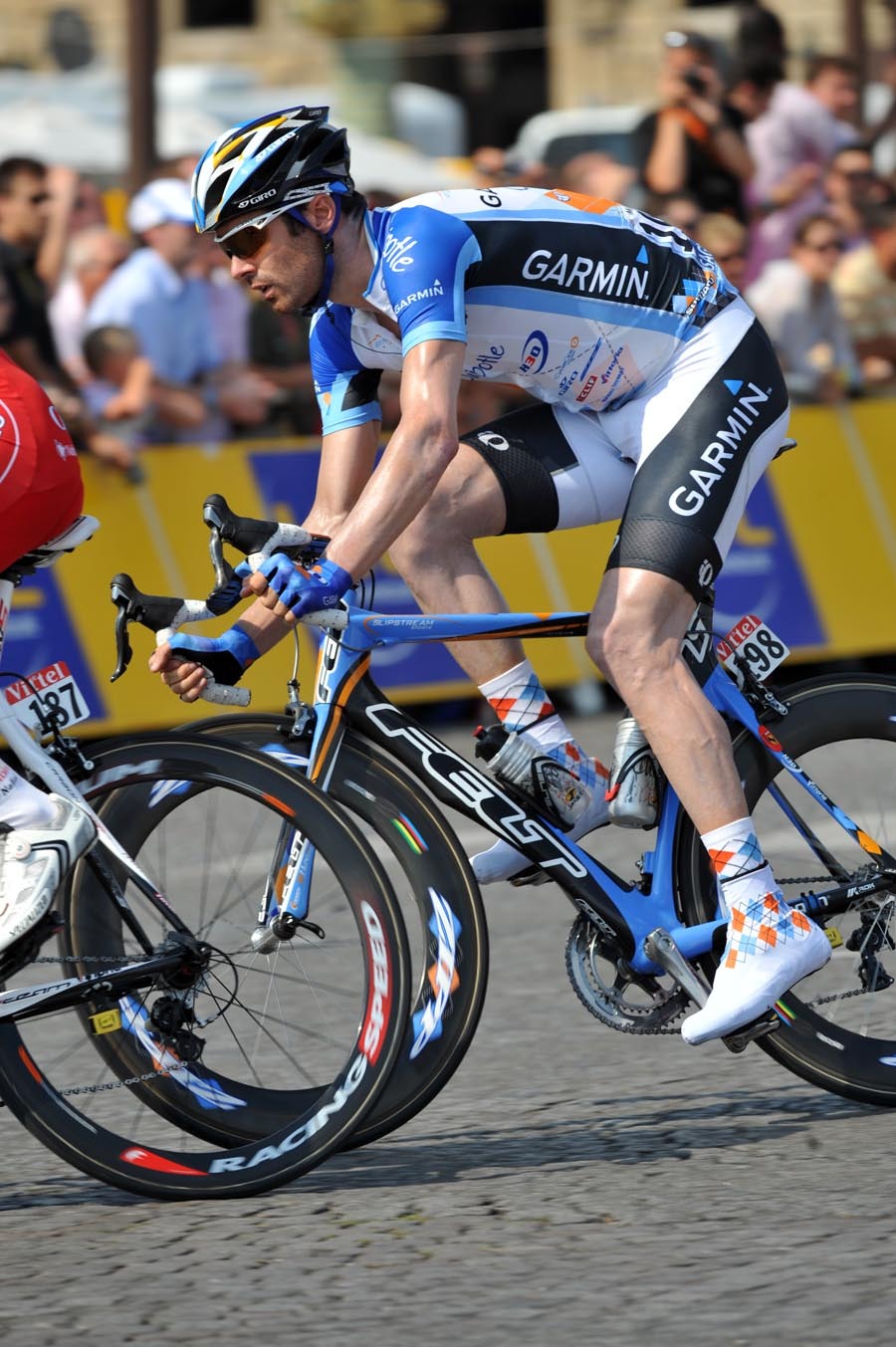 His face says it all: having spent all day on a break, David Millar's chain snapped one kilometre from the line just as Millar made a move (stage 5). The bike ended up over the barriers
Charly Wegelius at the front of the bunch, working for team-mate Franco Pellizotti
Bradley Wiggins at the team car on stage 9
An angry Mark Cavendish gets blocked in the sprint on stage 9
David Millar during the stage 10 time trial – the course was too lumpy to suit the TT specialist
David Millar took part in an early escape on stage 11
Geraint Thomas in action during a wet and hilly stage 11
Mark Cavendish almost cruises to his second win at the Giro and put his name in the history books as the first Brit to ever win two Giro stages
Sprint rivals Mark Cavendish and Daniele Bennati (r) gave the fans plenty of action on the flat stages
David Millar finds time for a joke with Christian Vande Velde on stage 13
Charly Wegelius is the perfect domestique – and is always there for his Liquigas team-mates
Sprint specialist Mark Cavendish was determined to finish the Giro, and that included completing the punishing stage 16 mountain time trial within the time cut
David Millar didn't particularly enjoy the stage 16 mountain time trial, later calling it 'a circus'
At home in the hills, Charly Wegelius was the top placed Brit on the stage 16 mountain time trial, coming 34th
Mark Cavendish gifts High Road team-mate Andre Greipel the win on stage 17, Cav comes in second
Mark Cavendish, David Millar, Geraint Thomas, Bradley Wiggins relax before stage 17
Steve Cummings survived the day-long break in the mountains to come fourth on stage 19
David Millar pounds his way up the final mountain stage (20)
Charly Wegelius on the Gavia (stage 20)
Three weeks of racing hadn't affected Steve Cummings' legs – he finished eighth on the stage, a stunning result
Geraint Thomas in the final TT – a few minutes later and the Welshman completed his second grand tour
Bradley Wiggins on his way to fourth place in the final TT to Milan (Stage 21)
David Millar in the final time trial (stage 21)
GIRO D'ITALIA 2008: FINAL WRAP-UP

Giro 2008: The final word on this year's race
GIRO D'ITALIA 2008: STAGE REPORTS

Stage 21 ITT: Contador seals win in final time trial

Stage 20: Contador sets up Giro victory

Stage 19: Contador hangs on to race lead

Stage 18: Voigt wins Giro d'Italia 'Worlds' stage in Varese

Stage 17: Cav gifts Greipel the stage

Stage 16: Pellizotti wins mountain time trial

Stage 15: Sella strikes again in the mountains

Stage 14: Sella wins first Giro mountains stage

Stage 13: Easy victory for super-fast Cavendish

Stage 12: Bennati gets photo finish verdict over Cavendish

Stage 11: Bertolini wins hilly stage

Stage 10: Bruseghin wins Giro d'Italia time trial

Stage nine: Cavendish misses out in sprint

Stage eight: Ricco wins again

Stage seven: Di Luca, Ricco and Contador gain time on rivals

Stage six: Italians clean up

Stage five: Millar denied by snapped chain

Stage four: Cavendish wins

Stage three: Bennati romps home

Stage two: Ricco wins Giro d'Italia second stage

Stage one TTT: Slipstream wins Giro team time trial
GIRO D'ITALIA 2008: NEWS

Contador's Giro win big boost for Spanish cycling

Ricco and Di Luca talk tough [stage 19]

Contador, Ricco and Simoni to face off in final Giro d'Italia mountains

Six Brits finish mountain time trial [stage 16]

Cavendish disappointed after missing out in Giro sprint

Can Cavendish win the Giro today? [stage 12]

Aggressive Cummings comes away empty handed [stage six]

Millar speaks out after missing out in Giro [stage five]

Reaction to Cavendish's Giro stage win

Cav hits back at Pozzato's snipe

Cavendish: This is my biggest win [stage four]

Millar celebrates Slipstream Giro d'Italia success

Bettini looking for final Giro glory

Astana's troubled build-up to the Giro

Petacchi banned for Salbutamol positive

Yates and Astana make last minute rush to Giro
GIRO D'ITALIA 2008: PHOTOS

Giro d'Italia 2008: Photo gallery, week three

Giro d'Italia 2008: Photo gallery, week two

Giro d'Italia 2008: Photo gallery, week one.
GIRO D'ITALIA 2008: FEATURES

Five days to go, what's in store?

Giro d'Italia 2008: Rest day review (May 27)

Cycling Weekly's all-time list of British pro winners

Giro d'Italia 2008: Rest day review (May 19)

Rest day 1: How the favourites are doing

Giro Britannia part two: From rule Britannia to cruel Britannia

Tuesday Comment (May 13): Why Cavendish is a bona fide world-class star

Giro Britannia: how the Brits are doing in Italy

Giro d'Italia 2008 preview

Giro d'Italia 2008: who will win?

Giro d'Italia 2008: The British are coming

Giro d'Italia on Eurosport: TV schedule