Brits Ethan Hayter and Mark Donovan to make Team Sky debut at Italian one-day races this weekend
The youngsters have already impressed on the road and have been given the chance to show their talent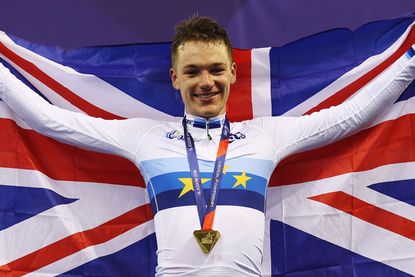 Team Sky has announced two young British riders will make their debut this weekend.
Rising track star Ethan Hayter and Team Wiggins rider Mark Donovan will both be riding for the British WorldTour outfit in the Italian one-day races this weekend.
Hayter and Donovan, both 19, will both pull on the Team Sky jersey and pick up inavaluable experience as stagiaires at the Coppa Agostoni race on Saturday.
Team pursuit world champion and European omnium champion Hayter said: "This year has been a bit weird.
"It's really kicked in since I won the Worlds really, but I'm just kind of accepting things as they happen and going along with it.
"I've not had much chance to think about this year as I'm still going to be pretty busy in September and October, but I'm slowly realising I've achieved a lot this year.
"My confidence is as high as its ever been, I'm realising what I'm capable of and I'm excited to get stuck in with Team Sky."
Hayter also picked up a slew of top-ten finished at this year's Tour of Britain.
Mark Donovan has also picked up a string of stand-out results, including finishing 11th in the Tour de l'Avenir and fourth in the Baby Giro.
Donovan said: "It was kind of surreal to be handed a bag of my Team Sky kit, but pretty cool.
"It's given me loads of confidence. Going into this year I said to myself 'don't put too much pressure on yourself, and do as well as you can.' These results were way above my expectations really."\
Hayter and Donovan will join fresh signing Eddie Dunbar at Coppa Agostoni on Sunday.
The Irishman joined the team with immediate affect from Aqua Blue Sport, which collapsed before the Tour of Britain last month.
Also confirmed for the Team Sky lineup is Italian Gianni Moscon – his first race back after serving a five-week ban for violent conduct.
Speaking of the upcoming tests, Donovan said: "Earlier in the year I did two Italian one-day races in April and they were super fun – a really great atmosphere and great races.
"I love racing in Italy. The Baby Giro was great with the atmosphere and the culture. You feel that it's a really big race. It was so impressive."
Hayter added: "I lived in Italy for a year, doing 10 one-say races, so I know the drill pretty well – it'll just be even harder than before, harder that the under-23 races."
Thank you for reading 20 articles this month* Join now for unlimited access
Enjoy your first month for just £1 / $1 / €1
*Read 5 free articles per month without a subscription
Join now for unlimited access
Try first month for just £1 / $1 / €1