Bruce Berkeley answers his 'disqualification' from cycling year record
After being 'disqualified' from having his cycling highest annual mileage attempt recognised by the Ultra Marathon Cycling Association, Dave Bruce Berkeley issues a statement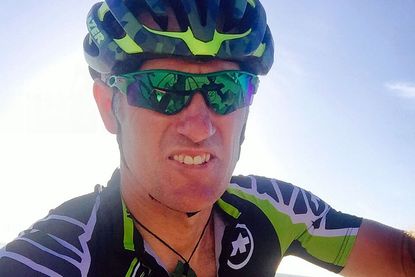 (Image credit: Bruce Berkeley/Strava)
London-based cyclist Dave Bruce Berkeley has issued a statement after the Ultra Marathon Cycling Association said that it would not recognise his attempt on the highest annual mileage record (HAM'R).
The UMCA announced on Sunday that Berkeley - known more commonly as Bruce or 'Cycle Doctor', after his bike mechanic business - was disqualified from his attempt due to non-compliance with the rules. Berkeley says that this was due to not forwarding a joining fee to UMCA, due to an administrative oversight, and failure to provide an approved tracking device - and says that his attempt will be ratified by Guinness World Records.
"Bruce Berkeley has been officially disqualified in his HAM'R attempt," said the UMCA in its statement. "He was not in compliance with the rules when he started. The UMCA gave him several chances to become compliant but he did nothing to avail himself of those chances. He never came into full compliance.
"Of course, he may continue to ride, but his mileage will not be certified by UMCA. We wish Mr. Berkeley the best in his cycling endeavors."
>>> Five invaluable tips to help you step up from riding 60 to 100 miles
In reply, Berkeley issued a statement on his Facebook page explaining the confusion over submitting the fee for registering his HAM'R attempt and a separate fee for joining UMCA.
"Prior to starting the record attempt, I was contacted by a number of people who recommended HAM'R but I would need to register with them in order for them to officiate," wrote Berkeley.
"I wondered as to how that would benefit me as a rider – as I am already being 'officiated' by Guinness – who are World renowned with record attempts and validation. However, after some thought, I conceded and explained to HAM'R that I would like to join them and appear on their league tables.
>>> American Kurt Searvogel breaks cycling highest annual mileage record
"At this stage, I was informed that there was a $300 registration fee. It seemed steep, but I paid. I commenced the record attempt on January 1st. Since then I was contacted by HAM'R to explain that I also needed to pay my annual membership fee – another $30. I had assumed this would be covered in the previous payment of $300 – it wasn't."
According to Berkeley, UMCA also had an issue with the way in which Berkeley was recording his mileage. Under UMCA rules, an approved tracking device must be used that transmits 'live' positional data in order for the mileage to be recorded. Berkeley uses a Garmin GPS computer.
"I offered a iPhone based app (Find my Friend) which would enable the organisation to verify my Garmin records," said Berkeley.
>>> Comment: Why Kurt Searvogel's annual cycling record deserves our respect
"I was informed that this would not be acceptable as they required me to provide a tracking device that ALL MEMBERS of the group could follow. Real time. I was also told that a single piece of technology would [be] acceptable – a further $200.
"From a personal security perspective, I have a major issue with every single member of the public able to know exactly where I am (more importantly – where I am not) at any time of the day. My living space will be compromised, and there is no 'Privacy Zone' setting. I have no issue in any single member of the HAM'R organisation using a tracking device for me – but not the general public. "
Originally from New Zealand, Berkeley lives in London but is currently in Australia where he is clocking up some mileage in warmer climes than those offered by Europe - and with more daylight. He recently rode with several WorldTour teams as they prepared for the Tour Down Under.
Watch: How to dress like a cyclist
A new HAM'R record of 76,156 miles was recently set by American Kurt Searvogel, and certified by UMCA. He broke the long-standing record set by British rider Tommy Godwin of 75,065 miles in 1939. Two other riders are also currently attempting to set a new record: Steve Abraham and Miles Smith, both recognised by the UMCA.
Berkeley already holds the records for the most number of miles cycled in a week and a month - now he is aiming to add the year record, with or without the UMCA.
"I was informed that I had been disqualified by HAM'R [UMCA] – ironically, given I had not paid the $30 membership fee, I assume I was never actually registered to be disqualified anyway," said Berkeley.
"It is a shame – but it takes nothing away from my attempt. I feel that HAM'R should be encouraging me, not providing road-blocks."
Thank you for reading 20 articles this month* Join now for unlimited access
Enjoy your first month for just £1 / $1 / €1
*Read 5 free articles per month without a subscription
Join now for unlimited access
Try first month for just £1 / $1 / €1