BURKE BLASTS TO NEW PB IN INDIVIDUAL PURSUIT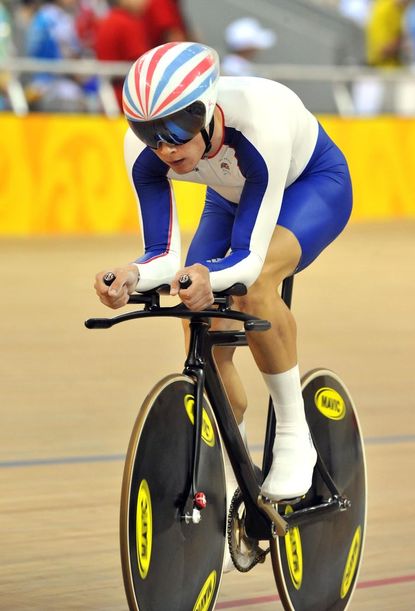 If there were any doubts over whether or not the British cyclists could improve on their performances at the world championships in March, Steven Burke blew them away.
Having just watched his compatriots post a new world?s best for the Team Sprint, the 20 year old from Burnley stepped up on to the Olympic track and set a stunning qualifying time of 4-22.260 minutes, easily catching the Colombian Carlos Alzate in the process.
The ride saw him qualify fifth fastest in the individual pursuit; ahead of former world champion Bradley McGee and Dutchman Jenning Huizenga who finished second at the worlds this year.
Amazingly Burke was only told he would be riding the pursuit the previous day, had done no specific training for his ride and posted a personal best. By nine seconds!
It was an incredible performance and one that left him grinning from ear to ear. ?I just gave it everything really, the main thing was to get a PB and I?ve done that,? he said afterwards. ?I always knew I was going to beat it but I didn?t think I?d be that fast.?
Burke is down to ride the first round of the team pursuit on Sunday and tonight was simply filling the second spot that the British team had qualified. The only specific training he had done for the individual event was one standing start effort this morning. ?I wasn?t expecting to get a second ride. I might as well go for it and see what happens. At the end of the day I?m here to perform,? he said.
?I didn?t expect to go so well. If I ride the team pursuit I?ll obviously be more nervous then because there?s a lot more at stake and I?ll be expected to do a world class ride,? he said, clearing not realising that that was exactly what he?d just done.
Both Burke and Bradley Wiggins will ride their first round races tomorrow. Burke will take on Volodymyr Dyudya of the Ukraine while Wiggins will take on Alexander Serov.
NB: Bradley Wiggins qualified fastest in the Individual Pursuit posting a new Olympic Record and new PB in the process. Full report and results to come...
RELATED LINKS
Live coverage of:Friday at the Laoshan velodrome
Swipe to scroll horizontally
OLYMPIC GAMES 2008: TRACK
Tracing the progress of British Cycling from 1996 to Beijing 2008
British track stars raring to go
What makes the Laoshan such a challenge
Picture special: CW takes you inside the Laoshan velodrome
Can these legs make an Olympic champion?
Cavendish unlikely to ride individual pursuit
Swipe to scroll horizontally
Positive test for cyclist at Olympic Games
Bettini chasing second Olympic gold
Romero poses nude for ad
British quartet eyeing new world record
As Olympics approach two new drugs emerge
Beijing Blog
Beijing Blog 2
Beijing Blog 3
Swipe to scroll horizontally
Picture special: Women's time trial
Cancellara wins men's time trial gold
Men's time trial reaction: Steve Cummings on his ride
Women's time trial reaction: I feel fantastic, says Pooley
Pooley wins silver in women's time trial
Cooke's secret was the skinsuit
What the papers say... about Nicole Cooke
Analysis: women's road race
Gold for Nicole Cooke in Women?s road race
Reaction: It?s a dream to win Gold, says Cooke
Women's Olympic road race picture special
Sanchez gives Spain gold in thrilling men?s road race
Who is Samuel Sanchez?
Tactical analysis: Reading the men?s Olympic road race
British riders suffer in hot and humid Olympic road race
Rebellin misses out on golden birthday
Brailsford confident ahead of women?s road race
Swipe to scroll horizontally
OLYMPIC GAMES 2008: GUIDE
Olympics cycling results>>
Cycling event schedule>>
Great Britain rider profiles>>
Cycling event guide>>
Photo gallery>>
British Olympic cycling medal winners>>
Thank you for reading 20 articles this month* Join now for unlimited access
Enjoy your first month for just £1 / $1 / €1
*Read 5 free articles per month without a subscription
Join now for unlimited access
Try first month for just £1 / $1 / €1