Cavendish challenged to win Worlds rainbow jersey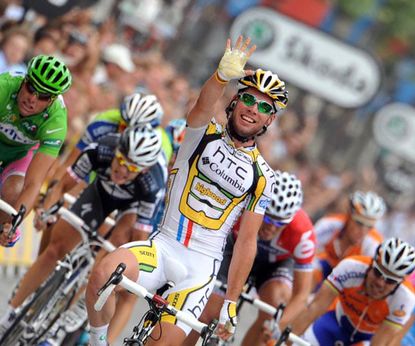 Mark Cavendish faces the end of his season and one of his biggest challenges to date, winning the World Championships in Australia on October 3. However, he has only contested one sprint - third in Coppa Bernocchi - since dominating the Tour de France sprints in July.
Is the world's fastest sprinter ready to face his rivals at the Vuelta a Espana starting Saturday and for a chance to win the rainbow jersey in Australia?
"Mark is ready for the Vuelta, he is in good condition and we will have a good team there and I am sure we can win some stages," said HTC-Columbia's sports director, Valerio Piva.
"We took only a one-week break after the Tour, and then started training again. Tre Valli was his first race, not a race for him, but he did okay and was only dropped in the last laps. Bernocchi was also not easy, but he finished third. The sprint was a little bit chaotic, there was no leading team. Garmin also only had one rider."
"The race was tough," Cavendish told Italian paper La Gazzetta dello Sport. "My team-mates worked to catch the escape and in the final I was alone."
In the sprint, he followed the work of Tyler Farrar's Garmin-Transitions team. Both Cavendish and Farrar, though, fell short to Italian sprinter Manuel Belletti. It was the type of mistake Cavendish will want to avoid at the Worlds in Geelong, Australia.
Cavendish, to be fair, will be closer to his best, if not at his best, in the Vuelta a Espana and at the World Championships in Geelong. He has just come off a dominant ride at the Tour de France, winning five stages, and a small break. He chose to skip the post-Tour de France criteriums and relax at his home in Quarrata, Italy.
"The Tour was very stressful and to race criteriums is not my idea of a rest," he said. His idea of resting? "Relaxing in Tuscany, unwinding completely. And eat! I even gained a little weight."
He laughed with the weight comment, showing he is confident and truly relaxed ahead of his big objective.
In Tuscany, he has been training diligently. Yesterday, he passed the day at high speeds, behind a motorbike driven by Britain's Under-23 coach, Max Sciandri. It was part of his last round of training before he travels to Spain, races for three weeks, and then directly to Australia, where he will race the Worlds two weeks later.
"I want to do well in the sprints [at the Vuelta]. In light of the Worlds, there is not a better way to prepare than to race at the Spanish tour."
Cavendish, though, must deal with two obstacles to win the World Championships and the prized rainbow jersey: a deceptive race circuit and a small, three-man British national team. The 262.7 kilometre race is, in theory, suited to sprinters, but features two climbs during the circuit around Geelong: the Ridge (120m) and Aphrasia St. (65m).
"Above all, I want to arrive there at 100 percent. Then we can talk again about it..."
Instead of racing with eight helpers, as he will have for the Vuelta a Espana, he will only have a national team with two helpers. Due to UCI rankings, Great Britain is only able to send a three-man team, which will make controlling the race over the two climbs and up the slight climb to the finish that much more difficult.
"Even Sciandri helped me think it over: the Worlds is a particular race. In the past, it's already happened where riders with small teams have won," Cavendish said. Referring to the strong teams, like the Italian team, he added, "Are you sure that they will drop me so easily?"
His confidence is high, and it should be. Going into the final stages of the Tour de France, he proved his versatility by winning in Bordeaux and Paris with only six HTC team-mates, minus his main lead out man Mark Renshaw.
Related links
Three spots for Great Britain at World Championships road race
Thank you for reading 20 articles this month* Join now for unlimited access
Enjoy your first month for just £1 / $1 / €1
*Read 5 free articles per month without a subscription
Join now for unlimited access
Try first month for just £1 / $1 / €1