Cavendish gets go ahead from team to ride Worlds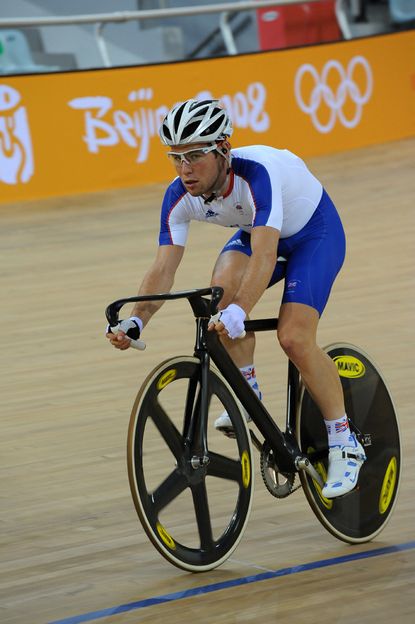 Mark Cavendish has been given the green light by his Columbia-Highroad team to race for Great Britain at the World Track Championships in Poland.
The 23-year-old was the surprise inclusion in the squad, which was announced on Monday, and he is set to ride a Madison race for the first time since the Beijing Olympics last summer.
When contacted by Cycling Weekly on Monday, he declined to comment on his selection, saying he was concentrating 100 per cent on Saturday?s Milan-San Remo and that until after the Italian Classic his focus would be on his trade team duties.
After yesterday?s stage win at Tirreno-Adriatico, Cavendish reiterated: ?I am very focused on my goals on the road with Columbia-Highroad. All my thoughts at the moment are on Milan-San Remo. Only after that will I start thinking about the World Championships.
?I?ve always enjoyed racing on the track. I believe the big advantage of continuing to do some track racing is that it helps to develop my leg speed.?
Yesterday, Columbia?s team manager Rolf Aldag supported the move and said it would be good preparation for Ghent-Wevelgem, which is on April 8. ?It is all about leg speed. Cav is the fastest road sprinter because he has that extra speed. The track offers a good opportunity to work on this and keep him on a high level of performance. He has proven that he can adjust to the track very quickly, said the German.?
The Madison at the World Track Championships will be held on Saturday, March 28 and according to British Cycling coach Rod Ellingworth, Cavendish feels it will be better for him than racing at the GP Harelbeke and Fleche Brabançonne races in Belgium the same weekend.
A CHANGE OF HEART
A frustrated and hurt Cavendish was the only British track rider to return from the Beijing Olympics without a medal. Having won the Madison world title in such convincing style with Bradley Wiggins in Manchester earlier in the year, they travelled to China as favourites.
But Wiggins was struck down by a virus before the Games, and then rode a punishing schedule, completing every round of the team and individual pursuit, with recovery time at a premium. By the final day of competition, Wiggins had nothing left to give and Cavendish, who had dropped out of the Tour de France to give himself the best chance of winning gold in Beijing, was left empty-handed.
After Beijing he gave several interviews, including one to Cycling Weekly, in which he said he was turning his back on the track. So it was a surprise to see him named in a Great Britain track squad so soon, particularly in the middle of his spring road campaign.
Ellingworth explains the U-turn and why news of Cavendish?s return to the fold was kept quiet. ?To be honest, anyone who knows Mark knows he?s passionate and he sometimes says things in the heat of the moment. He was hurting because he?s so competitive and he wanted to win. Yes, he said he was turning his back on the track, he definitely said it, but as far as we were concerned, he was just sounding off. It was never a case of closing the door on track. He loves riding on the track, it?s part of the bike rider he is.
?But he was aware of what he?d said and he knew people would say ?hang on, didn?t he say he wasn?t riding track again?? So, it was decided to keep it quiet, try not to make too much of a fuss. For a start, he doesn?t want to overshadow other riders. Mark wants to be treated as a bike rider like anyone else in the squad.
?It?s a busy time for Mark, with Tirreno-Adriatico and Milan-San Remo, and he has to concentrate on what he?s doing for High Road [Columbia].
?But instead of answering questions about the track for a fortnight while he was trying to race Tirreno and Milan-San Remo, we tried to keep it quiet. In a way, there?s no pressure on him in Poland but we?re delighted to have him back and he?s delighted to be back.?
Anyone tempted to think Cavendish?s post-Olympic upset meant he?d also fallen out with the management at British Cycling are wide of the mark. One of his closest confidants is Ellingworth, who has been a coach and mentor to Cavendish since the start of British Cycling?s Academy. And Cavendish credits Heiko Salzwedel, who returned to British Cycling in the autumn, with getting him his contract at T-Mobile in late 2006.
BACK ON TRACK
The question is what Cavendish can gain from racing on the track next week? He already has two Madison titles to his name and he?s said repeatedly he sees his future on the road, chasing stage wins, Classics, the green jersey at the Tour de France and, eventually world and Olympic titles.
Victory would be nice, of course, but if he does not win a medal, the mainstream media will wonder why. It?s easy for cycling fans to understand the idea of a world-class rider taking part in the world championships for reasons other than aiming for out-and-out victory.
The reasons are simple. The rider feels it?s the best preparation for Ghent-Wevelgem and his other goals this spring, and he wants to get back on track and move on from Beijing as well as keep close to the heart of the national squad.
He is the kingpin in British Cycling?s Project Rainbow Jersey ? a medium-term plan to build a Great Britain national team capable of helping Cavendish win the world title when the course suits.
However, suggestions that Cavendish could find himself at the heart of a tug-of-war between his trade team and his country may be increasingly hard to avoid. Whether the parties involved admit it or not, there is the potential for friction because many of the key figures in British Cycling?s set-up are also likely to be the key figures in Team Sky, the professional road team due to launch next year. Manchester will be the heart beat of the national team, and the pro team. The line between the two may be blurry, at best.
In 12 months? time, the reality will be that Columbia?s biggest asset will be as close to the heart of the national team ? and therefore Team Sky ? as he is to those paying his salary. That is the reality, and it will be for the people involved to manage the situation so the rider is not caught as piggy in the middle.
High Road team owner Bob Stapleton is sanguine. He knows Cavendish is under contract until the end of 2010, and has an option for 2011. He recently told Cycling Weekly he was confident Cavendish would still be riding for his team in 2012. More to the point, Cavendish is happy at Columbia and said there was about as much chance of Cristiano Ronaldo joining Chelsea as there was of him joining Team Sky.
This week Cavendish rides Milan-San Remo for the first time. Next week, Cavendish is back on the track. Ten days later he?ll be aiming for Ghent-Wevelgem. It?s a demanding schedule for a 23-year-old and it?s important he doesn?t find himself spread too thinly because of his talent.
With Milan-San Remo looming, he is being spoken of as a favourite by some, talked down by others because they fall for the old one about him not being able to climb the hills. It?s easy to forget this will be his first experience of Milan-San Remo. He?s never ridden it before, so when he says it?s a learning curve, it isn?t simply a bid to deflection attention and dampen expectation, it?s a fact. If he?s dropped on La Manie, or the Cipressa, or the Poggio, does that make the experience a failure? Of course it doesn?t. Just as returning from Poland without another rainbow jersey does not make his track return a failure.
RELATED LINKS
Cavendish named in British Track Worlds squad
Project Rainbow Jersey
Mark Cavendish plays down Team Sky speculation
GB Worlds squad picked but won't be named until Monday
Cycling Weekly's 2009 World Track Championships preview
International track results 2008-2009
Thank you for reading 5 articles this month* Join now for unlimited access
Enjoy your first month for just £1 / $1 / €1
*Read 5 free articles per month without a subscription
Join now for unlimited access
Try first month for just £1 / $1 / €1
Sports journalist Lionel Birnie has written professionally for Sunday Times, Procycling and of course Cycling Weekly. He is also an author, publisher, and co-founder of The Cycling Podcast. His first experience covering the Tour de France came in 1999, and he has presented The Cycling Podcast with Richard Moore and Daniel Friebe since 2013. He founded Peloton Publishing in 2010 and has ghostwritten and published the autobiography of Sean Kelly, as well as a number of other sports icons.