Cavendish takes first triumph of season in Qatar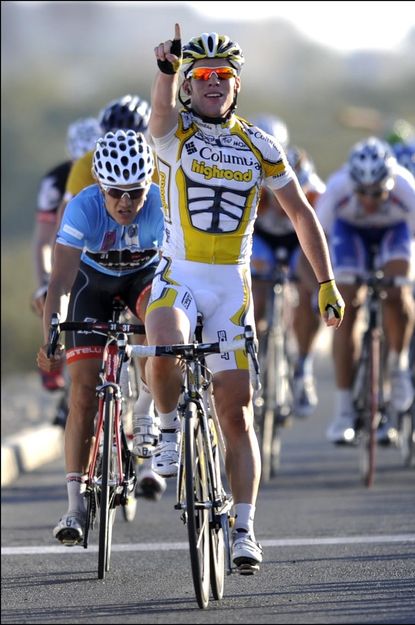 Mark Cavendish scored his first victory of the season in a windblasted bunch sprint in the Tour of Qatar on Wednesday. After two days of bad luck, the Briton easily outgunned Tom Boonen in the final dash for the line.
With galeforce winds blasting the peloton yet again, in the final 30 kilometres the bunch split apart when Cervélo made their third mass attack in three days.
Cavendish was on the right side of that move and when Cervélo split the group again in the last 15 kilometres, taking race leader Boonen with them. But after a hard chase the front end of the pack re-fused close to the finish.
In the final dead straight kilometre, with a ferocious headwind, Cavendish was partly blocked in by Boonen (Quick Step) But he made it through the gap between the Belgian and the barriers and the Manxman powered away for his first victory of 2009.
?I?ve had bad luck for the last couple of stages, and I was extra lucky because Tom could have closed me into the barriers. It came down to a straight fight, and I won,? Cavendish told Cycling Weekly afterwards.
Boonen was adamant that in fact he miscalculated afterwards and his failure to shift his line by ?just five centimetres? had left Cavendish with a margin to come through between him and the barriers. After that, though, it was no contest, with the Manxman taking a clear win.
The wind was a huge factor again, and Cavendish pointed out, ?although that?s usual in Qatar, Steve De Jongh [Quick Step] told me that it?s never been so strong.?
?This kind of 60kmh wind is so strong that I wouldn?t be able to sail from the Isle of Man to England in it - and we?re racing in it!?
Referring to Cervélo?s last attack, Cavendish said ?We just had to leave them out there, and take it steady and we?d be sure they?d tire out. We left them there for as long as possible.?
Cavendish is now ninth overall, but Cervélo?s strong ride has left them more than well placed in the general classification as well. Roger Hammond, who was instrumental in both split on stage four and who won stage two is currently lying a strong second overall, just ten seconds behind Boonen.
His British team-mate Daniel Lloyd is another rider that the Belgian can ill afford to let out of his grip. Riding his first race for a ProContinental team, Lloyd is an impressive fourth overall, a mere 25 seconds back. On Wednesday?s stage he was sixth, and Hammond tenth.
Quick Step may control the race, but Cervélo look determined to push them every inch of the way to the finish in two days? time. Cavendish, meanwhile, is clearly on top of his game when it comes to the sprints.
But come what may in Qatar?s last stages, this will have been a great race for British cycling.
GB riders have won two of the four stages so far thanks to Hammond and Cavendish, have led the race for another two with Wiggins and Hammond, and currently have two riders in the top five and three in the top ten overall. Not a bad start to the season for any country.
Stage four: Doha Old Souq ? Madinat Al Shamal, 141km
1 Mark Cavendish (Great Britain) Columbia-High Road
2 Heinrich Haussler (Germany) Cervélo
3 Tom Boonen (Belgium) Quick Step
4 Filippo Pozzato (Italy) Katusha
5 Robert Forster (Germany) Milram
6 Daniel Lloyd (Great Britain) Cervélo
7 Martijn Maaskant (Holland) Garmin
8 Mirco Lorenzetto (Italy) Lampre
9 Tom Veelers (Holland) Skil-Shimano
10 Roger Hammond (Great Britain) Cervélo all same time
GB
20 Jeremy Hunt (Great Britain) Cervélo at 19sec
128 Ben Swift (Great Britain) Katusha at 8min 6sec
130 Bradley Wiggins (Great Britain) Garmin same timne
Overall standings
1 Tom Boonen (Belgium) Quick Step
2 Roger Hammond (Great Britain) Cervélo at 10sec
3 Heinrich Haussler (Germany) Cervélo at 12sec
4 Daniel Lloyd (Great Britain) Cervélo at 25sec
5 Andreas Klier (Germany) Cervélo at 27sec
6 Xavier Florencio (Spain) Cervélo at 28sec
7 Angelo Furlan (Italy) Lampre at 1min 07sec
8 Gabriel Rasch (Norway) Cervélo at 1min 43sec
9 Mark Cavendish (Great Britain) Columbia-Highroad at 2min 21sec
10 Tom Veelers (Holland) Skil-Shimano at 2min 35sec
GB
14 Jeremy Hunt (Great Britain) Cervélo at 3min 19sec
92 Bradley Wiggins (Great Britain) 27min 13sec
117 Ben Swift (Great Britain) Cervélo at 37min 07sec
RELATED LINKS
Cycling Weekly's all-time list of British pro winners
Tom Boonen will not face cocaine trial
Stage two: Hammond takes first win in three years
Wiggins leads Qatar after Garmin take opening team time trial
Tour of Qatar 2009 preview
Thank you for reading 20 articles this month* Join now for unlimited access
Enjoy your first month for just £1 / $1 / €1
*Read 5 free articles per month without a subscription
Join now for unlimited access
Try first month for just £1 / $1 / €1