CCTV shows theft of bikes worth £25,000 from London Pinarello store (video)
A tribute to Sir Bradley Wiggins's Hour Record bike is one of three bikes stolen from the Bike Rooms in London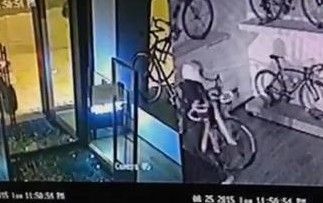 A replica of Sir Bradley Wiggins's UCI Hour Record bike was one of three stolen from the Bike Rooms in London as thieves reportedly got away with £25,000 of bikes on the night of Tuesday, August 25.
Alongside the Hour Record tribute bike, the crook reportedly made off with a replica of a Team Wiggins bike and a Pinarello Dogma K8-S - the bike Team Sky rode at Paris-Roubaix.
The CCTV footage from the Bike Rooms shows two people arriving on the pavement outside the shop on a moped before the passenger smashes the glass front door to the shop.
While the passenger is inside the shop, picking up the three bikes, the moped driver keeps the engine running outside - driving off when his passenger re-emerges from the shop with the bikes over his shoulder.
The thief's actions when he enters the shop suggests he may have known which bikes he wanted to take before entering as he appeared not to simply grab the bikes nearest to him upon entry.
The Bike Rooms is Pinarello's flagship store and opened this summer on London's Regents Street.
Thank you for reading 20 articles this month* Join now for unlimited access
Enjoy your first month for just £1 / $1 / €1
*Read 5 free articles per month without a subscription
Join now for unlimited access
Try first month for just £1 / $1 / €1