The changing face of the British bike shop
Butcher, baker, candlestick maker, bike shop... the first three are endangered or extinct, while the local bike shop is still around. But can it survive the retail revolution?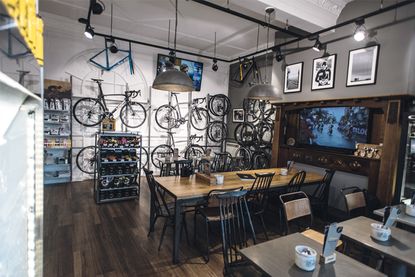 We have a curious relationship with our local bike shop. We'd hate it if it disappeared, but sometimes we seem to do everything in our power to hasten its demise.
The vicious price-cutting swept in by the internet has cut a swathe through our high streets, and changed our shopping habits. The LBS is as affected as any other shopkeeper, with massive amounts of trade simply disappearing online.
"Nobody is getting rich in the bike trade," says John Styles, an experienced sales rep for a bike and clothing brand, and a man who estimates he's been inside 600 different bike shops and still visits four each working day.
"Everything is competed down to its lowest possible price. As a result most people in the bike trade — shop owners, mechanics, sales people — earn 20-30 per cent less than they would in an equivalent industry."
>>> Specialist bike fit: which approach is best?
Carlton Reid, executive editor of BikeBiz, a magazine for the trade, says: "It's so easy to shop online now that it's the new normal. Of course you buy your tubes and tyres online. Why wouldn't you? It's cheaper!
"Bike shops used to make a lot of money on, for instance, tubes. They're bought for pennies and then sold at expensive prices. That's just not happening now."
Added to the ruthless price war, bike shops have to cope with 'showrooming', as customers touch, squeeze, prod and feel, take up the staff time by soliciting advice — and then go and buy the same item online cheaper.
But despite showrooming and online competition, bike shops are holding on, and in many cases they are thriving.
>>> Saddle height: how to get it right, and why it's so important
"The LBS is proving very adaptable. More shops are opening than closing. In my patch I have seen perhaps 30 new shops opening and only five or six closing," says Styles.
Reid adds: "I've been staggered by their resilience. The rest of the high street has died around them but somehow the LBS has survived. If you're in the right place, selling the right stuff and you have the right approach — which is to be proactive and offer services you can't get online — they're a good place to be and owners can make a tasty living."
So what makes a successful bike shop in this day and age? It seems that, increasingly, although it is a gradual trend, bike shops can now be divided into two types. It's not a neat dividing line, but the trend is for a new breed bike shops to offer more in the way of services although they still want to sell goods, while the traditional operations need to sell lots of goods, and services are a bonus.
The new breed has a cafe attached — and the coffee is as good as you'd find in Milan — there's a big screen showing bike racing, a slew of high-end brands, boutique bikes, the latest in bells and whistle bike fitting and perhaps even a white-painted room off the main sales area offering physiological testing.
>>> Andy Schleck eases into retirement by opening a bike shop
The traditional LBS is still largely to be found on the high street, though increasingly outside of the high rental pitches in the big city centres unless they're a chain, full of kids' bikes at Christmas, stocking a wide variety of brands, with long-serving staff and is often a part of the local cycling community through promotion or sponsorship of local racing or events.
Meanwhile, a third type of bike shop is emerging — and may be poised for big growth. On out of town or edge of town sites, 'big sheds' are springing up. Huge amounts of floor space are devoted to bikes, clothing and equipment and the advantage the 'sheds' can offer is to carry enormous amounts of stock.
Buyers visit in the reasonably certain knowledge that what they want is going to be available there and then.
We took a look at two types of LBS in the cycling heartland of Yorkshire.
New breed bike shop: Prologue, Harrogate
Prologue is the brainchild of ex-marketing man John Read. You can tell. The shop has a distinctive brand and logo: It All Starts Here (Prologue? Get it?)
It's reflected in branded shop kit and an eye-catching yellow and black colour scheme that's everywhere on the premises, website and Facebook page.
The walls are draped in high end bikes and carbon wheelsets, a pristine workshop can be glimpsed off the sales floor, and there's a procession of customers disappearing behind a closed door to have a custom bike fit or a body composition test from the shop's resident physiologist. Yes, they have one.
>>> All the latest news on the Tour de Yorkshire
But Read's also a long-time club cyclist, dyed-in-the-wool roadie and a big bike racing fan, and as much as Prologue is the very essence of the on-trend, new breed bike shop, it's also a passion project.
"This is what I've always wanted," he tells me over the excellent espresso in the cafe. "I've spent years meticulously researching and planning it."
There's a suspicion that cyclists can be a bit sniffy about these designer velo palaces. We are not noted for our unquestioning acceptance of new trends, especially if they're accompanied by higher prices.
It's a danger that Read has been acutely aware of and has worked hard to overcome with a careful eye on customer relations. An old school pegboard in the cafe is used to display information (sucked from Strava, naturally) celebrating the area's most prolific climber or longest ride of the week. "That's been amazingly popular," smiles Read.
The shop runs regular rides, puts on talks and events and is promoting a traditional reliability ride. It's managed, carefully, to win fans even amongst the hard-to-convince factions of local clubs.
But Read doesn't compete with the internet on price, leading to interesting exchanges on local Facebook groups as cyclists seek out the best deal. "Who on earth pays those prices?" questioned one poster recently. "People who live in Harrogate," came the reply.
>>> Where and when to watch the Tour de Yorkshire
"Fighting the internet on price is just a race to the bottom," says Read. "We have to provide something different, something with added value and we try to do that by offering services you can't get on the web, as well as making Prologue a hub for the cycling community.
"We have to consider pricing — all businesses do. But we reward regular customers with a loyalty card, rather than desperately trying to match Wiggle on a 105 rear mech."
Interestingly, more floor space is devoted to the cafe at Prologue than to bike sales.
"The cafe is a great marketing tool. We've become a hub for local clubs to meet and start or finish rides. All these people wander through to the shop to look at the bikes, apparel and accessories."
Prologue is coming up to its first anniversary. It was launched amidst the Grand Départ fever that gripped Harrogate and Yorkshire last year and predictably it did well on the Tour's coat-tails. But Read has come through his first winter, traditionally a tough time for bike shops, in good shape.
>>> Common sense rules for modern road riding
"We only offer premium brands and most of our bike sales are custom builds. These take time so as well as winter bikes, we're selling summer bikes in the colder months in readiness for the new season," Read explains.
"For me it was always about providing services you can't get from the internet — in essence a one-stop shop for cyclists, whatever their level."
Traditional high street shop: Drake's Cycles, Leeds
Bike shops don't come much more traditional than Drake's. Now owned by 35-year old Matthew Drake, he's the third generation of Drake putting the people of Leeds on two wheels.
"My grandfather started the shop in 1951. They did everything — bikes, but also toys, mopeds, even records. It was a bit like that Two Ronnies sketch when a customer comes in asking for fork handles," he recalls.
When Drake's father took it over in 1969, an era-defining bike changed the shop forever. "The Raleigh Chopper came along — and my dad turned it into a shop full of bikes. We just grew and grew. We moved to new premises in 1997 and we've never looked back."
>>> The best cheap bikes: ridden and rated
And it's that ethos — "a shop full of bikes" — that has seen Drake's thrive. With four full-time staff and utilitarian premises stuffed to the gunwales with bikes from £300 up to £5,000, Drake knows what works for him.
"We sell bikes, pure and simple. We have 200 on display and we store another 600. If someone comes in wanting to try a bike, we can usually have them sitting on the right size immediately.
"If we can't, then within 15 minutes we can have a bike in their size and their price range built up. It's pretty simple: if you want to sell bikes, you have to have a big bike shop with lots of bikes in it."
Drake has reacted to the internet revolution, albeit reluctantly. "We were forced into going online because that's how people want to buy now," he says.
>>> Road bike groupsets: A complete buyer's guide
"They research and compare prices and they want the bike at the cheapest possible price. Some customers will drive from a long way off to get that. Or we have to ship it 200 miles to them, which has its problems.
"We do well selling off older stock at good prices. Models change so fast and a lot of those sales of older stock come from online."
Drake has seen clothing, parts and accessories sales decline in the face of the internet competition but he remains optimistic about his bike shop.
"The internet won't take over completely. People still want to sit on a bike, pedal it on the turbo and touch and feel it. They want the right size and they want that extra bit of personal service that we can offer. We've been here since 1951 and we're still here. I am optimistic about the future."
The curse of show rooming: bike shops' biggest threat
"I have been inside a bike shop and seen people asked to leave because they are so obviously showrooming," says Carlton Reid. "The more forward-thinking bike shops now have policies for dealing with it. They have to do this because it's such a threat.
"And customers who showroom have to recognise and accept that if an LBS goes bust it's partly their responsibility."
Showrooming is an understandable habit. But checking a bike out in the flesh and buying it cheaper online is an emotive issue for the retail bike trade.
>>> Road bike wheels buyer's guide
"Customers need to realise that being showroomed is a difficult and emotional experience for a bike shop manager or owner," says John Styles. "Advice is not free. The person giving that advice has spent years building it up and the time he has just taken to give that advice could have been spent servicing a bike, which would actually make him some money.
"To see the customer walk out of the shop knowing that he's going to use that advice and buy the item cheaper online is upsetting."
Both Reid and Styles believe that showrooming will be stamped out as bike shops protect their livelihoods.
The experts think that certain brands will simply vanish from the LBS in response to showrooming. Styles says: "It costs money to rent a store, pay business rates, lighting, heat, staffing and insurance. Every piece of space in the store has to earn its keep. If a product is constantly showroomed, it will sooner or later have to be replaced with something else. That might be a coffee area, fit studio or different type of product. Showroomed brands and products will disappear from high street stores.
"The question isn't about whether stores will survive, they have proved resilient and adaptive for the last 30 years of tough trading. It's about which brands will survive the polarisation into becoming internet-purchased or high street-purchased brands.
>>> Cycling GPS units: a buyer's guide
"The days of finding the same product in both places are limited. You can probably expect big changes in your local store in the next 12 months."
Reid agrees: "I think you will see a growth in shop-branded kit and equipment because that is more resistant to discounting. The big brands — Specialized, Trek and Giant, for instance — are protecting the interests of shops because they are not sold online cheaper. But I think we could see a position where it's almost impossible to buy Shimano, for example, on the high street because the big online retailers are now selling Shimano cheaper than the trade price, which shops pay.
"There's a pretty simple message to cyclists if they value their local bike shop: use it or lose it."
This article was originally printed in the March 26, 2015 issue of Cycling Weekly
Thank you for reading 20 articles this month* Join now for unlimited access
Enjoy your first month for just £1 / $1 / €1
*Read 5 free articles per month without a subscription
Join now for unlimited access
Try first month for just £1 / $1 / €1