Chris Boardman enters safety debate after family member involved in 'close pass' (video)
Chris Boardman says there is no excuse for a lorry to pass a group of cyclists closely after his mother was reportedly involved in a 'close pass'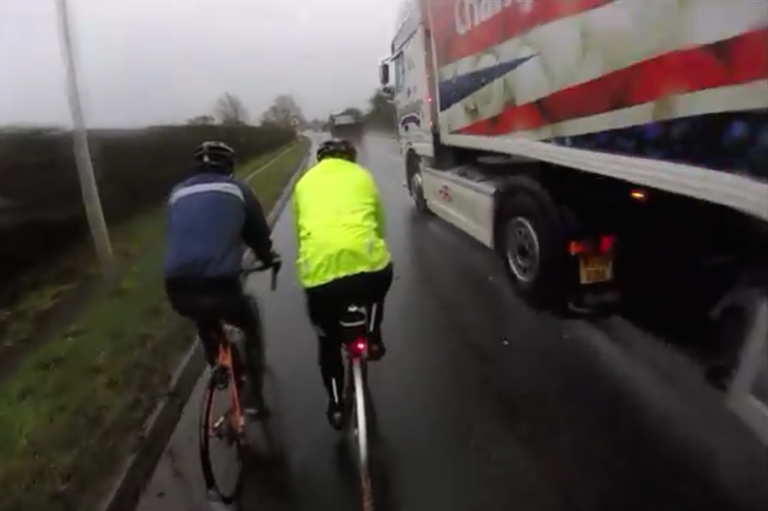 Chris Boardman is a keen advocate of cycling safety, so when his mother was involved in a 'close pass' with an Aldi lorry on a Birkenhead North End Cycling Club club ride he entered a debate on Twitter about safe cycling procedure.
Twitter user @trucksimdriver messaged Boardman with a video of the BNECC ride to ask if the riders or the driver was in the wrong, with Aldi apparently claiming the pass was perfectly safe.
In the video, we see two riders ahead of the rider with the camera riding two abreast, with an HGV passing at some speed. We've seen closer passes by vehicles, but it still looked close enough - especially for such a large vehicle travelling at such speed - to cause distress.
>>> Watch: Chris Boardman explains how to safely overtake cyclists
Another Twitter user, @_NickWhite, agreed with the original poster that the truck was too close, but said the riders should have ridden in single file to mitigate the dangers.
Boardman, who has presented a video on why riders travel two abreast, responded saying it could have posed a bigger danger if the group.
Cycling Weekly has contacted Aldi for a response to the incident.
What are your thoughts on the matter? Was the truck passing too close? Should the riders have been riding single file? Let us know in the comments below.