CHRIS HOY: THE ELUSIVE OLYMPIC HERO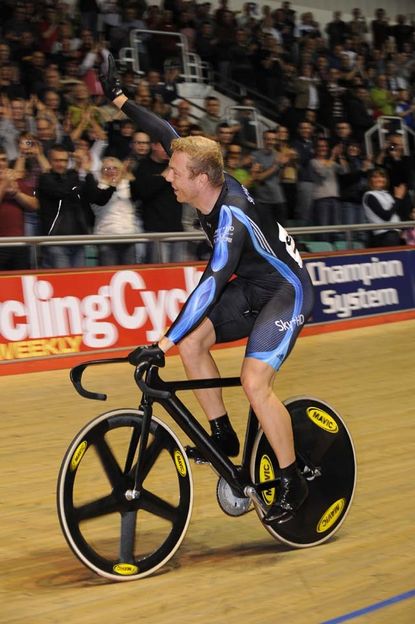 It was Friday, the day before Britain's Olympic triple gold medallist Chris Hoy was due to race the Revolution, his first competition since racing in Beijing four months ago.
I was scouring Manchester Velodrome looking for him. I'd been trying to secure an interview for weeks, but Hoy's schedule of public appearances, receptions and TV shows was too tight.
"He'll be training at the velodrome all Friday," his agent Rick told me.
So I boarded a morning Virgin Pendolino at Euston.
He wasn't training at the velodrome! Hoy rushed in for two bikes and rushed out again.
Olympic success for Britain's cyclists has completely changed the reporting landscape. Before Beijing they were easy to reach. Now they're celebrities. Emails and phone calls go unanswered. They have agents.
Post Beijing, the whole world and his mate want a piece of our Olympic champions.
I bumped into British Cycling's head coach Shane Sutton.
"No, Chris won't be training today. You should catch him though, he's coming in to collect a track and road bike."
Sutton told me that the pressure on the riders has been enormous since Beijing.
"Some of them can't handle it," he laughed. "'Shane, get me out of here'. They can handle losing - you just get back to work on the bike. But success? At this level? That's a whole different ball game, mate. Many on the team didn't know what hit 'em.
"Chris, though, he's cool. Takes it all in his stride. You should have seen the film crew which followed him here the other day - about 80 of them. It takes a lot of discipline to keep focused with all the demands on your time," added Sutton.
The receptionist gave me a tip. "Chris never comes into the velodrome through the main doors. He goes in through the workshop, just round there, to avoid well-wishers."
So I chilled out in the reception area. It was like sitting in the middle of a giant advent calendar.
Every time a door opened, an Olympic or world champion popped out! There goes Jo Rowsell. Then Vicky Pendleton. Out popped Jason Queally. Blimey, there's Ed Clancy!
I'll call you
After two hours I spotted the big man himself, parking up. He disappeared inside the workshop. I strolled in after him.
He looked around. "Hello," he said, surprised.
"Hi," I replied.
I quickly explained that it was all the fault of his agent who said he would be training today and might have time for an interview.
He apologised; the information was wrong on both counts.
Tomorrow? I asked, before the Revolution.
He shook his head and looked a bit agitated.
"Tell you what," he said. "Give me your number, I'll call you later, at 5pm."
The triple Olympic champion is going to call me! How cool is that? But I was also very disappointed. I'd wanted a face to face.
See my agent
Instead, I had to kill three hours. I went into the track to watch Pendleton and Queally training behind a Derny ridden by coach Jen Van Eijden. He revved up to make Pendleton finish with a high speed burst.
She returned to the centre to change her bike's chainwheel.
You look good in your rainbow jersey, I told her.
"Thanks," she smiled.
I didn't tell her she looked pale, a bit run down.
She was happy to chat. "I've been really quite ill," she said. "Worst case of a flu-type bug I can remember having. I think it's cleared up now," she added. "But I'm not completely OK."
She confirmed what I knew, that interviews must be arranged through agents. And her agent handles six Olympians!
Back in reception, I bumped into performance director Dave Brailsford. Can't his office arrange interviews? "No, afraid not. It all has to be done via agents, now." And he grinned. I thought, is he smiling because we're being given the run-around?
I rang for a cab to take me back to Piccadilly Station.
And at 4.26pm, as I was having a coffee and meatball panini at Café Ritazza, my mobile rang.
"Hi," I answered.
"Keith, it's Chris."
What a player. The MAN called me back!
We didn't have a good line. In one ear, booming station announcements. In the other, our greatest Olympian.
Is he riding the Revolution?
"Yes."
In the last four months when have you ridden your bike?
"Wednesday was the first time on the track. I took my road bike with me on holiday to Thailand, so did a little road riding there."
Chris, let's talk about your second gold medal of the Games, in the team sprint when you whacked the French.
That gap which you let open as Staff screamed away on the opening lap of the team sprint final, was that a problem? How much harder did you have to ride to pull that back?
His answer got tangled up with an announcement for a train to Crewe. I think he said he held it, then accelerated to close it at the last moment, so when Kenny, the man in front, swung up for Hoy to come through, Hoy was already travelling at a higher speed.
How many public appearances has Hoy made since Beijing?
"Phew. Don't know. I've had one day off," he laughed.
"The open-top bus ride in Edinburgh was probably the best - the Castle, Royal Mile. There were 500,000 people turned out. It was amazing."
Packed schedule
What's his training and racing programme now?
"I've got the Rotterdam Six - riding sprints there. I'm off to Australia - Perth - for four and a half weeks training. Then it's the Copenhagen World Cup. Then I return to Manchester to prepare for the Worlds in Poland."
He's lost a little weight he says. But no problem. he's at about 93 per cent fitness - not bad!
Is he concerned that when he next meets the men he beat in Beijing, they'll have it in for him?
"That's something I'm never concerned about. I just concentrate on reaching peak performance."
And, as he's demonstrated so perfectly in the past, that is usually more than enough to decide the issue.
At this point, I felt that the station announcers and I had intruded long enough on his
busy schedule.
"Chris, thanks a million for calling me. I really appreciate it."
We hung up. Then I checked to see if his number was stored in my phone. It wasn't, of course.
This article originally appeared in Cycling Weekly December 11 issue.
RELATED LINKS
Chris Hoy: The elusive Olympic hero
Hoy wins BBC Sports Personality of the Year
Hoy still playing down his SPOTY chances
Scotland gets behind Chris Hoy
Vote Hoy for BBC Sports Personality tonight
Hoy: I believe the French have pastries for breakfast
Hoy tops night of action at Revolution
Hoy told: ?get back on bike?
Hoy beats Hamilton to win Sports Award
Hoy returns at Revolution
Race of champions: Hoy vs Hamilton
Hoy believes Hamilton may pip him to BBC prize
Hoy wins first race since Beijing
Chris Hoy scholarship programme launched
Chris Hoy and Geraint Thomas to ride at Milan Six
Thank you for reading 10 articles this month* Join now for unlimited access
Enjoy your first month for just £1 / $1 / €1
*Read 5 free articles per month without a subscription
Join now for unlimited access
Try first month for just £1 / $1 / €1
Keith Bingham joined the Cycling Weekly team in the summer of 1971, and retired in 2011. During his time, he covered numerous Tours de France, Milk Races and everything in-between. He was well known for his long-running 'Bikewatch' column, and played a pivotal role in fighting for the future of once at-threat cycling venues such as Hog Hill and Herne Hill Velodrome.