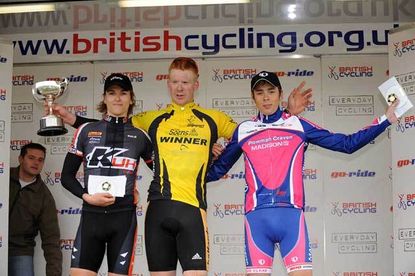 Ed Clancy (Halfords Bikehut) won the 48th edition of the Eddie Soen's Memorial Cycle Race today at the famous Aintree National Hunt racecourse in Liverpool.
Tim Kennaugh (Team Isle of Man) and Simon Yates (Sportcity Velo) dictated the early action when the pair attempted to make a strong challenge to stay away with their handicap start advantage. However, they were swallowed up by the chasing elite group before half distance of the 30 lap race.
At just after half distance a decisive break formed, consisting of Matt Brammier (Sean Kelly-AN Post), Plowman Craven?s Jon Mozley, Tom Murray and Evan Oliphant, Halfords Bikehut's Ed Clancy and Ian Wilkinson, and Kinesis riders Matt Kipling and James Stewart.
This eight-man break worked well and kept the splintered chase at bay. With two laps to go it was Clancy, Kipling and Murray that made a break for home and took the bell lap with a comfortable gap.
Clancy came round the final bend and used all his track condition to produce a seated sprint to take the line just ahead of Murray and Kipling.
Eddie Soens Memorial Cycle Race: Results
1. Ed Clancy (Halfords Bikehut)
2. Tom Murray (Plowman Craven Madison)
3. Matt Kipling (KUK Kinesis)
4. Ian Wilkinson (Halfords Bikehut)
5. Evan Oliphant (Plowman Craven Madison)
It proved to be the first of two wins for Halfords Bikehut in elite-category racing last weekend, with Rob Hayles drawing first blood in the opening round of the Maxgear North West League at Treales, Lancashire, on Sunday.
Hayles led in team-mate Ian Wilkinson by ten seconds, while Plowman Craven-Madison?s Tom Murray followed up his second spot in the Eddie Soens with third in the Maxgear League, another two seconds behind Wilkinson.
It was a better day for Plowman Craven-Madison in Essex, where James Millard won the Jock Wadley Memorial near Colchester. He held off Corley Cycles rival Simon Gaywood by inches.
And junior rider George Atkins showed his promise with victory in the first round of the Darley Moor Series in Derbyshire, the Webster Cycles rider outsprinting his two breakaway rivals Keiran Friend and Matt Jennings.
Tim Kennaugh
The final eight-man break worked well to build up a lead
Ian Wilkinson drives the pace
Matt Brammeier
Ed Clancy wins
RELATED LINK
Eddie Soens preview: Gibb goes for fifth victory at Aintree
Thank you for reading 5 articles this month* Join now for unlimited access
Enjoy your first month for just £1 / $1 / €1
*Read 5 free articles per month without a subscription
Join now for unlimited access
Try first month for just £1 / $1 / €1