Colorado to outlaw 'rolling coal' of cyclists by trucks
The practice involves modifying exhausts to create plumes of black smoke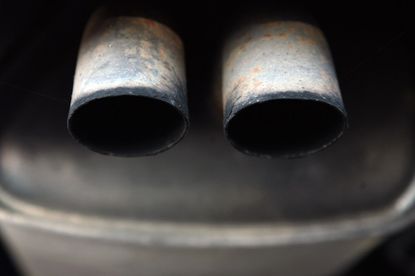 (Image credit: Getty Images)
Cyclists, pedestrians and many other drivers can breathe easier now as the Colorado legislature has passed a bill banning 'coal rolling,' or the practice of pick-up truck drivers purposefully spewing thick, black diesel exhaust fumes on other road users from illegally modified exhaust systems.
Senate Bill 278, which creates a traffic infraction of $100, passed in a 40-25 vote Tuesday in the Colorado legislature and is headed to Governor John Hickenlooper's desk for final review.
>>> New bill could mean California cyclists won't have to stop at stop signs
Many environmental and cycling groups are celebrating the passing of the bill. Coal rolling "creates a safety hazard for motorists, a health risk for pedestrians, and a threat to our environment," Theresa Conley, advocacy director for the Conservation Colorado told the Durango Herald (opens in new tab).
This is the second attempt to push through a bill outlawing coal rolling, sponsored by Republican Senator Don Coram of Montrose and Democratic House Representative Joann Ginal of Fort Collins.
The first incarnation of the bill died over concerns from the agriculture and commercial truck drivers communities that it would penalize their vehicles that are legally modified to improve performance.
The latest version of the bill contains provisions to exempt these types of vehicles from the bill in order to gain the bipartisan support necessary to pass Colorado's split Legislature.
"Some people apparently do this for fun," Ginal said to the Colorado Springs Independent (opens in new tab). "But it's really harassment and a threat to public health and safety with complete disregard for the environment and an assault on people who do not want to breathe in massive amounts of carcinogens..."
Already technically a federal crime to alter vehicle emissions limits and carrying up to a $3,750 fine, it has previously been rarely ticketed by Colorado police.
If signed by Governor Hickenlooper, the statute will only be enforced on vehicles weighing 14,000 pounds or less and if the release of exhaust, "would harass another driver, a bicyclist, or a pedestrian and obstruct or obscure the view of another driver, a bicyclist, or a pedestrian."
New Jersey is the only other state in the country that has banned coal rolling.
Thank you for reading 10 articles this month* Join now for unlimited access
Enjoy your first month for just £1 / $1 / €1
*Read 5 free articles per month without a subscription
Join now for unlimited access
Try first month for just £1 / $1 / €1