New bill could mean California cyclists won't have to stop at stop signs
A proposed bill would allow cyclists to yield to other road users at stop signs instead of coming to a complete stop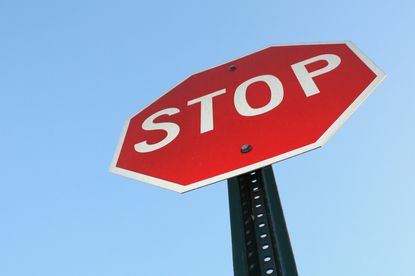 A new California bill would make it legal for cyclists throughout the state to treat stop signs as yield signs.
Assembly Bill 1103 in California would "authorize a person operating a bicycle approaching a stop sign, after slowing to a reasonable speed and yielding the right-of-way, to cautiously make a turn or proceed through the intersection without stopping, unless safety considerations require otherwise."
>>> Getting stopped by red lights could soon be a thing of the past thanks to this new technology
Republican Assemblyman Jay Obernolte of Big Bear Lake is carrying the bill with the Democratic Assemblyman Phil Ting from San Francisco. The bill is based off the 1982 Idaho House Bill 541 commonly that known as the "Idaho Stop".
Although yet to be adopted by any other state besides Idaho, a study conducted in 2010 by University of California Berkeley researcher Jason Meggs concluded that the impacts of the Idaho bill have ultimately been positive.
He found that lumping cyclists with motorists under the same law has been detrimental to the overall safety of the riders on the road.
"Intersections are the most dangerous zone for cyclists," he wrote, "whose safety benefits from the freedom to choose the safest time to clear, and to do so more quickly. Bicyclists enjoy vastly superior abilities to perceive and execute a safe yield at a stop than other modes, and great incentive to do so safely."
Also noted in the study were that bicycle injuries decreased by 14.5 per cent the year following the adoption of the law.
"If we can prove that overwhelmingly this is going to be safer for bicyclists and motorists than that means it's got to be a good thing," Obernolte said to CBS Sacramento (opens in new tab).
On top of increased safety, "It makes bicycling a little more efficient. You're not stopping at every block," Jim Brown, executive director of the Sacramento Area Bicycle Advocates said.
Several law enforcement and automobile associations are opposing AB 1103, which will face a vote in the Assembly Transportation Committee on Monday, May 8.
Thank you for reading 5 articles this month* Join now for unlimited access
Enjoy your first month for just £1 / $1 / €1
*Read 5 free articles per month without a subscription
Join now for unlimited access
Try first month for just £1 / $1 / €1