COOKE: I WANT TO WIN FOR MY COUNTRY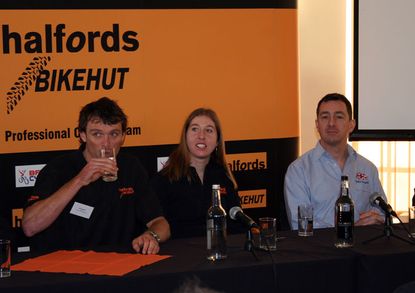 Nicole Cooke will be the leader and figurehead of the team, racing for Halfords whenever she?s on home soil, and leading a national team in the World Cup events and international stage races.
On paper the team won?t be quite as strong as the Raleigh-Lifeforce squad she rode for last year, but Cooke is relishing the opportunity to race with British team-mates and believes it will be the best possible preparation for the Olympic Games.
?I want something different now,? said the 24-year-old. ?I don?t want to win the World Cup series this year, or go for the Giro again. I want to win a one-day race for my country and the best way to do that is to practice riding with my national team-mates.
?There were never any second thoughts about it. At the beginning of last year we [Cooke and British Cycling] had a few meetings to discuss the best way of trying to win the Olympics and we all agreed that having a Great Britain team competing in a full international calendar was the way to do it.
?Dave Brailsford was fundamental in getting Halfords on board and since then we?ve all worked together to create the team.
?I am really excited because I feel I have a share in it. I said I wanted this to happen and now it is. I want it to be the best, not just for me but for everyone in the team.
?I know that opportunities like this weren?t there for me when I was a junior moving on to become a senior. Now British Cycling are proactive in seeking girl riders, coaching them and looking after them and it?s great to see.
?I won?t be just turning up for two weeks thinking ?what?s going to go on?? It?ll be great for the riders to work together and get to know each other at some important races. That way you can work out who?s nervous and who?s not, so people don?t do or say the wrong thing at the wrong time.?
?Julian Winn has been fantastic in his role as team manager for the Halfords team,? said Cooke. ?It?s great to have someone looking after us who thinks like a rider. It?s very reassuring that we?ll have someone like Julian doing the job.?
And she said her knee was recovering well following the operation towards the end of last year.
?I think I needed a little bit of time to let everything recover. My winter training hasn?t really started fully but because the focus of the season in the summer I have that bit of extra time. I am very happy with how everything has gone since the operation and the knee is not a problem. If I was going for the World Cup it may have been a bit of a setback.?
PICTURE Nicole Cooke with her Boardman training bike. by Andy Jones
Swipe to scroll horizontally
Paul McClenaghan, Halfords? trading director, said: ?Halfords is delighted to announce our new partnership with British Cycling and the creation of Team Halfords Bikehut. This is a fantastic opportunity to provide genuine benefit and value to what is already a very successful programme in place with British Cycling.
?This is a crucial year for Britain?s competitive cyclists as we move towards the Bejing Olympics and we are very proud through this sponsorship, to be providing Nicole Cooke and her team-mates with the best possible training environment and team stability in their quest for gold.
?It?s a great endorsement by British Cycling that the entire Team Halfords Bikehut squad has chosen to ride the Boardman bikes that can be purchased in our stores and are accessible to anyone seeking a quality bike at a really affordable price.
?We also see this partnership as a unique opportunity to involve our colleagues in stores and give them first hand access to a world-class team of mechanics and podium level experts. We believe this partnership has genuine depth and a huge potential for our involvement in the coming years.?
Swipe to scroll horizontally
?The Halfords side is domestic, really. In World Cup events and stage races they?ll be in Great Britain kit, which means we can rotate the riders and call people up. Emma Pooley, for example, wanted to stay with Specialized but we wanted the opportunity for her to race with us in the run-up to the Olympics.
?It?s a British squad, we weren?t prepared to bring foreign riders in. Nicole knows she isn?t going to quite have the back-up she did but she?s prepared for that and in Olympic year that may work in our favour.
?Some of the younger riders will surprise a few people and the fact they can learn from Nicole is going to be invaluable.?
The first domestic race for Halfords Bike Hut is likely to be the Eddie Soens Grand Prix on March 1, with the opening appearance for Cooke and the Great Britain team set to be the new World Cup race in Italy, the Alfredo Binda Trophy.
After that the key events are the spring World Cup races, the Tour of Flanders and Fleche Wallonne, followed by the Tour de l?Aude and the Grande Boucle, which Cooke has won for the past two years.
?The thing is that although we have a squad of 10 girls, the door is still open. Someone like Nikki Harris has gone back to Belgium but that doesn?t mean she couldn?t race with us. Just because they?re not in the Halfords team doesn?t mean the door is closed,? added Winn.
Winn feels this could be the start of a British professional team for men and women. ?I think that?s the way Dave [Brailsford] would like it to go. It?s up to us to show Halfords what we can deliver and hope it can grow from here.
?It?s a fantastic opportunity for the young British riders to learn from Nicole and get really good racing experience in a controlled way. We won?t be just throwing people in at the deep end.
?I don?t want to be going to races just for experience. I?ve told them we want results but without the pressure of having to get results. I think Nicole will naturally fall into winning big races because of the type of rider she is. But come the World Championships I want six Great Britain jerseys on the front working and making the race happen.?
LINKS
Lead story: Halfords Bike Hut team revealed
Who?s who: Full Halfords Bike Hut line-up
Interview: Southam relishing challenge
Nostalgia: ANC-Halfords 20 years on
Thank you for reading 20 articles this month* Join now for unlimited access
Enjoy your first month for just £1 / $1 / €1
*Read 5 free articles per month without a subscription
Join now for unlimited access
Try first month for just £1 / $1 / €1