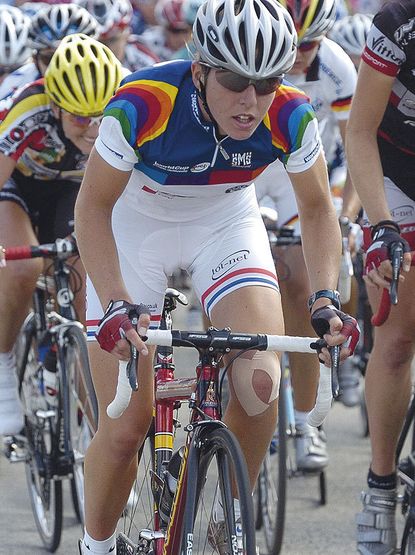 Nicole Cooke was crowned winner of the World Cup for the second time in her career last Saturday (September 2, 2006), and once again she won it with one race still to go.
Cooke finished fourth at the Rotterdam Tour to round of a dominant World Cup campaign in which she?d finished each of the last eight rounds in the top five.
In winds that were strong enough to blow several riders off their bikes, Cooke?s Univega team once again protected their leader throughout the 140km race. ?We went from a head wind section to a cross wind section and the race blew to pieces,? said Cooke. ?We?d been expecting that, and in the first break of 17 we had four Univega riders, so we were in control and everything was going to plan.?
More riders later joined the leaders but in the conditions no one tried to escape the group that was controlled by Cooke?s team.
Her closest rival, Olympic champion Judith Arndt, showed no interest in closing down Cooke?s 153 point World Cup lead.
Mathematically, the T-Mobile rider could still have caught Cooke had she scored more points than her in Rotterdam, but realising it was a lost cause, Arndt instead rode for her team-mate Ina Teutenberg, who eventually won the race.
Third placed rider in the World Cup, Susanne Ljungskog was a non-starter.
With the final round still to go, and double points on offer, Cooke has amassed 419 points. In comparison, Australia?s Oenone Wood won last year with 378 points. The final round is the Rund um die Nurnberger this Sunday, ?as a team we?ll try and get the best result we can. It just depends if that?s with me, or one of the sprinters, or if we try for a breakaway. We?re lucky to be in that position.?
Cooke?s World Cup victory came despite a nasty crash on the opening stage of the Holland Ladies Tour the Monday before that forced her to abandon the race. ?I rode [in training] the next day and it took about five or six kilometres for everything to settle down and then I was fine. My shoulders and arms hurt for a few more days after that but it didn?t affect my riding, " said Cooke.
The team had gone to the Tour looking for stage wins and use the racing to build up for the World Championships in late September. Cooke will lead the British team in Salzburg, but may need the surreptitious help of her Univega team should she face a concerted approach by the German or Australian squads.
Nicole Cooke's website: www.nicolecooke.com
Thank you for reading 20 articles this month* Join now for unlimited access
Enjoy your first month for just £1 / $1 / €1
*Read 5 free articles per month without a subscription
Join now for unlimited access
Try first month for just £1 / $1 / €1