Cycling campaigners protest new road layout designs
Over 100 cyclists protest new road layout designs around Kings Cross gyratory in London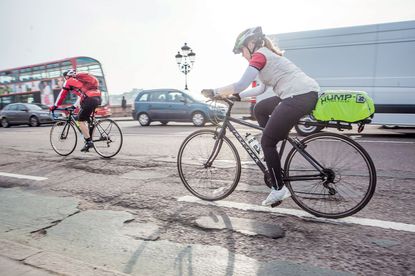 Just over 100 cyclists and one very loud sound system rode around the Kings Cross gyratory in central London last night, in protest at recent road layout designs which, campaigners say, do too little to improve cyclist safety.
Transport for London's (TfL) designs for Kings Cross, where two cyclists have died, show cycle lanes which disappear at junctions carrying up to five lanes of motor traffic, including many construction lorries and buses. One cycle campaigner, meanwhile, has reimagined the junction with continuous protected cycle tracks.
A London Cycling Campaign (LCC) spokesman says he believes Transport for London is resisting making greater improvements now as the gyratory will be removed in the next ten years.
A speech by cycle campaigner and organiser, James Gower, who reimagined the junction in response to TfL designs (See blog here), was read by fellow campaigners as he was unable to attend due to illness. It said: "The reason we are all here is that Transport for London propose changes to the Kings Cross gyratory, changes that have been sold as 'improvements for cycling'".
He added: "TfL are deliberately ignoring the safety of cyclists and pedestrians in order to keep the minority of people who own a motor car in London moving."
In several parts of TfL's designs motor traffic lanes have become protected cycle lanes, but these tend to disappear at junctions, or at the York Way entrance from the main junction where a cyclist was killed, take a detour via the pavement onto a two-stage crossing, likely to make navigating the junction slow for cyclists.
LCC's Charlie Lloyd says: "The big contention that most people, including LCC, are angry about is... heading into York Way where 'Deep' Lee was killed you have got three lanes going to one and a bit. There is space for a protected route all the way through there."
Lloyd said: "Gyratories were designed in the 60s and 70s to move large amounts of traffic without traffic lights. Once you put pedestrians and buses in there it doesn't work; it is a completely people hostile design."
"I think there is a reluctance in TfL... they are going to take the gyratory out in the next ten or so years and they don't want to put dedicated space for cycling there, saying it will affect capacity on the system. That is what they always say, but that is speculative. The decision should be made on the basis of safe access for people rather than as many cars as you can get through."
Protester Andrew Smith, an actuary who commutes 50km by bike each day, said he feels roads designers aren't properly trained in providing for cyclists.
He said: "There have been four deaths on my route to work since the beginning of the year. The protest is because of the totally inadequate redesign by TfL."
Helen Clarkson, a biomedical lab assistant who read James Gower's speech, commutes across London every day. She said: "I avoid Kings Cross deliberately. It would be quicker if I went all along Euston Road but I use the quieter streets that have a really narrow segregated cycle lane."
TfL say the works at Kings Cross is an interim solution, while they work out the best way to improve the road system at Kings Cross.
Alan Bristow, Director of Road Space Management at Transport for London (TfL) said: "Following a public consultation earlier this year, work to deliver interim safety improvements for cyclists at King's Cross will begin later this year.
"These works will take about six months to complete, during which time we will continue to work with stakeholders on a feasibility study of the King's Cross gyratory systems. This study aims to consider how all road users, including cyclists and pedestrians, could better use the local road network in the long-term and will also consider returning the gyratory systems back to two-way working."
Thank you for reading 20 articles this month* Join now for unlimited access
Enjoy your first month for just £1 / $1 / €1
*Read 5 free articles per month without a subscription
Join now for unlimited access
Try first month for just £1 / $1 / €1