CYCLING – IT'S THE NEW BATH OF BEANS FUNDRAISER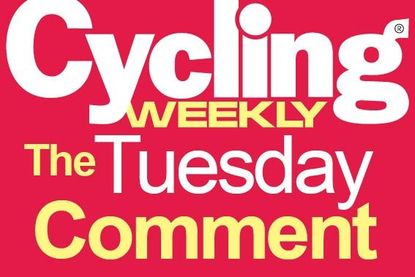 Get The Leadout Newsletter
The latest race content, interviews, features, reviews and expert buying guides, direct to your inbox!
Thank you for signing up to The Pick. You will receive a verification email shortly.
There was a problem. Please refresh the page and try again.
Swipe to scroll horizontally
HAVE BIKE, WILL RAISE MONEY
Forget sitting in a bath of baked beans for a day or attempting to topple a world record number of dominos, the new epic fundraising effort is to cycle somewhere.
If Roy Castle was still with us, he?d have ditched the trumpet and tap shoes and he?d be on a Trek, pedalling from somewhere to somewhere else in a bid to raise money for charity.
I?m not being flippant but the new craze for fundraising by cycling is odd considering the sport?s profile in the mainstream media.
Cycling and cyclists continue to get a raw deal. If we?re not being pilloried for jumping red lights and mowing down pedestrians, the professionals are being attacked for being drug-taking junkies.
Even Adrian Chiles managed to make a joke about having taken some special substances for his two-day Sport Relief ride from Newcastle to London.
But fair play to the BBC television presenter and his sidekick, the former England striker Alan Shearer, for completing their 335-mile ride in some pretty miserable weather.
Chiles is not everyone?s cup of tea, which television presenters are? Surely us cyclists are a thick-skinned enough bunch to take his jokes in the manner they were intended. Well, most of us are.
But I?d have just loved it if the Beeb had persuaded Nicole Cooke to interview him at the end of day one when he was complaining of sore legs and a stiff back. After all, Chiles all but humiliated Cooke with his feeble line of questioning at the BBC?s Sports Personality of the Year show a couple of years ago.
They raised a lot of money and the profile of cycling too. Perhaps now Alan Shearer has shown all football-supporting motorists it?s respectable to wear Lycra and take up more than 18 inches of the gutter.
Chiles and Shearer were everywhere last week ? on the BBC breakfast, noon and night. And the BBC?s website ? bizarrely ? gave a blow-by-blow account of their ride, as if the nation was sitting on the edge of their seats to hear that they?d negotiated a tricky roundabout in Derby successfully.
James Cracknell, the former Olympic rower, didn?t get the same fanfare as Chiles and Shearer, but his bike-related Sport Relief challenge dwarfed theirs. He rowed across the channel, cycled the length of France and then swum the Straits of Gibralter to Morocco in just ten days.
So, cycling is the new way to raise money for a good cause, it?s just the scale of the challenges is now going to have to get so much bigger.
I remember a few years ago when Geoff Thomas announced he planned to ride the Tour de France route a day or so ahead of the professionals to raise money for leukaemia research.
Some Cycling Weekly readers gave him no chance.
But he did, and it just showed that, with a little bit of preparation, a man (or woman) and a bike can achieve pretty much anything. Mark Beaumont, the Scottish man who cycled round the world in 195 days, proved that too, so next time someone comes up with a charity ride proposal, it?s going to have to be pretty spectacular to capture the imagination.
Swipe to scroll horizontally
It was St Patrick?s Day yesterday. A chance for everyone with tenuous Irish heritage to order a pint of Guinness with green food colouring in the foam
We wondered if the UCI's president, Irishman Pat McQuaid, was enjoying a relaxing pint, or whether he was still typing out his furious response to the Paris-Nice debacle in capital letters.
While we have sympathy for the UCI?s situation since ASO mounted its coup, it?s difficult not to feel McQuaid misjudged it horribly.
He threatened and threatened and threatened and everyone knew his threats were hollow, which is exactly why ASO went ahead anyway, knowing that if push came to shove the teams would elect to race.
ASO, a private company, has broken ranks from the body that governs the sport, an almost unprecedented move in the world of credible sport.
So far the UCI has not called in the International Olympic Committee to back it up, which would have appeared the logical step.
While ASO is free to do what it wishes with the events it owns, it cannot be allowed to hold an Olympic-affiliated sport to ransom.
But now we have an impasse. McQuaid?s been made to look like a lame duck president having backed down from his threats to ban the riders, focusing on the French Cycling Federation instead. The FFC must be quaking in their boots.
And much as it is unpalatable to make this about personalities, it appears that if the UCI wants to resolve this issue, it will have to do so with a new president at its head because Pat McQuaid is not going to be able to reunite the various parties now.
Swipe to scroll horizontally
FLOYD?S LAST DAY IN COURT
Tomorrow morning (Wednesday, March 19) Floyd Landis will have his final day in court.
The American, stripped of his 2006 Tour de France title and banned for two years after testing positive for testosterone, takes his case against the American Arbitration Panel to the Court of Arbitration for Sport.
The hearing, which takes place at the Debevoise & Plimpton law firm on Third Avenue, New York City, is slated to continue until Monday afternoon, after which CAS will rule on whether or not to annul the AAA?s verdict.
It?s Landis? last chance to persuade someone, anyone, that he?s innocent of doping. His fate rests with a panel of arbitrators ? a New Zealander called David Williams, a Frenchman called Jan Paulsson and an American called David Rivkin. All are lawyers on the CAS list of arbitrators.
So, the final chapter of a long saga is about to begin. Or is it?
Having read his book Positively False: The Real Story of How I Won the Tour de France, a piece of work I found emotive but not persuasive, it will be fascinating to hear CAS? verdict. The repercussions could be immense.
If CAS upholds the verdict and suspension, the issue will ? for the most part ? melt away. He'll just be another doper who chose a costly legal challenge instead of admitting he took synthetic testosterone.
But if the ban is overturned it will throw a powerful spotlight on the Tour de France?s decision to award Oscar Pereiro the 2006 title and it will mean another legal fight of ugly proportions.
Has ASO considered the possibility that it may face a request to reinstate Landis as 2006 champion if CAS comes down in his favour?
Or was ASO really that confident in the test results and testing procedure in the first place? Because Landis clearly believes he's got a case, otherwise he wouldn't be wasting more money in court. Otherwise it's the biggest, most expensive, most foolish bluff of all time.
Swipe to scroll horizontally
My immediate reaction to the first big stage race of the year was that something has changed in the peloton.
But having covered the sport for a decade now, I?ve seen ?something change? plenty of times before, only to have been disappointed.
So, it was with a slight sense of caution that I heaped praise on Paris-Nice as a spectacle. Why Paris-Nice was simply a great race.
The thing that was refreshing was that the racing was different every day. They were not racing like automatons on auto-pilot. They didn?t seem able to ?twist and go? like a bunch of moped riders on Brighton seafront.
It was an aggressive week but no one team was able to control the racing all day. every day. Have we seen the end of an era when it was common for almost all the teams to be capable of sticking six or seven men on the front to race at 60 kilometres per hour for four hours?
However, we?re not getting too carried away. Let?s see what the spring Classics and the Giro d?Italia bring before getting too excited and hailing this as a fresh new era for professional racing.
PREVIOUS TUESDAY COMMENTS
March 11 ? Can Sportive riders defy UCI ban?
March 4 ? Why Het Volk is the real deal
February 26 ? Pendleton Poses Nude and the Demise of the Archer
February 19 ? Let Levi Ride? Leave it out
February 12
February 5
January 29
January 22
January 15
Thank you for reading 20 articles this month* Join now for unlimited access
Enjoy your first month for just £1 / $1 / €1
*Read 5 free articles per month without a subscription
Join now for unlimited access
Try first month for just £1 / $1 / €1
Get The Leadout Newsletter
The latest race content, interviews, features, reviews and expert buying guides, direct to your inbox!
Sports journalist Lionel Birnie has written professionally for Sunday Times, Procycling and of course Cycling Weekly. He is also an author, publisher, and co-founder of The Cycling Podcast. His first experience covering the Tour de France came in 1999, and he has presented The Cycling Podcast with Richard Moore and Daniel Friebe since 2013. He founded Peloton Publishing in 2010 and has ghostwritten and published the autobiography of Sean Kelly, as well as a number of other sports icons.