Cycling is so popular in Copenhagen that information panels will be installed to reduce bike traffic jams
With so many cyclists entering the city each day ministers are looking at new ways to prevent two-wheeled traffic jams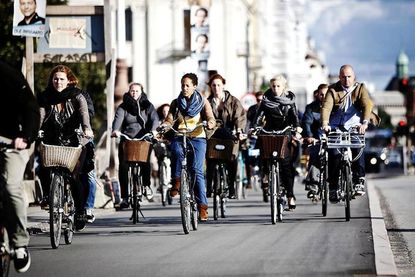 As a bastion of cycling, Copenhagen is renowned for its cycle friendly streets but with so many cyclists taking to the streets, authorities are implementing new electronic information boards to help alleviate any cycle jams.
The new boards will provide up to date data and offer less busy routes for cyclists to take as they ride along the capital's 390km network of cycle routes.
The city's head of technology and environment department, Morten Kabell, said there was a need for the new improvements.
"There's a need for improved accessibility for the growing number of cyclists who unfortunately in many places are now having to fight for space on the bike lane," Kabell said.
>>> More than 270,000 commutes were logged on Strava during Global Bike to Work Day
"We're hoping with these new information boards to give cyclists the opportunity to choose the least congested route through the city" he added when talking to Danmarks Radio.
Copenhagen produced astonishing data last year when they recorded that more journeys into the city were being made by bikes than cars, recording 265,700 versus 252,600 respectively.
The city's residents cycled a whopping 1,400,000km a day last year with 41 per cent of residents choosing to cycle to work or school. That included 63 per cent of MPs doing the same.
Unfortunately the growing demand has meant that the 1bn Danish Krone (£117m) that has been spent on cycling infrastructure since 2005 hasn't been enough.
The signs will add to that total by Dkr4.2m (£500,000) but will be done in conjunction with improvements to previous lanes as well as a new bike only bridge to go with the 17 others.
A helpful app, ibikecph, will also get an update showing riders new "green" routes that will usher riders down 60km of less congested routes.
The city plan to add a further 57km of "green" routes to provide more opportunity for riders to avoid the busier routes through the city.
Thank you for reading 10 articles this month* Join now for unlimited access
Enjoy your first month for just £1 / $1 / €1
*Read 5 free articles per month without a subscription
Join now for unlimited access
Try first month for just £1 / $1 / €1