More than 270,000 commutes logged on Strava during Global Bike to Work Day
180,529 commuters log on to Strava on May 11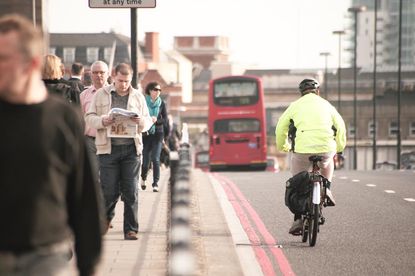 (Image credit: Richard Baybutt)
Riders on Strava recorded a staggering 276,818 commutes on Global Bike to Work Day, smashing last year's record by nearly 200,000 rides.
180,529 commuters racked up an astonishing 5.3 million kilometres on May 11, meaning each rider rode nearly 30km, a bit increase on last year where the average distance was only 17km.
As we would hope, the most commutes were logged in London (which also saw a 64 per cent increase compared to 2016), closely followed by Amsterdam and San José, which overtook San Francisco as the top city in the USA.
>>> Nine reasons why commuting by bike is surprisingly brilliant
According to Strava, all those commutes produced a total carbon offset of 1,580 tons, which is the equivalent of 184,000 cars idling for an hour.
As well as providing a bit more of an incentive for people to get out and commute by bike, Global Bike to Work Day is also intended to highlight how commutes uploaded to Strava can help urban planners, with Strava sharing data with local government to help them better plan their transport systems.
Thank you for reading 20 articles this month* Join now for unlimited access
Enjoy your first month for just £1 / $1 / €1
*Read 5 free articles per month without a subscription
Join now for unlimited access
Try first month for just £1 / $1 / €1