CYCLING'S SPONSORSHIP CRISIS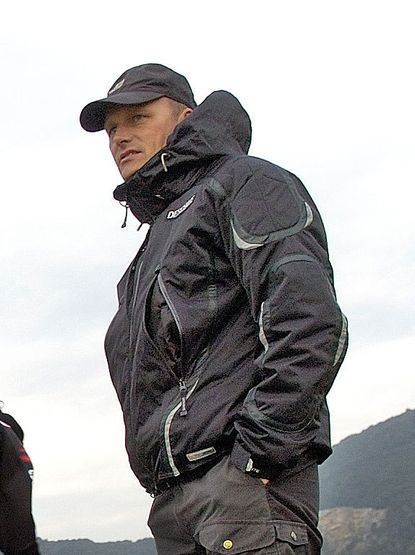 Get The Leadout Newsletter
The latest race content, interviews, features, reviews and expert buying guides, direct to your inbox!
Thank you for signing up to The Pick. You will receive a verification email shortly.
There was a problem. Please refresh the page and try again.
Cycling is shrinking. Salaries will fall. Contracts will be harder to come by. The brave new world starts here.
As Jonathan Vaughters told Cycling Weekly following the news of CSC?s withdrawal: ?From 2009 and 2010, budgets are going to be smaller because riders? salaries are going to be much, much lower.
?The good news is we?re getting a cleaner sport, but it may be a smaller sport for a few years.?
Most global economic indicators are pointing south so it?s difficult to see sports sponsorship as a priority for many major companies.
And of all the sports, cycling is not the most attractive of propositions at the moment.
There?s the political infighting between the two major power brokers ? a fight that has all the dignity of two grown men in nappies wrestling in a child?s paddling pool filled with strawberry jam.
And although there hasn?t been a live drug scandal for a few months, the shockwaves from the eruptions of the past three years are still being felt.
The announcement by CSC that it would not be renewing its contract with Riis Cycling at the end of the season was not a surprise. The contract was always due to expire at the end of 2008 and having been involved with the team since 2001, it has been a pretty good run. With the global economy on the slide, CSC has chosen to cut its losses. Sponsorship of a sports team does not play well if redundancies are on the cards.
CSC has established itself as the biggest and most professional team in cycling and for the past three years they have taken more wins than anyone else. The team-building exercises and the public relations offensive have made the squad one of the most popular too.
Whether or not it was co-ordinated ? and knowing Riis it?s impossible to rule it out ? the timing of the announcement coincided with Jens Voigt?s brief escape on Mont Ventoux.
But it will take all of Riis? positive talking to attract a new sponsor.
CSC weathered the storm created by Ivan Basso?s involvement in Operacion Puerto. The company stuck by Riis when he was forced to admit he used EPO to win the 1996 Tour de France. ASO struck his name from the record books, while Riis insisted he didn?t want to think of the past, only the future.
Now he will get his wish, as he takes his team to prospective sponsors and asks them to share his vision. But no matter how good his PowerPoint presentation, there will always be the nagging question about Riis? EPO abuse. Will many companies want to associate themselves with a self-confessed cheat who has been stripped of his biggest win?
It was not as difficult for CSC to stick with their man as it will be for a new company to sign up with Riis. CSC had made an emotional and financial investment in Riis before his public admission of EPO use and stood by him.
Now Riis will point to the Rasmus Damsagaard anti-doping programme, a system that the UCI?s anti-doping tsarina Anne Gripper speaks of in glowing terms for its transparency. But will it be enough? Is cycling a viable investment at the moment?
A SIGNIFICANT CROSSROADS
The ProTour vision was that licences would be like gold-dust, coming available only once every four years and fought over by huge multi-national companies desperate for a slice of cycling?s action.
Four years after the first batch of licences was handed out, they are coming up for renewal and the reality is very different.
As it stands now, one big team ? High Road ? does not have a major commercial partner. Three other sponsors ? CSC, Gerolsteiner and Crédit Agricole ? will end their association with the sport at the end of the year.
And five other ProTour teams could be looking for new title sponsors next year as current deals come to an end.
It will only take the failure of three or four of those teams in their bid to find alternative sources of finance and the elite end of professional cycling to be in turmoil.
WHAT WOULD A SPONSOR BE BUYING?
The big question for any company considering becoming involved in cycling would be: What am I buying into?
At the moment the sport is in chaos, with the governing body and ASO at war, the teams and riders in the middle and no one is able to give anyone thinking of investing millions of euros any cast-iron assurances.
Does a ProTour licence guarantee a Tour de France place? No.
Actually, what does a ProTour licence guarantee you? Pass.
Is it best to be close to ASO or the UCI? We?re not sure.
Is there a co-ordinated anti-doping programme that governs all the teams? Not quite but it might be on its way.
Is there a guarantee the squabbling between the governing body and the major race organiser will stop soon? Don?t bet on it.
THE INEVITABLE CONSEQUENCE
There is not a queue of big-spending multi-national companies battling to get their names on the jerseys.
Discovery Channel and CSC represented what the UCI hoped would be a change to the old tradition of small sponsors from the world of bicycle manufacturing, regional breweries and relatively small businesses.
Multi-national was where it was going to be at. And the influx of companies with global interests was going to help the dash for cash in China, Russia, the Middle East and elsewhere.
Well now we could be back to Dirk?s Bakery, Jean-Philippe?s Florestry and small chains of French hardware stores as the sport?s big sponsors because the multi-nationals cycling did attract have already gone.
And as the teams cut their budgets according to their sponsor?s cloth, the rosters will shrink and salaries will fall.
THE NUCLEAR OPTION
We could be on the verge of a complete meltdown, with teams and sponsors thinking radically about how they best achieve their goals.
Will there be a bigger role to be played by national federations ? particularly in Australia and Great Britain? Certainly as cycling becomes cheaper, the ambitions of British Cycling and Cycling Australia will begin to look more realistic.
Commercially-speaking, the Tour de France is the most attractive race for a prospective sponsor. Currently, in order to have a presence at the Tour, a company has to be involved with a team on at least a 12-month basis, and usually it?s a multi-season arrangement costing millions of euros.
But what if major corporations were to say: ?Hey, we?ll sponsor a team in the Tour de France, but we don?t really want to commit to the rest of the year.?
Is there a new reality on the horizon where riders are guns for hire, where sponsors dip in and out according to what races they.
The team gets an injection of cash. The sponsor gets the element of surprise associated with being a new name at the biggest event in the world. Everyone?s a winner.
Don?t rule it out. It may sound extreme but the people who survive the oncoming economic storm will be the ones who think creatively and give the sponsors what they want.
And you can?t criticise Riis for failing to do that.
Swipe to scroll horizontally
Professional cycling is a buyer?s market right now. With so many teams looking for new sponsors, interested companies can name their price, not the other way round.
RECENT CASUALTIES
Discovery Channel
Declined to extend contract beyond end of 2007, despite Alberto Contador?s Tour de France win
T-Mobile
The doping scandals finally became too damaging and the German telecommunications company left the sport after 15 years at the end of 2007
Unibet.com
Little or no backing from the UCI in their dispute with ASO and the other grand tour organisers. Without guarantees of their place in the ProTour events, the online bookmaker walked
Liberty Seguros-Würth
Quit mid-season as soon as the Operacion Puerto scandal broke. Puerto centred on the team?s manager Manolo Saiz and many of its riders. Würth stuck with Astana ? which stepped in to save the team ? for a few months but pulled out at the end of 2006
Phonak
Cycling fanatic Andy Rihs persisted with his team despite having drug problem after drug problem. Floyd Landis won the Tour in 2006 but his positive test was the last straw for Rihs, who warned ishares, a subsidiary of Barclays, to think carefully before taking on a cycling team. ishares decided against sponsoring the team and it folded.
TEAMS WITHOUT A TITLE SPONSOR
Team High Road
Slipstream (non-ProTour)
ENDING THIS SEASON
Sponsorship ending December 2008 with no renewal
CSC
Gerolsteiner
Crédit Agricole
EXPIRING THIS SEASON
Current contract coming to a close December 2008. A decision on whether to continue has yet to be announced
Liquigas
Française des Jeux
Barloworld (non-ProTour)
Quick Step
Agritubel (non-ProTour)
Euskaltel
Silence
ENDS LATE 2009
Lampre
Milram
Cofidis
Ag2r
ENDS LATE 2010
Bouygues Telecom
Astana
Saunier Duval
Caisse d?Epargne
ENDS LATE 2012
Rabobank
Thank you for reading 20 articles this month* Join now for unlimited access
Enjoy your first month for just £1 / $1 / €1
*Read 5 free articles per month without a subscription
Join now for unlimited access
Try first month for just £1 / $1 / €1
Get The Leadout Newsletter
The latest race content, interviews, features, reviews and expert buying guides, direct to your inbox!
Sports journalist Lionel Birnie has written professionally for Sunday Times, Procycling and of course Cycling Weekly. He is also an author, publisher, and co-founder of The Cycling Podcast. His first experience covering the Tour de France came in 1999, and he has presented The Cycling Podcast with Richard Moore and Daniel Friebe since 2013. He founded Peloton Publishing in 2010 and has ghostwritten and published the autobiography of Sean Kelly, as well as a number of other sports icons.