Wot no siren? Cyclist films close pass with ambulance (video)
Berkshire ambulance squeezes between cyclist and traffic island — and "it's absolutely unacceptable," says rider Please note, this video contains swearing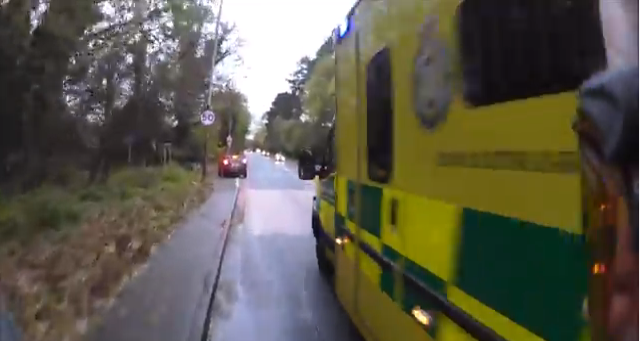 A Berkshire ambulance came shockingly close to a collision with a cyclist on a narrow section of road — and the video footage will make you duck in your seat.
The ambulance skimmed close to Youtuber @GrumpyCyclistUK on his way to work after it appeared to pass him next to an island in the road without using any sirens.
@GrumpyCyclistUK told CW: "I have always worried about an island in the road which I have been close-passed in the past.
"I do my usual check behind me to see what's coming, and I see nothing."
The car in front pulled out of the way for the ambulance, but @GrumpyCyclistUK did not realise the ambulance was coming up behind him.
"Needless to say, it did scare me a bit.
"I see a car in front of me indicating to turn left, which doesn't strike me as odd as just after the island is a left turn. As I get closer to the island I see that the car hasn't turned but has pulled over. Maybe they have an issue with the car.
"To pass a cyclist through an island which is already a tight space with an ambulance flying by at high speed is absolutely unacceptable," @GrumpyCyclistUK said.
More cycling videos
New websites aiming to gather information about collisions and near misses
Thank you for reading 5 articles this month* Join now for unlimited access
Enjoy your first month for just £1 / $1 / €1
*Read 5 free articles per month without a subscription
Join now for unlimited access
Try first month for just £1 / $1 / €1