Wanted: your 'near miss' data
New tools aim to build national database of close calls on the road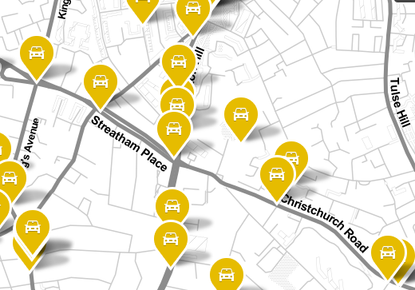 Close calls or near misses, not to mention punishment passes, are like the weather. We complain about them all the time, but we're powerless to change them.
But DIY data projects could be a way of making a difference. There are now two online tools aiming to make cyclists' voices heard and harness the power of the community for greater good.
The very cutely-named Collideoscope (http://collideosco.pe/) allows cyclists to enter details of a near miss or a collision. So far this year it has recorded and logged 3,865 incidents.
It breaks them down into area, so we can see that Bristol has had 238 incidents in 2014, or that there have been 155 in Liverpool, and 317 in Leeds. London is broken down into boroughs, with Westminster a hotspot at 440.
The site is built on the very successful fixmystreet platform and incidents are passed directly to the councils where they occur.
There are some difficulties with the data. It is self-reported so abuse cannot be ruled out, and it cannot hope to capture every incident. But FixMyStreet has been hailed as a great success, and collideoscope is an identical model.
The people behind it say: "This is our attempt to enable society to collaborate in order to collect some much-needed evidence to inform the ongoing cycle-safety debate.
"Our aim is to build a map of cycling-related incidents and near-misses for the UK so that transport planners, health researchers and decision-makers can see for the first time where incidents are happening, how often they take place, and how serious they are."
Near Miss has similar aims. It targets non-injury incidents and it's a longer term project. The organisers plan to collate all the data they gather early next year and release the results then.
Again, the ambition of the project is to highlight to transport planners and policy-makers real, hard data that will convince them that the hidden phenomenon of the near miss needs to be tackled.
Because the website is harvesting and collating data over the longer term it's less dynamic that collideoscope, but it plans a special event that may raise the profile of the near miss.
For two weeks, starting from October 20th, cyclists are encouraged to contribute to the One Day Diary idea, when all the near misses on one day will be logged, studied and sent to organisations which could make use of the data, including the police, driver training agencies and transport bodies.
Near Miss also has the scope to use audio and video recordings.
Because the near miss doesn't result in injury, cyclists often feel there is no channel to report it. And even if there was they often feel little or nothing would be achieved.
But the emotional aspect of coming within inches of a speeding vehicle can be profound. These two projects place some power back in the hands of cyclists.
More cycling safety stories
Thank you for reading 20 articles this month* Join now for unlimited access
Enjoy your first month for just £1 / $1 / €1
*Read 5 free articles per month without a subscription
Join now for unlimited access
Try first month for just £1 / $1 / €1