Cycling could save NHS £17bn says BC report
British Cycling release report urging the need for the government to spend a minimum of £10 per head on cycling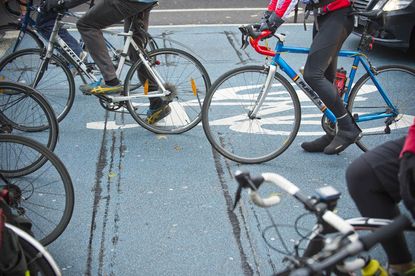 (Image credit: rupert fowler)
Get The Leadout Newsletter
The latest race content, interviews, features, reviews and expert buying guides, direct to your inbox!
Thank you for signing up to The Pick. You will receive a verification email shortly.
There was a problem. Please refresh the page and try again.
Cycling could save the NHS £17 billion within 20 years and increase the mobility of the poorest families by 25%, according to a report released today by British Cycling.
The report, compiled by Dr Rachel Aldred of Westminster University, and released ahead of today's debate on cycling in Parliament, highlights the benefits of cycling for the whole of society, and reiterates the need for a minimum £10 per head per year spend on cycling, rising to £20.
It says Danish levels of cycling would reduce road death deaths by 30%, and cycle casualties by two thirds, while shifting 10% of urban car journeys to bike would reduce air pollution and save up to 400 productive life years.
Dr Rachel Aldred said: "The fantastic thing about investing in cycling is that it can generate benefits in a range of policy areas. Whether the goal is quicker urban journeys, improving life chances for low income people, revitalising town centres or reducing the growing burden of non-communicable diseases - cycling can be part of the solution.
"The recommendations in the Get Britain Cycling report provide a starting point. Fundamentally, we need a change in mind-set among politicians and policy-makers. Rather than just telling people they should cycle, we need to create a Britain where it's safe, easy and fun for all ages and abilities to cycle. This requires sustained funding, a step change in infrastructure, and policy, legal, and regulatory changes to redress the traditional bias against cycling within transport policy."
The report quotes the 2011 Census figures, which show transport is a major barrier for jobseekers in England and Wales, who are three times more likely to live in a no-car household than employed people, and yet do not consider cycling an option.
In Denmark, it says, cycling is most important for those on low incomes. In the Netherlands cycling helps older people maintain independent mobility after they can no longer drive, with more than 20% of 80-84 year olds preferring to cycle.
Commenting on the list of benefits, British Cycling policy adviser, Chris Boardman, said:
"This paper shows that more cycling would touch the lives of all Brits in a positive way – whether they themselves choose to use a bike or not. Investing in cycling would make a massive difference to all of society. We only have to look to Denmark and the Netherlands – countries that regularly top surveys on being the happiest and healthiest nations in the world – to see what a transformative effect cycling can have. This is about creating better places to live.
"I hope that this paper helps politicians from all parties to see the bigger picture – that investing in cycling and giving it a proper showing in party manifestos will have long-term benefits for people across Britain."
The report says in the Netherlands cycling is statistically safer than driving, a level of safety which, if achieved in Britain, could equate to 80 fewer cycling deaths per year, or an increase from 3% to 12% of people commuting by bike without any increase in cycling deaths. As well as saying cycling could be also highlights psychological benefits of commuting by bike, quoting a study where car commuters were at least 13% more likely to report being constantly under strain compared to those travelling actively.
It adds: "Investing in cycling will enable transport authorities to start putting in place the infrastructure we need to ensure people of all ages and abilities can choose to cycle for short everyday trips. As well as making cycle journeys more pleasant, safer and faster, it sends the signal that cycling is a normal way to travel. This is important because the perception of cycling as a marginal and minority mode is off-putting to many people."
Thank you for reading 20 articles this month* Join now for unlimited access
Enjoy your first month for just £1 / $1 / €1
*Read 5 free articles per month without a subscription
Join now for unlimited access
Try first month for just £1 / $1 / €1