Department for Transport aims to "double cycling by 2025"
The Department for Transport announces its intention to try and double the number of people cycling by 2025, ahead of a Parliamentary debate on the matter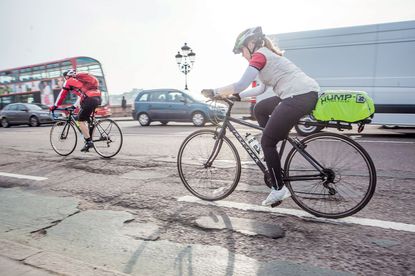 The Department for Transport (DfT) has today released plans for consultation today to double cycling by 2025, though the catch is that there is no commitment to funding.
The long-awaited Cycling and Walking Delivery Plan coincides with a Parliamentary debate on cycling today.
The DfT recognises national and local leadership is needed to get people cycling more, something campaigners have long called for, and invites local authorities to work with government to explore ways funding can be generated for cycling. The aspiration is to achieve a minimum £10 per head per year funding for cycling by 2020-21, the DfT says, "and sooner if possible".
The DfT released a statement saying: "The government's vision is that cycling, alongside walking, becomes the natural choice for shorter journeys, regardless of age, gender, fitness or income."
"We need a long term commitment to embed change. In order to measure progress towards achieving this vision, we have set out our ambition for cycling and walking up until 2025" it said.
"[We aim] To double cycling, where cycling activity is measured as the estimated total number of bicycle stages made each year, from 0.8 billion stages in 2013 to 1.6 billion stages; and to increase the percentage of children aged 5 to 10 that usually walk to school from 48% in 2013 to 55%.
"Cycling and walking not only cut pollution and congestion on our roads, but also have significant health and wellbeing benefits.
Sustrans' Policy Director, Jason Torrance, said: "Today's aspiration to explore an investment of £10 per head for cycling is a welcome step in the right direction, but the most vital ingredients for cycling's success are missing from the plan.
"Without any indication of where this money will come from and with targets that are too distant and lacking in ambition, today's announcement is more of a wish list than a plan.
"Getting the population moving is a critical issue. Without a significant increase in the number of people cycling and walking their local journeys Britain will come to an economic standstill; overcome with congestion and the cost of the physical inactivity crisis."
Sustrans, along with British Cycling, CTC, Living Streets, the Bicycle Association and the London Cycling Campaign, is calling for at least £10 per head funding delivered from government, as well as the creation of more robust targets to achieve an increase in cycling, and data to only account for England outside of London, while accounting for population growth.
Transport minister Robert Goodwill said: "This government is serious about making the UK a cycling nation. We have doubled funding since 2010, with £374 million committed between 2011 and 2015.
"We want cycling and walking to become the natural choices for shorter journeys, kick starting a cycling revolution that will remove barriers for a new generation of cyclists.
"This strategy provides a road map for the way forward."
Local authorities who form partnerships with government, would be expected to set clear and specific visions and delivery plans to increase cycling over defined timescales and geographical areas, and appoint local champions. In return partner authorities would receive tools and incentives including priority access to new funding streams and support from the DfT to implement plans.
The Cycling and Walking Delivery Plan also set out the next steps to cycle proofing the roads network with existing funding, as well as ensuring those designing roads are properly trained in creating cycle infrastructure and consider cyclists and pedestrians at the design stage of both new and improved road infrastructure.
The parliamentary debate on cycling takes place today at 12.30.
Communications giant Orange joins growing business support for planned Cycle Superhighways across the capital
Thank you for reading 20 articles this month* Join now for unlimited access
Enjoy your first month for just £1 / $1 / €1
*Read 5 free articles per month without a subscription
Join now for unlimited access
Try first month for just £1 / $1 / €1