Video footage emerges of cyclist being kicked into a bus in London
Video footage has emerged of a cyclist in London being kicked off his bike into the path of a moving bus by a fellow cyclist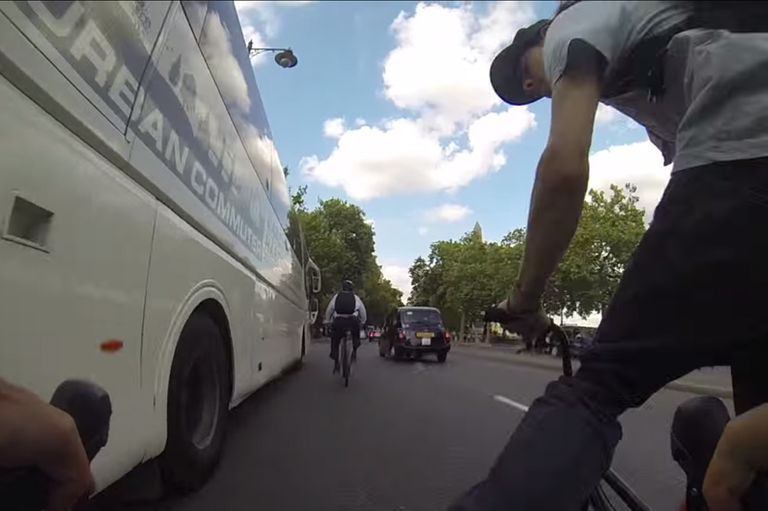 Raphael Carrondo was lucky to escape serious injury when a man riding a BMX kicked the 32-year-old's front wheel as he was cycling along the Embankment. You can watch footage of the incident below.
Moments, earlier Carrondo was forced to slam on his brakes as the unknown rider tried undertaking him as the pair were passing a parked bus.
"I didn't see him trying to cut me up, because I was concentrating on overtaking the bus safely," he told ITV News.
"I had to swerve and he shouted something at me. I'd forgotten about it - that sort of thing happens all the time on the roads. But then he just pedalled past and smashed my front wheel with his boot."
Carrondo added: "It was ridiculous - it's the most dangerous thing I've ever seen on a cyclist's cam and unfortunately it happened to me. I could have easily died."
He is now appealing for anyone who witnessed the incident, or may recognise the kicking cyclist, to come forward.
Carrondo added: "I couldn't believe what had happened - I feel so lucky to be alive.
"I went flying over the handlebars and my head almost went under the bus - it was terrifying."
http://www.youtube.com/watch?v=JI0lZVdSMUU
More cycling videos