Cyclists should 'pay road tax and hold insurance' to ride on British roads, says petition
Online petition aimed at prime minister Theresa May attracts numerous scathing comments pointing out that road tax was abolished in 1937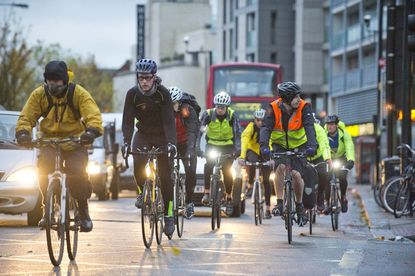 (Image credit: rupert fowler)
Over 22,000 people have signed an online petition calling for British cyclists to 'hold insurance and pay road tax'.
Owen McDermott created the petition, which will be delivered to prime minister Theresa May. In the text accompanying the petition, McDermott says: "The public roads used by motor vehicles are becoming unsafe to use due to one particular community that feel they are eligible to cycle on public UK roads".
"Just like having to sit your theory and your practical test to obtain a driving license [sic], Cyclists should have to do the same. What training have they had to use the road safely?
"Insurance, if a cyclist throws him/herself into the back of a stationary motor vehicle... Who's to blame? Not the cyclist... The driver of the motor vehicle would have to pay their own excess to repair the damages.
>>> Proposed A24 cycling ban rejected by Surrey County Council
"Im [sic] not sure on the percentage of how many cyclists die every year due to cycling on the road but if you stick them back on the path in a cycle lane I'm sure a lot more people will survive."
In a note attached to the petition, McDermott says "Cyclists to hold insurance and pay road tax to use public UK roads".
McDermott says that he created the petition after seeing the news that West Midlands police had started to target drivers who do not give cyclists enough room on the road when passing them.
There are many comments under the petition, with a significant number of people pointing out that 'road tax' does not exist.
Martin Golder of Chorley commented: "I am signing because I want to see this fail miserably. The creator of this petition has no clue about how the system works at all.
"Road Tax does not exist! Nobody pays Road Tax. You pay an amount based on the emissions of your vehicle, so, go ahead and push you hilarious petition, as if it 'succeeded', cyclists would still be allowed to ride on the roads and also have to pay £0 in imaginary 'road tax'. Bravo."
Luke Thorley of Failsworth said: "Public liability insurance for sure , but there is no such thing as road tax .... I think you are referring to vehicle tax which based on emissions, there for what emissions are cyclists giving off apart from odd farts."
>>> 100 Best Road Riders of 2016
Londoner Emma Hope-Fitch added: "I'm signing because No one pays road tax, it doesn't exist. Most of our roads were built before the dawn of the motor car, and those that weren't, such as motorways do not allow cyclists. Everyone just be kinder and more considerate to your fellow human (motorised or not) and collisions won't happen."
Others did support McDermott, with Elleanor Simpson of Bingley writing: "As a horse riders I hold insurance to be on the road so why shouldn't cyclists??!!"
Sally Maher of London said: "I am sick of cyclists jumping lights &. Causing accidents & motorists have to claim on their own insurance & lose their no claims bonus".
While Martin Dilworth of Croydon said: "Cyclists are the most ignorant, inconsiderate person demographic bar none".
Thank you for reading 20 articles this month* Join now for unlimited access
Enjoy your first month for just £1 / $1 / €1
*Read 5 free articles per month without a subscription
Join now for unlimited access
Try first month for just £1 / $1 / €1