Dani King feared the worst after training ride crash, says father
World and Olympic track champion Dani King remains in a South Wales hospital after crashing on a training ride, suffering a collapsed lung and broken ribs.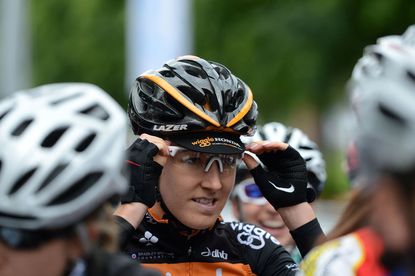 Dani King feared spinal damage after the crash that left her with a collapsed lung and five broken ribs, according to her dad Trevor.
King was put on a spinal board following the incident on a training ride near Merthyr Tydfil last Thursday, caused by one of her fellow riders hitting a submerged pothole.
The Olympic and world track champion hit the ground as well, with another rider falling on top of her, landing King in the intensive care unit of a South Wales hospital.
Stephen Fry, King's agent, told CW that there is no specific timeframe for her recovery: "She is out of intensive care, but now doctors are working on re-inflating and strengthening the collapsed lung. She will remain in hospital until that is stable and strong enough to go home.
"There's no way of aiding the recovery of broken ribs – it's not like breaking your arm and putting it in a cast – so we don't know how long they'll take to heal. We have no history of broken ribs with Dani, so we don't know how long it will be until they're fully healed."
Speaking to the Southern Daily Echo after the incident, King's father described the incident as being very traumatic.
"Dani couldn't feel her feet at one stage. She was put on a spinal board," he said. "She said to us at one stage she was frightened to cry because she thought she was going to die she was in so much pain.
"She obviously could be better, but she's a fighter and has come back from knocks before. She's a tough kid so hopefully she's going to bounce back."
Dani King involved in serious crash during training ride
CW's Louise Mahé unveils a day's food fit for a King - Namely Wiggle-Honda's gold-medal-winning Olympian Dani King
Thank you for reading 20 articles this month* Join now for unlimited access
Enjoy your first month for just £1 / $1 / €1
*Read 5 free articles per month without a subscription
Join now for unlimited access
Try first month for just £1 / $1 / €1