Dani King suffers collapsed lung in pothole crash
Dani King sustained five broken ribs and collapsed lung in a crash caused by a training partner hitting a hidden pothole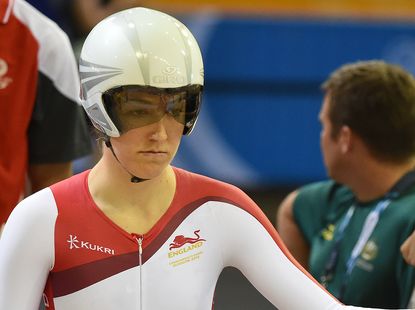 (Image credit: Andy Jones 2014)
Olympic champion Dani King has suffered five broken ribs and a collapsed lung after a crash on a training ride on Thursday (Nov 6) caused by a hidden pothole.
The 23-year-old Wiggle Honda rider tweeted that she is recovering from her injuries in a South Wales hospital.
GB team-mate Laura Trott tweeted her best wishes to King, who has decided to focus on road cycling in 2015.
Speaking to Wales Online, King's agent Steve Fry called on local authorities to improve the condition of roads following the accident.
"The accident happened between Merthyr Tydfil and Quaker's Yard and what happened was one of the cyclists with who she was riding went over a pothole that was covered with water due to the wet weather we've been having.
"It led to Dani crashing off her bike with the resultant injuries she has talked about on her Twitter account. The injuries are clearly painful and serious and we can only hope she gets better soon.
"She is having fantastic treatment from the doctors and nurses looking after her and is very happy with the medical attention she's getting. It's too early to say yet when she'll be back in training and back competing.
"I think it's time local authorities in the UK started spending more money on repairing roads to ensure things like this don't keep happening. We'd like to see £10 per head of population spent on cyclists in terms of maintenance of cycle paths and roads."
Source: Wales Online
Dani King: Rider Profile - cycling results, biog, career history and more
Thank you for reading 20 articles this month* Join now for unlimited access
Enjoy your first month for just £1 / $1 / €1
*Read 5 free articles per month without a subscription
Join now for unlimited access
Try first month for just £1 / $1 / €1