David Millar: A career in pictures
From taking the Tour de France by storm to the dark days of doping, we take a look back at David Millar's rollercoaster career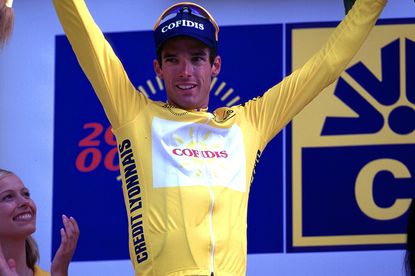 (Image credit: Yuzuru Sunada)
Image 1 of 17
There aren't many riders who divide opinion among British cycling fans as much as David Millar. His meteoric rise to the top of cycling, including wearing the maillot jaune in his first appearance at the Tour de France, made Millar the young, dynamic, British talent many of us had been waiting for.
But with so much hope and expectation can come so much disappointment. And while hindsight can tell us that the doping culture in cycling in the early 2000s was endemic, Millar's admission to using EPO in 2004 set his career into immediate freefall, and one of Britain's few hopes for glory on the road with it.
Yet for many, Millar has successfully ridden his road to redemption. Emerging from his troubled doping ban to lay bare the truth of what was happening in cycling's backstage, and to become a leading voice in the anti-doping crusade, the Scotsman has done everything possible to try and rebuild his tarnished reputation.
For others though it'll never be enough. And while Millar's palmares - which includes four stage wins at the Tour - is testament to his natural ability on a bike, it will all be considered redundant by some for having turned to doping and relented to the darker side of cycling.
Whatever your view of Millar though, his impact on British cycling is there. From inspiring many of us to pick up a bike in the first place, to helping usher in a cleaner era of cycling, Millar may be remembered divisively, but his career will be remembered.
Take a look through our gallery at some of the defining moments of David Millar's career.
David Millar - rider profile, biog, cycling results, photos
Thank you for reading 5 articles this month* Join now for unlimited access
Enjoy your first month for just £1 / $1 / €1
*Read 5 free articles per month without a subscription
Join now for unlimited access
Try first month for just £1 / $1 / €1