A day in the life of a cycling cafe
It may be a cycling institution but the modern cycling cafe is keeping up with the times, as we found out after a gruelling day spent eating, drinking and chatting at Esher's Giro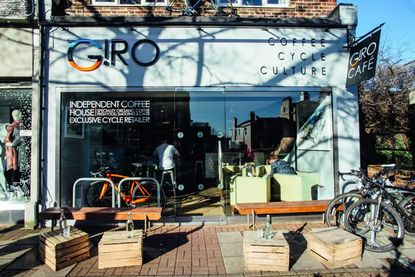 (Image credit: daniel gould)
Get The Leadout Newsletter
The latest race content, interviews, features, reviews and expert buying guides, direct to your inbox!
Thank you for signing up to The Pick. You will receive a verification email shortly.
There was a problem. Please refresh the page and try again.
Cyclists, as well as harbouring a healthy appetite for pain and suffering, are also known to feast greedily on cake and quaff down coffee whenever the opportunity arises.
So it's no wonder that the three Cs — cycling, coffee and cake — have finally been officially united via the medium of the cycling cafe.
While the idea of a hot beverage-based meeting place for tired and thirsty bike riders isn't entirely new — recall the CTC 'cyclists welcome' window stickers of days gone by — the trend for festooning walls, tables and toilets with celebrated jerseys, Tour de France posters and componentry nick-nacks, all in a slick, artisan-inspired atmosphere, is more recent.
Spearheaded, perhaps, by London's iconic Look Mum No Hands, cafes have begun to pop up nationwide as the fashion takes hold.
>>> 15 reasons why cycling in the winter is great
As well as coffee made by trained baristas in expensive Italian machines, they also major in enormous slabs of home-made cake, semi-healthsome fruity biscuits and an often sizeable range of savoury delights — all partaken of in an environment where, perhaps crucially, nary an eyebrow is raised at the sight of skintight attire.
Strictly in the interests of research and definitely not purely to revel in our love of all things sweet and caffeinated, Cycling Weekly paid a visit to one such establishment, pulled up a pew and spent a day in the life...
Christmas doesn't have to mean weight gain
Surrey Sunday
Sunday morning in Esher and the little suburban town is positively teeming with cyclists. You'd be forgiven for thinking that an organised event, a sportive possibly (to Hades and back via Hersham, perhaps?) is taking place.
But no, this is just a typical Sunday in Surrey. And as such, the local cycling cafe, Giro, is bursting at the seams with Spandex.
>>> 10 worst winter kit mistakes and how to avoid them
Amid the erratic beeps of cycling computers pausing, restarting and threatening to simultaneously self-destruct, I wade through a roiling tide of Lycra-clad individuals towards the counter, where my host for the day, Jordan Addison, co-proprietor of the establishment, is inundated with orders.
Systematically delegating duties to baristas and chefs according to the relentless tumult of requests, Addison manages to offer me a drink, which I accept — albeit a little sheepishly; the staff are seriously grafting here — and quite fortuitously a seat soon opens up. I make myself at home.
Bar trips to the toilet (clean, well-stocked, walls festooned with Continental cycling-related newspaper cuttings), I will not be moving from this chair. This is me for the day.
Boutique butties
My table comes cocked and loaded with all the usual condiments, and — just in case anyone forgets we are in Surrey — a mint and cucumber infused carafe of water.
Now sipping on my latte which features the requisite snazzy artwork on the marbled surface, I gather my thoughts and take a look about.
Although this is most certainly an emporium aimed at cyclists — with details including mobiles fashioned out of wheels and cogs hanging from the ceiling — it's apparently also frequented by those simply after a cup of coffee, with a good quarter of current clientele attired in civvies and sensible shoes.
But it's the clickety-clack of cleats that prevails and it isn't long before I'm joined by a couple mid-way through an early-morning ride.
>>> Winter blunderland: don't make these winter cycling mistakes
Tim Allen and Rosi Digne-Malcolm, both 25, are halfway through a steady 30-miler. Starting out in Mortlake, they have arrived at the cafe for some breakfast.
Tim, it transpires, as well as being an accomplished amateur road racer is also is a bike-fitter by profession, plying his trade for Pearson Cycles. Despite these credentials, after a cursory glance at the menu he promptly decides on a bacon and sausage roll.
However, Rosi, a CC Islington rider, has her maiden season of crit racing around the corner, and she opts for a Giro porridge, a coffee and an orange juice. Textbook pedalling fare.
Their orders are subsequently served and both look more than appetising. My interest piqued, I commandeer a menu and scrutinise the entries — and yes, aside from Tim's double swine decadence, it is a list of items very much geared towards those looking to eke out an extra watt or two — rather than soak up an evening's worth of Boddingtons.
>>> Which type of winter cyclist are you?
Menu highlights include peanut butter and banana on toast, superfood muesli porridge, avocado and bacon on sourdough bread, and a variety of sandwiches and wraps whose fillings, among many, include spinach, avocado and hummus, and mozzarella, tomato and rocket.
I could almost feel myself becoming healthier by osmosis. And as Tim and Rosi wrap up and head back into the biting late-autumn breeze, I follow the latter's lead and order a bowl of porridge.
Making the gradient
Mid-morning now and there has been little lull in custom to speak of. Giro cycling cafe, this unassuming little venue at the end of Esher High Street, is under siege.
It is being subjected to a constant and sustained barrage of hungry and thirsty bike riders — relentless in their quest to fuel, replenish and recover.
A part of this influx, I make the acquaintance of a couple of chaps who — breathing still somewhat laboured — appear fresh from a skirmish with the local terrain.
>>> Five invaluable tips to help you step up from riding 60 to 100 miles
On further probing — which reveals an average speed of close to 20mph over 65 miles through the Surrey Hills — it appears they won the battle, which isn't at all surprising given the pair's impressive palmarès.
In fact, owner Addison refers to them as part of the 'old guard', "guys who have been riding for decades".
John Wyse orders a cup of frothy coffee and a pistachio chocolate slice before getting comfy and regaling me with a tale or two, plucked from his pedalling past — although he doesn't have to think too far back.
This year alone, Wyse not only came third for his age group at the Etape du Tour, but he also won the Gran Fondo Roma. He tells me he's 55 but looks at least a decade younger.
Meanwhile, his riding partner, 47-year-old Niall Digby, who has just been presented with a Bakewell tart, boasts a Colnago originally made for the nephew of Ernesto himself.
He says that the pair are often joined on their social forays into the hills by 1993 Milk Race winner Chris Lillywhite and photographer Michael Blann, the man whose work decorates the walls throughout Giro.
Lunch rush
It's just after lunchtime in the Giro cycling cafe in Esher. I'm on my third latte of the day and starting to feel a little fidgety.
I have an overwhelming urge to seize the nearest bike and ride it to, well, anywhere. Like port and Stilton, or fish and chips, or Sainsbury's super-strength lager and doner kebabs — cycling and coffee are a pairing made in heaven...
The door crashes open, startling me from my reverie and VC Colets, a club based a few clicks up the road in Thames Ditton, pour into the shop.
>>> Winter's here: Flu fighting foods
A tidal wave of orange and black, they are, as expected, chipper after a few hours a-wheel, and make a hasty charge for the counter where drinks, snacks and lunches are ordered and paid for.
They have been out in the North Downs today — traversing several thousand feet of ascent, including the zig-zags of Box Hill, before the rolling return back into the M25 perimeter. So far they've clocked up 45 miles in the chilly sunshine.
Jacky Bernett, who helps make up the group of 10 or so riders who set off in the medium group this morning, tells me that she's no stranger to climbing, having ticked off a number of Europe's most testing sportives.
As well as the Etape du Tour, Bernett has also completed the Mallorca 312, the Maratona, the Raid Dolomites and the Gran Fondo Stelvio.
>>> Top tips to recharge your body and mind this winter
As well as VC Colets, she rides with the South West Road Club too — every weekend. All that riding would make anyone hungry, and her toasted ciabatta with mozzarella, pesto and avocado soon arrives.
With the sun now beginning to set, a dwindling contingent of cyclists filter in and out of the cafe, and before long the sound of the day's final freehub slowly fades out of earshot.
But unlike many cafes, Giro has a licence to sell alcohol, and the bar is still very much open…
Cut the calories, not the fun
The owner: Jordan Addison
That he cycles purely for socialising rather than to race, is very much reflected in Jordan Addison's Giro. It is a venue with a laidback vibe and the fact it's fully licensed adds a convivial element to the atmosphere.
"I think it's changing now, but back in the day clubs were a little bit too regimented, which maybe took the enjoyment factor out of it. This is part of the reason we wanted to open — to offer something else."
Among the comprehensive selection of items on the menu, Addison singles out the generic avocado on toast as his favourite: "It's without doubt our most popular but it's the best."
And his favourite drink? "It's got to be a beer — Spankers IPA."
"My favourite was probably Andy Hampsten," says Giro co-owner, Jordan Addison, when asked if there's been any WorldTour riders in to whet their whistle. "Not a lot of people knew who he was!"
As well as the erstwhile Team 7-11 mountain man, Addison goes on to reel off an impressive list of current and ex-professional cyclists who have frequented the cafe, including Geraint Thomas, Sean Kelly, Stephen Roche (who's been in a couple of times) and Magnus Backstedt — who incidentally "came in last week".
The cafe: Giro
CW: Having attracted a healthy handful of the sport's biggest names, Giro must be a fairly well established cycling cafe?
JA: Myself and Neil Goodman opened the cafe in October 2013. We are both avid cyclists and Neil had worked in the industry for a number of years — we were out on a ride and said, 'You know what would be a really good idea…' The initial idea was a place that would open up early doors on a weekend for riders to meet, and it grew from there, and has since become a high street coffee shop as well.
CW: Was Esher always earmarked as the location?
JA: Yes, this was the only place we wanted to do it. It's known as the Olympic corridor; anybody going from West London out to the Surrey Hills potentially has to come through, or at least go pretty close to Esher.
CW: You're now a well-established and successful coffee shop — are most of your customers cyclists?
JA: Saturdays and Sunday are our busiest days during which about 80 per cent are riders, and in the week it's pretty much the mirror opposite of that.
CW: Do you host any special functions or events throughout the year?
JA: Once a month we have something we call Club House, which is basically just opening up on a Friday night and we put on a bit of food for anybody who wants to come along; we have a licence so we really just turn into a pub for an evening. We also did an exhibition with Michael Blann a couple of months ago and we've done mechanics' nights.
Thank you for reading 20 articles this month* Join now for unlimited access
Enjoy your first month for just £1 / $1 / €1
*Read 5 free articles per month without a subscription
Join now for unlimited access
Try first month for just £1 / $1 / €1
Get The Leadout Newsletter
The latest race content, interviews, features, reviews and expert buying guides, direct to your inbox!