Winter blunderland: don't make these winter cycling mistakes
Base mileage, keeping on top of your fitness and avoiding cold weather weight gain: winter training is critically important to the rest of the year — provided you navigate the snow-covered minefield of potential mistakes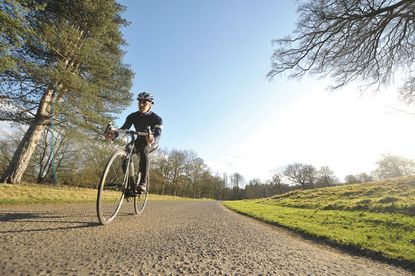 Winter is the start of the cycling season, the time of year when you do the work needed to prepare yourself for summer. It's also the hardest time of year to train, though, and year after year we all make the same mistakes over and over again.
>>> Fuel properly for winter cycling
Get your winter cycling right and you'll be on track for a great summer. Of course, it's not always easy when bad weather, the party season and our own lack of planning is lying in wait to trip us up. Most of the problems are avoidable, though, given some preparation, a bit of good kit and the right mindset.
>>> Cycling jackets for wet weather
Wrong kit
Not wearing enough kit, or the wrong kit, is a mistake made by many riders. A cyclist's worst nightmare is a sudden change in the weather with no extra layers packed; you'll gradually get colder and/or wetter, with nothing you can do about it. Killing your motivation for winter cycling, you end up riding cold, soaked through and wishing your hobby was chess or knitting.
To prevent you from resorting to hibernation, ensure you carry a decent waterproof and windproof jacket with you. It needs to have the capacity to keep you warm if you get caught out — insulation and windproofing are essential features.
>>> Best front bike lights for under £100
Taking an extra layer, whether it's a waterproof or just a lightweight gilet, is always a good idea when out doing winter cycling, given the ever-changeable nature of British weather.
Your extremities, hands and feet, are likely to get coldest. Cold hands or feet are miserable, so invest in decent winter gloves, socks and overshoes. Decent clothes specifically designed to cater for cold temperatures are available, so there is no excuse not to ride. It's key to remember you can remove clothes but you can't put on what you don't have — so wrap up and take spares!
>>> Winter road bike tyres
Getting fat
Either indulging too much or riding too little during the festive season has the same outcome: you put on weight. Over-indulge and under-exert and the result is worse: you get fat.
Motivation is the key to keeping you on the bike. The lack of racing and grim weather make riding a lot less appealing, but remember it is do-able with the correct kit.
>>> Winter's here: flu fighting foods
Finding motivation to keep riding is important. Try switching to off-road riding or racing; cyclo-cross is an option, as is doing more group riding with a club. Anything that helps get you outdoors is worthwhile. Having someone whom you promise to meet up with helps — it's a firm commitment, as you won't want to let your training buddy down.
Eating too much during winter is hard to avoid. There are parties with rich food and drinks to tempt you, and if you're not riding as much as usual, these temptations can cause disastrous weight gain.
Try to limit your intake of high-calorie treats. Instead of having chocolate or mince pies as a snack, opt for fresh fruit or a few nuts. While socialising, alternate between alcoholic drinks and water — which will also help prevent a hangover!
>>> Biking and boozing: Can cycling help your hangover?
No plan
If you want to get the most out of your winter of riding, you need a plan. The start of winter is the best time to think about your goals for next year, analyse your strengths and weaknesses and put together a training plan to get you there.
>>> Preparing yourself and your bike for winter cycling
If you are serious about making progress, now is the best time to undergo a fitness test. There is a tendency to put off having a test until you are fit, since no one likes to see low numbers and be forced to come face to face with their lack of conditioning. It's more important, though, to establish a clear picture of where you are right now. So put your ego aside, test your fitness now, and start following a plan. There are numerous plans available in training manuals or online, and it's also worth considering getting some help from a coach.
Wrong type of training
There are two schools of thought about winter. The first advises lots of long, slow miles to help build up a decent base. You need lots of motivation for these long endurance rides — cold, wet, windy days are not fun. The other school of thought purports that maintaining some top-end fitness is important, whether that's strength, speed or a combination.
>>> Turbo training sessions: Get the most out of your indoor training
The truth is that both long rides and top-end training remain important. Neglecting one to focus on the other is detrimental to your riding. Getting in the base miles is necessary, but so too is throwing in a few intense indoor roller or turbo sessions. Mixing it up a bit is key. Use the off-season to focus on weaknesses and build strength too. Be flexible, though, as going out in awful conditions too often can cause illness, and similarly too much high-intensity on the turbo can lead to burnout and demotivation.
Being a hero
Some riders love winter training and pride themselves on their dedication and ability to persevere in all weathers. Our message is simple: don't be a hero. There are days when conditions are simply too bad to ride, and missing a training session or replacing it with an indoor work out is better for you than being outside.
>>> Six winter cycling exercises for strength and conditioning (video)
Ice and high winds should be avoided completely, no matter how skilful you are, unless your bike is fitted with ice-tyres. It's not worth the risk. Icy days provide a good opportunity to go off-road, as the mud will have frozen, making it dry and fast — just avoid the road and hard surfaces.
>>> Cycling in snow and ice: how to stay safe
High winds also make cyclists more vulnerable to accidents. A sudden gust can shoot you across your lane, putting you at higher risk of a collision. Car drivers may not even realise it is windy.
Illustrations by Kevin Sharpe
Thank you for reading 20 articles this month* Join now for unlimited access
Enjoy your first month for just £1 / $1 / €1
*Read 5 free articles per month without a subscription
Join now for unlimited access
Try first month for just £1 / $1 / €1