Describing dooring as a service to 'normal humans' was 'heavy irony', says Sunday Times editor
Newspaper rejects calls to apologise for an column that praised Chris Grayling for dooring a cyclist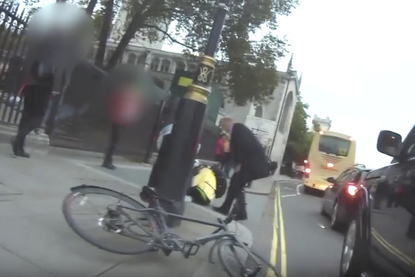 (Image credit: YouTube/The Guardian)
The Sunday Times has dismissed calls for it to apologise for an article that described dooring as a way to "make London safer for normal humans", saying that Roy Liddle, the author of the column, was using "heavy irony".
In his column published in the paper on December 18, Liddle said that Chris Grayling opening his car door and knocking off a cyclist was a "beautifully timed manoeuvre", celebrating the fact that "at last we have a transport secretary prepared to take the menace of cyclists seriously."
"Grayling devised a suitable method of discouragement [for undertaking]. When in London I repeatedly open and close the door of my taxi to try to catch one of them at it and send him flying.
"I like to think I'm doing my bit to make London a safer place for normal humans."
>>> Cycling UK offers help with prosecution of Transport Secretary over dooring incident
National cycling organisation Cycling UK (formerly CTC) had written to the paper to call for a retraction and an apology, describing the article as being "in shockingly poor taste as cyclists have died due to 'car dooring' incidents where people have not looked."
However Bob Tyrer, the Executive Editor of the Sunday Times, replied to Cycling UK saying that he did not think that an apology would be appropriate.
"Of course it is dreadful when cyclists are killed or injured on the roads. Mr Liddle's purpose was not to condone such tragedies but to ridicule Mr Grayling by heavy irony.
"That the transport secretary, of all people, should open a car door and hit a cyclist seems to be quite extraordinarily careless.
"Mr Liddle's humour may not be to everyone's taste but he is a commentator on human foibles, not a diplomat."
Watch: five tips for safer commuting
In a deeply sarcastic article on the Cycling UK website, Duncan Dollimore, the organisation's road safety and legal campaigns officer, described the response as "the poorest excuse for lazy journalism ever."
"Cycling UK had hoped that the editor of the Sunday Times might look beyond the strict rules of the code, and ask whether Liddle's article was reckless from a road safety standpoint, insensitive to victims, and generally in appalling taste.
"But that was all before Mr Tyrer explained heavy irony to us. And without any heavy sarcasm, how this totally justifies everything Liddle wrote, and The Sunday Times' decision both to publish and to stand by the offending article. "
>>> People who commute to work by bike should get £250 tax break, says British Cycling
"Accordingly, the editor of The Sunday Times is not behaving in any way contrary to the spirit of its sister paper, The Times, and their excellent 'Cities Fit for Cycling campaign' following the serious injury to their news reporter Mary Bowers in November 2011.
"This is where the irony and sarcasm thing becomes tricky, because I do actually mean what I've just said about The Times' campaign."
"As I try and grasp how to apply the "heavy irony" ruse: does this mean that if I write an article outlining how people should respond to Mr Liddle if they meet him in the street, that I can claim 'heavy irony' as a defence if somebody does what I suggest?
"No doubt the editors at The Sunday Times have an explanation as to why the rules would be different for me, given that I am, unlike Liddle, not a respected commentator on people's foibles."
Thank you for reading 20 articles this month* Join now for unlimited access
Enjoy your first month for just £1 / $1 / €1
*Read 5 free articles per month without a subscription
Join now for unlimited access
Try first month for just £1 / $1 / €1