Sunday Times pressured to apologise for 'anti-cycling' article
Cycling UK wants the Sunday Times to print an apology after columnist Rod Liddle wrote an 'inflammatory and dangerous' piece regarding the 'dooring' of cyclists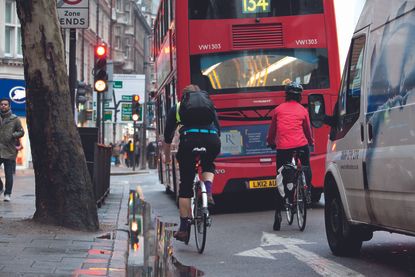 (Image credit: Daniel Gould)
National cycling organisation, Cycling UK, is pressuring the Sunday Times to print an apology and retraction after columnist Rod Liddle included 'inflammatory and dangerous anti-cycling' comments in a piece published on Sunday, December 18.
Liddle's column commented on the recent 'dooring' of cyclist Jaiqi Liu in London by transport secretary Chris Grayling MP. Grayling opened the door of his Land Rover Discovery into the path of a Liu, who was knocked to the ground.
Liddle wrote that is was a 'beautifully timed manoeuvre' and suggested that it should happen more often to make London a 'safer place for normal human beings'.
>>> Transport Secretary proves worth of segregated cycle lanes by dooring cyclist (video)
"This article is in shockingly poor taste, as cyclists have died due to 'car dooring' incidents where people have not looked," said Cycling UK chief executive Paul Tuohy.
"In a national newspaper, Liddle revels in the suggestion that he actively tries to copy these actions – that's inflammatory and dangerous and we respectfully request the Sunday Times to retract this article and apologise."
Cycling UK - formerly known as CTC - has offered legal support for Liu if he wishes he pursue a proceeding against Grayling.
>>> Cycling UK offers help with prosecution of Transport Secretary over dooring incident
"Despite its potentially lethal consequences, 'car dooring' is treated as a minor offence with a maximum £1,000 fine," said Tuohy.
"Liddle's flippant attitude clearly spells out the need for Government to include 'car dooring' in its ongoing review of road traffic offences and sentencing, to help prevent more tragic incidents like that involving Sam Boulton from happening in the future."
It is not the first time that Liddle has made inflammatory comments regarding cyclists in order to provoke a reaction.
In a column for the Spectator published in November 2013, Liddle wrote: "Like many people, I am worried that too few cyclists are being killed on our roads each year." Adding later in the article: "Well, ok, I jest, in predictably bad taste. And you were probably aware that I was joking, unless you are a committed cyclist who is determined to be outraged."
The sentiments expressed by Liddle in his Sunday Times column are at odds with the Times' Cities Fit for Cycling campaign, which was created when Times reporter Mary Bowers was seriously injured after colliding with a lorry while cycling in London.
In July, teacher Sam Boulton died while cycling in Leicester as a result of colliding with a van after being hit by the door of a taxi opened into his path.
Thank you for reading 20 articles this month* Join now for unlimited access
Enjoy your first month for just £1 / $1 / €1
*Read 5 free articles per month without a subscription
Join now for unlimited access
Try first month for just £1 / $1 / €1