Transport Secretary proves worth of segregated cycle lanes by dooring cyclist (video)
The video from October 12, which was sent by a following cyclist to the Guardian newspaper, shows a rider sent flying by an opening car door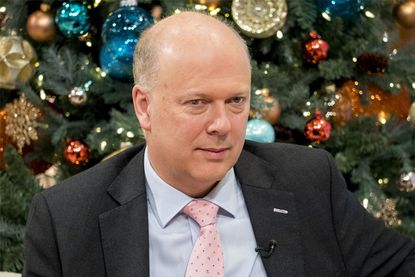 A video has emerged showing the benefit of segregated cycle lanes in which a cyclist is doored by a passenger leaving a four-wheel drive vehicle.
So far this sounds all too familiar for Britain's roads, but the surprise element of this footage is that the man carelessly throwing open the door on his large off-road vehicle is none other than Transport Secretary Chris Grayling.
The MP for Epsom and Ewell has previously bemoaned London's cycling infrastructure for "causing too much of a problem for road users."
The audio has been removed from much of the video so we cannot know what was said, but Grayling does shake hands with the affected cyclist before leaving.
Interestingly, it appears that the MP's aid swiftly hides his parliamentary ID when he realises the assisting cyclist has a helmet cam.
The helmet cam wearer, Laurence de Hoest, told the Guardian: "This is the minister of transport and here he is swinging his door out."
De Hoest was not aware of who Grayling was at the time, but learned his identity from a Cycling Weekly story about the minister's feelings about cycle lanes.
The cyclist who was thrown from his bike, Jaiqi Liu, also discovered the MP's identity after he'd left the scene.
Liu told the Guardian: "And he says cycle lanes are the problem, which makes me angry. If he is still in the position to make cities safer for cyclists, he needs to do something."
Thank you for reading 10 articles this month* Join now for unlimited access
Enjoy your first month for just £1 / $1 / €1
*Read 5 free articles per month without a subscription
Join now for unlimited access
Try first month for just £1 / $1 / €1
Jack Elton-Walters hails from the Isle of Wight, and would be quick to tell anyone that it's his favourite place to ride. He has covered a varied range of topics for Cycling Weekly, producing articles focusing on tech, professional racing and cycling culture. He moved on to work for Cyclist Magazine in 2017 where he stayed for four years until going freelance. He now returns to Cycling Weekly from time-to-time to cover racing, review cycling gear and write longer features for print and online. He is not responsible for misspelled titles on box outs, and he lost the argument about using UK spellings