DfT reveal increase in cycling fatalities and serious injuries
-Year on year figures for first quarter up 27% -Campaigners call for government action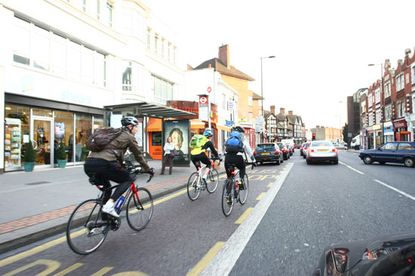 The number of cyclists killed and seriously injured (KSIs) on British roads increased by 27% between January and March compared with the same time last year, according to figures released by the Department for Transport today.
During the same period pedestrian KSIs increased by 16% and motorcyclist KSIs by 20%, figures road safety campaigners are calling alarming and unacceptable.
Roads with speed limits lower than 40mph saw fatal or serious accidents decrease by 0.4% while roads with higher than 40mph speed limits saw fatal or serious accident rates increase by 7%.
Sustrans policy advisor, Rachel Bromley, said: "The sharp rise in casualties over the last quarter will only serve to further deter people from walking and cycling and promote a growing fear among parents that children are safer inside the car than out.
"It is unacceptable that the government allows this to continue when a simple solution is at hand – it's time to bite the bullet and make dedicated funding available to transform local walking and cycling routes and introduce lower traffic speeds."
Increased serious injury and death on faster roads is concerning given the recent announcement by the Department for Transport that HGVs speed limits are being increased on rural roads from 40mph to 50mph.
Figures show those in cars also suffered, with 15% higher car user KSIs in the same period compared to Jan-Mar 2013. Meanwhile child KSIs increased by 17%.
Although there was an unusually cold start to 2013 and a mild start to 2014, this year saw the third wettest January and February since records began. The DfT report acknowledges that the rain might be expected to reduce walking and cycling but did not reduce KSIs -suggesting drier weather could potentially have heralded even greater KSIs.
KSI rates for both cyclists and motorcyclists increased 7% to the year ending March 2014.
Thank you for reading 20 articles this month* Join now for unlimited access
Enjoy your first month for just £1 / $1 / €1
*Read 5 free articles per month without a subscription
Join now for unlimited access
Try first month for just £1 / $1 / €1