Disc v rim brakes - the aerodynamic battle (video)
Specialized test the aerodynamic qualities of both disc and rim brakes to see which perform best in the wind tunnel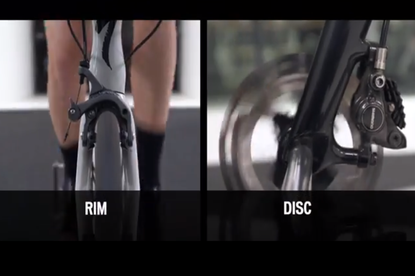 Rim brakes or disc brakes. It's the age-old question that divides opinion in the cycling world. Most bike manufacturers would test the relative braking capacities of the two systems, but not Specialized.
>>> The disc brakes debate: are they necessary on road bikes?
In the latest edition of their The Win Tunnel series, the guys at the American company tested the aerodynamic qualities of the setups in their wind tunnel in Morgan Hill, California.
Somewhat unsurprisingly, the technicians discovered that when faced with a head-on wind there was no difference between the two setups – on which the only the brakes, hoods and rims were different.
But when subjected to a side wind the disc brakes turned out to be eight seconds slower over the standard 40km testing distance.
>>> Review: BMC Granfondo GF02 Disc 105
Eight seconds, however, probably isn't enough to put anyone off using disc brakes, especially given the seconds they will shave off in the corners.
Specialized say: "If you're doing any rides with a lot of descending or tight corners, that little bit of extra confidence that the disc brakes will provide may wipe out those 8secs over the 40km. So it's really the whole package and not just the aero that you have to look at."
Thank you for reading 20 articles this month* Join now for unlimited access
Enjoy your first month for just £1 / $1 / €1
*Read 5 free articles per month without a subscription
Join now for unlimited access
Try first month for just £1 / $1 / €1