DIXON SCORES DOUBLE TO CLINCH TROPHY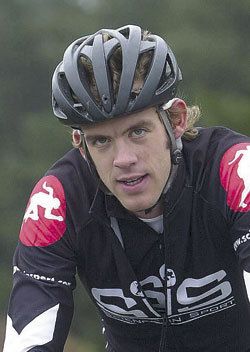 AFTER his gold medal ride in the National Cyclo-Cross Championships at Southampton a week earlier, Phil Dixon (Trek-SiS) completed the season?s double when he won today?s fifth and final round at Derby to clinch the overall verdict in the National Trophy series.
Dixon outsprinted former national champion Nick Craig (Scott UK) by two seconds at the end of 10 laps of a new, two-kilometre course in the grounds of Derby College, Mackworth.
In what was virtually a local one-two (Dixon is from Sutton in Ashfield, Notts, and Craig from New Mills, Derbyshire), their expected challengers were edged out including round four winner Rob Jebb (Wheelbase RT), who salvaged the final podium place today, and defending Trophy holder Jody Crawforth (Evans Cycles RT), who had briefly taken the lead in the current series after finishing second to Jebb at Bradford.
The day again belonged to Dixon, the under-23 winner in the Trophy series in 1999-2000 when he finished third overall.
From an early group of five riders, Dixon and Craig went ahead together in the last two laps as the rest were left to chase.
Jebb came in 30 seconds behind to take third place ahead of Crawforth, who needed to finish at least second to retain the Trophy.
Overall, Dixon has won with 205 points, with Crawforth a comfortable second on 200 and Midlands Regional champion Dan Booth (Pedal Power Loughborough), sixth today, claiming third overall.
?I knew I had to win today to take the Trophy, and that?s what I did,? said Dixon, who will lead Britain?s challenge at elite level in the World Championships in Belgium on January 28. ?I just put my head down and went for it, although I was a bit worried about Craig. It was hard today, and there was not much between us.?
Phil Dixon (Trek-SiS) 20km in 1-01-25; 2, N. Craig (Scott UK) at 2sec; 3, R. Jebb (Wheelbase RT) at 30sec; 4, J. Crawforth (Evans Cycles RT) at 47sec; 5, D. Collins (Trek-SiS) at 48sec; 6, D. Booth (Pedal Power Loughborough) at 1-27. Final overall.- Phil Dixon 205 pts; 2, J. Crawforth 200; 3, D. Booth 162.
Thank you for reading 10 articles this month* Join now for unlimited access
Enjoy your first month for just £1 / $1 / €1
*Read 5 free articles per month without a subscription
Join now for unlimited access
Try first month for just £1 / $1 / €1
Snowdon Sports is a long-established independent sports news agency, which supplies editorial to a range of media outlets - such as Cycling Weekly - as well as sports governing bodies. Snowdon Sports often covers results at Cycling Time Trials events in the UK and has long been a source of information and imagery to Cycling Weekly.