Do you think modern technology helps cycling, or gets in the way of enjoyment?
Do gadgets and modern techno-wizardy enhance a bike ride or do they take away from what cycling is all about? We ask our readers what they think. In association with Decathlon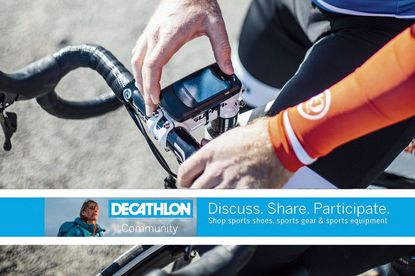 There are typically two types of riders, those who embrace technology with open arms and those who prefer a simpler time where one would just ride their bike with no distractions.
We recently asked Cycling Weekly readers if they think modern technology helps cycling, or gets in the way of enjoyment, and got some great answers. A selection of them are below, presented in association with Decathlon.
Do you think modern technology helps cycling, or gets in the way of enjoyment? Tell us in the comment section below
I've been lost on hot summer days with low water too many times to not love GPS. I've overtrained too often and appreciate a power meter on recovery days, and I've spent too many hours adjusting cable-operated derailleurs to not love how electric versions just work. Bring on technology.
Chris Yura
I can't deny it has improved cycling, but life in general relies far too much on gadgetry, apps and need to get places fast. Very few people (except many retired folk) take the time to savour life and the country these days.
Dave Pittman
You can argue at length for and against the use of modern technology, but let's be honest, you don't really need any of it. People rode bikes for transport, pleasure and sport before the advent of GPS, electronic shifting and power meters.
I believe it depends on the type of riding you are looking to do. Racers probably go for the whole lot, whereas, more recreational riders probably don't. GPS is great and I think most riders have it, whether it be a specific head unit or on a smartphone.
That said, some of the best rides I have had are just by going out and following my nose and essentially getting lost! Electronic shifting is amazing but it's not essential and if you're forgetful you could end up doing a lot of single-speed rides because you forgot to charge the battery.
Watch now: Four ways to nail any climb
Power meters can give you a lot of data, so if you're a racer you can work on training zones but unless you know what it means and how to use it, it's useless. Also, let's be honest, we all know when we're putting an effort in because of the feelings in our legs, lungs and chest!
Toby Pogson
For me, there is a time and a place for all and none of the above. I have Di2 on my race bike and love it.
I have a Garmin 820 that has full European mapping, which I find essential when planning long days in the Dales or trips abroad, and at the other end of the scale I have a steel fixed-gear bike that is cycling in its most pure and simple form: one gear, a front brake and just your legs to get you round. Time and a place for everything.
Jonathan Cave
White LED lights have been the most revolutionary tech in the last few years. I can ride for miles in the dark and know I can see as well as be seen for a good few hours.
Steve Hislop
A surprising proportion of cyclists ride their bike simply for the sense of freedom it gives them, to take in the beautiful world that surrounds them, and to have a chat with people they bump into along the way. However, these people are often as fit as a butcher's dog.
Tim Meyrick
Technology does improve my life off the bike: I get to spend all evening looking at old bike bits on eBay on my iPhone!
Lewis Godden
I always ride with the only multifunction gadget I will ever need: my brain.
Tomas Gimenez
Thank you for reading 10 articles this month* Join now for unlimited access
Enjoy your first month for just £1 / $1 / €1
*Read 5 free articles per month without a subscription
Join now for unlimited access
Try first month for just £1 / $1 / €1